Shrimp Cakes Are The Next-Level Crab Cakes For Summer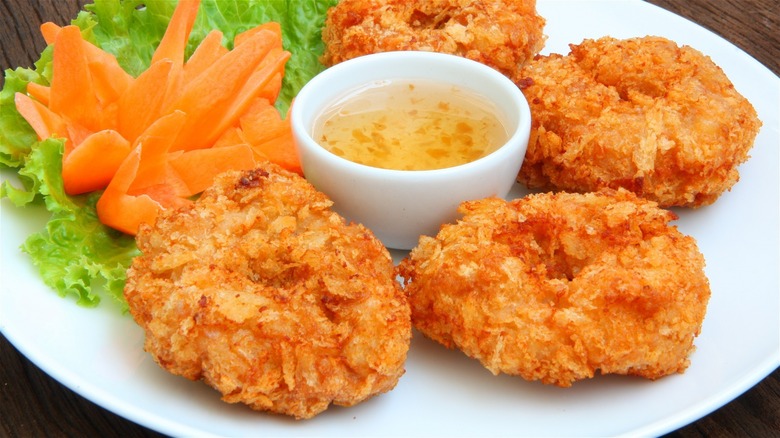 Comzeal/Getty
Benjamin Buford "Bubba" Blue rattled off a lengthy list of ways to cook shrimp in "Forrest Gump." We have to hand it to Bubba for giving us 21 different dishes to transform the "fruit of the sea" into. However, we would be beside ourselves if we didn't add shrimp cakes as another entrant to his catalog of crustacean-cooking methods.
We're not talking about shrimp-flavored baked goods, though Bubba would probably get behind such a concept. In this case, shrimp cakes are a light and crispy pan-fried dish, and after making them for the first time, you might find them worth repeating throughout summer and beyond. Similar to a classic crab cake, whipping up a batch of shrimp cakes has the bonus of being reasonably quick and easy.
Start by combining raw, shelled, and deveined shrimp in a bowl with beaten eggs, panko bread crumbs, and a few flavor additives, such as lemon zest, scallions, and spices. Once the mixture is prepared, chill your batter in the fridge for an hour or — if you can wait — overnight. However, if your tummy is already rumbling, you can also get right to cooking by forming the mixture into patties and frying them in a pan of hot oil. Finally, allow the cakes to drain on a paper towel — and then you're ready to dig in. If you'd like to avoid the time spent peeling and deveining shrimp, start this recipe with canned shrimp instead. 
When making shrimp cakes, don't forget the sauce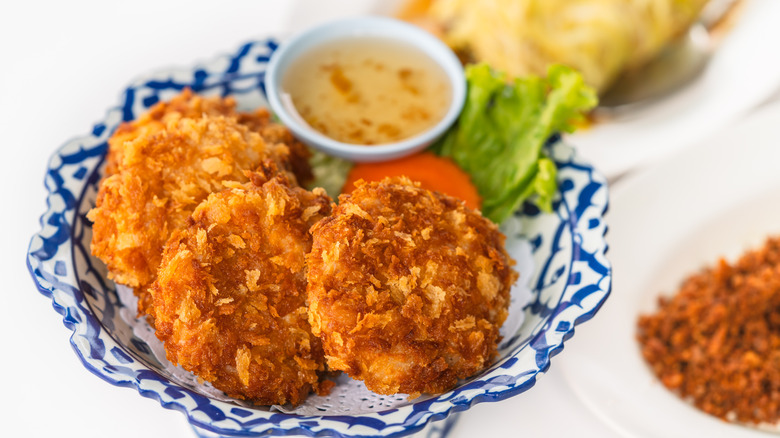 Somdul/Getty Images
It's hard to beat the feeling of sinking your teeth into a perfectly crispy, golden shrimp cake. However, adding a dollop of homemade sauce or dip may be just the thing to take it to the next level. For a simple sauce, try finishing the meal with a squeeze of fresh lemon and hot sauce mayonnaise, which, as its name suggests, is made by mixing mayonnaise with your favorite hot sauce. You can also take things a step further by thinking about complementary flavors for seafood, such as acid and spice, and pair them with a homemade chili-lime aioli to give the dish a tangy, spicy flair. A remoulade is one of the best sauces to serve with crab cakes, so we imagine it also would make a great partner to shrimp cakes.
Shrimp cakes don't have to be served alone, either. Like the humble crab cake, you can load these savory patties onto a bun with some of your favorite toppings and sauces to make a shrimp cake sandwich or a shrimp burger. 
If you're looking for an adult beverage to sip on with your shrimp cakes and homemade sauce, you can never go wrong with a glass of white wine. Gin martinis, gin-based cocktails, and German wheat beers make good pairings to highlight the shrimp's natural flavor.