7 Best Loaded Fast Food French Fries And 6 You Should Skip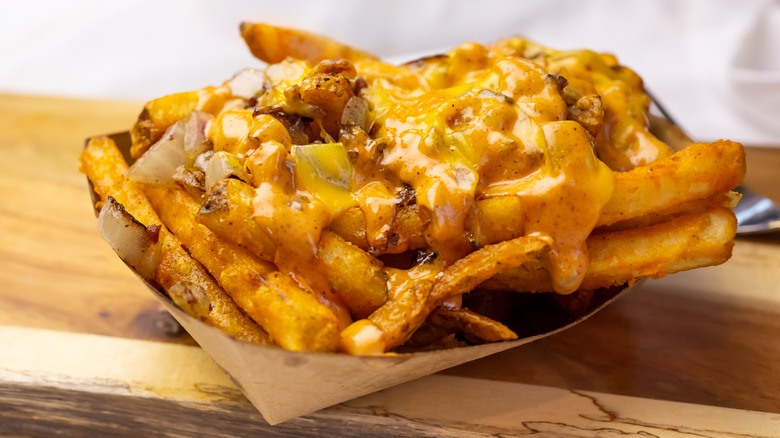 The Image Party/Shutterstock
Although it's a bit of a mystery how exactly french fries came to be, nowadays they are practically an American tradition. These salty treats are served alongside burgers, fried chicken, fried fish, steak, and just about any type of cuisine imaginable in any kind of style imaginable. Although many different types of restaurants sell french fries, many times, fast food chains do them the best. As many chain fast food places have their equipment and techniques down to a science, there's no denying that some of the most delicious french fries in the country are served through drive-through windows.
Although it's not difficult to make fries in your home kitchen, there's nothing quite like a fast food fry. Plain fries have been around forever, but lately, there has been a burst of creativity, with restaurants cooking up loaded fries in a variety of styles and flavors. Loaded fries can be packed with various types of meat (like this loaded pork fries recipe), cheese, veggies, sauces, and other toppings. Whether you prefer your fries slathered in bacon grease or want a vegetarian-friendly loaded fry, there's a fry out there for just about everyone. With so many places creating their own loaded fries, this is your guide to the best and the worst among fast food joints.
Try the Shake Shack bacon cheese fries
Shake Shack burst on the scene back in 2004. What started as a hot dog cart grew to include burgers and fries. After trying out a variety of different styles of fries, including waffle-cut, the chain landed on its now-iconic crinkle-cut fries when it discovered that that particular shape was conducive to scooping up sauces and dips. It doesn't get more scientific than that.
The popular burger restaurant offers two versions of loaded fries on its menu: cheese fries and bacon cheese fries. Shake Shack's excellent fries are made all the better with extra elements: perfectly-cooked bacon and gooey melted cheese sauce. The cheese sauce does, in fact, latch onto the crinkle-cut fries in a way that's incredible to behold. The chain also offers white truffle parmesan fries served with sprinkled parmesan cheese and a white truffle dipping sauce. Still, it's clear that the yellow-hued melted cheese sauce is the star here. The fact that, in 2013, the burger chain did try making Belgian-style fresh-cut fries that ultimately were cut from the menu proves that these fries (although not made in-house) have staying power among fast food fans.
Skip the Burger King cheesy loaded fries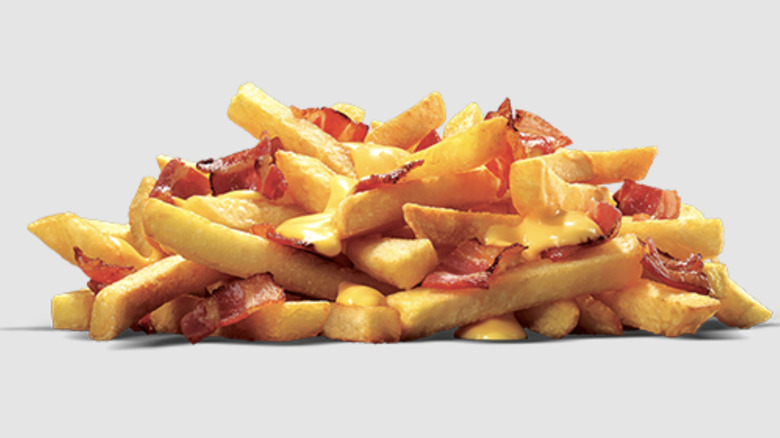 Burger King
Although Burger King is undeniably popular the world over (it's actually the second largest fast food hamburger chain), in comparison to the other incredibly cravable fast food fries in existence, its cheesy loaded fries do not make the cut. Burger King isn't afraid to experiment with its menu and it has introduced fry variations with much fanfare, including its chicken fries and funnel cake fries. In 2013, the chain re-developed its french fries to contain fewer calories. Today, its classic french fries are cut shoestring style and cooked to a golden brown.
There are plenty of passionate opinions on all sides about Burger King fries. They've been called superior by one writer at Slate while this Redditor wrote a scathing review. Although you could describe the plain fries as a little bland, they are made better by adding melted cheese and bacon. While they are an upgrade that these fries desperately need, these extra toppings are still not enough to compete with the In-N-Out and Wienerschnitzel restaurants of the world. Still, Burger King doesn't shy away from experimentation and constant improvement, meaning there could be a future where these loaded fries (or another creative version) make the "try" list.
Try the In-N-Out Animal-Style fries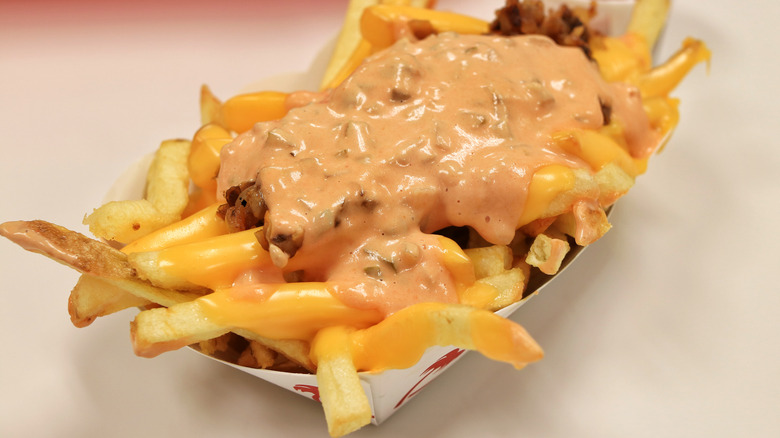 ShengYing Lin/Shutterstock
Every In-N-Out fan knows that the best way to improve upon the chain's hotly-debated fries is by making them Animal Style by topping your side of fries with melted cheese, special sauce, and grilled onions. This loaded fry dish has a long history — it was created in the '60s by shaggy-haired surfer customers who requested the toppings from In-N-Out employees. Although the chain's workers derisively referred to the surfers as "animals," when it comes to fries, it appears that the customer is in fact always right.
In-N-Out fries are made with only sunflower oil, potatoes, and salt. The chain hasn't always won over fast food lovers and food critics with its approach to using fresh ingredients in its french fries. Still, as one of the only items available on In-N-Out's minimalist menu, these thin-cut french fries are undoubtedly a hit, and making them Animal Style only brings out the irresistible salty potato flavor.
Skip the White Castle loaded fries
Harold and Kumar may have gone on an adventure to eat White Castle sliders but they may not have made the trek if they had first tried White Castle loaded fries. Although the crinkle-cut french fries are generally tasty on their own, they don't hold up when topped with a generous amount of bacon, ranch dressing, and melted cheese. Perhaps because of the hefty amount of bacon, or because the fries don't come as crispy as other fast food restaurants, this menu item tends to fall into mediocrity. Additionally, the ranch dressing adds a tangy element that, in theory, should be a great flavor boost. In practice, however, it ends up smothering the flavor of the fries themselves.
Previously a secret menu item, White Castle introduced the item on the menu officially back in 2011. While you'll find plenty of social media and food blogger raves for the other loaded fries on this list, White Castle's sit firmly in the "meh" category. Harold and Kumar fans, stick with the sliders.
Try the Wienerschnitzel classic chili cheese fries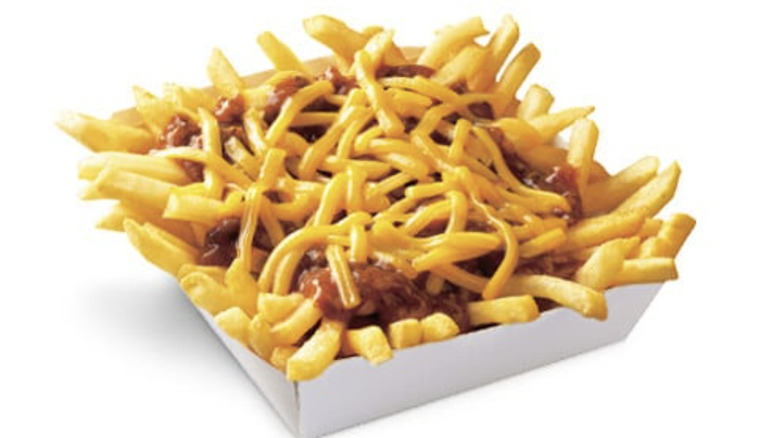 Wienerschnitzel
The beloved bright-yellow and stark-red A-frame fast food restaurant Wienerschnitzel might, at first glance, not seem like the best choice for french fries considering it goes all-in when it comes to hot dogs. However, although the chain has been famous since the 1960s for its wieners, the restaurant offers classic chili cheese fries that just happen to be some of the best loaded fast food fries around. Far more than a hot dog stand, Wienerschnitzel offers other menu items such as its cheeseburger and its biscuit sandwich that are also great culinary treats.
Wienerschnitzel's classic chili cheese fries are shoestring french fries cooked to perfection and topped with melted shredded cheddar cheese and the biggest selling point: the restaurant's famous chili. Made with a secret recipe, the chili is the same one used for the chain's famous chili cheese dog. Follow your salty meal with sweet Tastee Freez items such as the lemonade floats or the classic banana split.
Skip the Wendy's Baconator fries
French fries on their own are almost always delicious and Wendy's knows how to make a good golden-hued french fry. However, the fast food restaurant's loaded version, Baconator fries, are a bit of a mess. The restaurant's skin-on natural-cut fries are topped with sea salt, cheese sauce, shredded cheddar cheese, and a generous amount of chopped smoked bacon.
While some reviewers have described the fries as being pleasant, one reviewer from Reddit paints a grimmer picture: "The potato noodle with a bacony cheese tumor is somehow both insipid and disturbingly pungent". Another reviewer calls the fries "limp and soggy" (via The Impulsive Buy). In the end, there are better options for loaded fries from Wendy's, including its similar but better pub fries which feature beer cheese. In the end, if you're craving a bacon-covered, cheese-smothered potato creation at Wendy's, you might want to opt for the famous bacon cheese baked potato or the chili cheese fries, which we are about to discuss.
Try the Wendy's chili cheese fries
Although Wendy's Baconator fries made the "skip" list, another signature side from the famous burger chain is undeniably delicious: the chili cheese fries. Made with a base of Wendy's great sea salt-covered skin-on french fries, this hefty side dish is served covered in hearty seasoned chili and piping hot cheese sauce. Although Wendy's chili cheese fries are packed with calories and a hefty amount of sodium, they're a fantastic yet decadent treat for chili lovers.
A great blend of savory, saucy, and cheesy flavor, these chili cheese fries are most loved for their key ingredient: Wendy's beloved chili. Originally made as a way to limit food waste, the chili is made from beans, tomatoes, chili peppers, onions, celery, and more. A great value that could probably be eaten as a main dish, the chili cheese fries are definitely the best loaded option among all the great side items available at Wendy's.
Skip the Popeyes Cajun cheese fries
Look, any twist on a classic loaded fry is appreciated, and the Cajun Southern spin on the classic cheese fries available at Popeyes Louisiana Kitchen is a great idea in theory. In execution, however, the Cajun cheese fries, made with Popeyes' salty Cajun seasoning and melted cheddar cheese, fuse too many flavor combinations. Although the Cajun fries can be great on their own, with the cheese added on top of the overwhelming, smoky-tasting Cajun seasoning, the flavors get muddled 
The fries also tend to go soggy quickly, creating a lackluster texture. Although there is a tinge of spicy and smoke that adds to the flavor, the combination of Southern spices doesn't necessarily make sense alongside very salty fries and creamy cheese.
When it comes to ordering a side dish at Popeyes, it's better to opt for the plain Cajun fries, made with the fast food joint's special seasoning. The classic fry preserves the hot and crispy aspects you want in french fries.
Try the Arby's loaded curly fries
Wendy's has natural-cut fries, Mcdonald's has its famous shoestring fries, and Shake Shack has crinkle-cut fries. The roast beef sandwich fast food joint Arby's claim to fame is its perfectly-seasoned curly fries. Arby's fries are flavorful, well-seasoned, and generally served piping hot and crisp.
While other fast food joints may add better toppings to their loaded fries, no one else has the fantastic curly fry base that comes with Arby's loaded curly fries. A Canadian-exclusive item made with cheddar cheese sauce, cut bacon, and sour cream, the curly shape of Arby's fries makes this delicious side all the more fun. Blanched and battered, these fries, which feature a mix of saltiness, tanginess, meatiness, and cheesiness, take the cake for the best flavor combination. Although it's pretty disappointing these loaded fries aren't available in more places besides Canada, it's proof that even in the country where poutine reigns, these fries are loved.   
Skip the Church's Chicken Blazin' Ranch loaded fries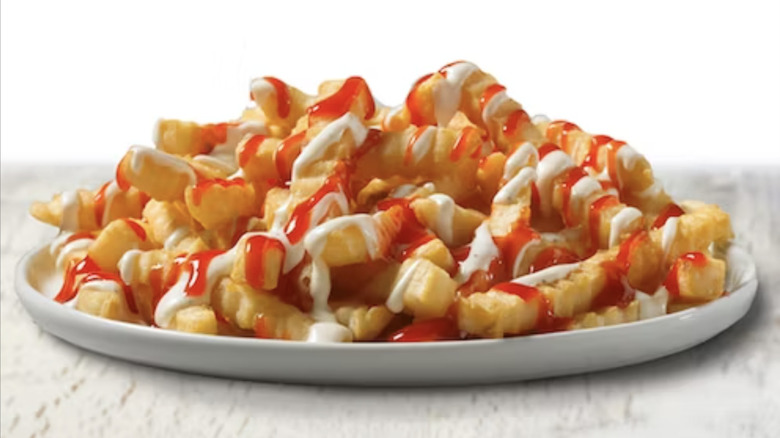 Church's
The true definition of loaded fries can vary, but for the beloved Southern-style fried chicken fast food chain Church's Chicken to stretch the definition when it labels its Blazin' Ranch fries as "loaded" is nearing blasphemy. A loaded fry should, first and foremost, feel loaded with toppings, whether that's vegetables, meats, cheeses, seasonings, or sauces. Although the crinkle-cut Blazin' Ranch fries, which are topped with a drizzle of Texas Pete hot sauce and Hidden Valley Ranch dressing, are plenty saucy, they are missing some of the most essential elements to create a true loaded fry. Without any sort of meat, cheese, sour cream, or even vegetable element to the french fries, they feel less like a loaded fry and more like a regular fry with a dipping sauce that comes on top.
Church's Chicken has a strong following and plenty of great menu items, including its spicy chicken sandwich and Southern sweet tea. With so many great options on the menu, it's difficult to recommend trying these less-than-exciting fries.
Try the Taco Bell Nacho Fries Supreme
Taco Bell's Nacho Fries Supreme are made with fries cooked to perfection with Mexican seasonings, seasoned beef, sour cream, and the taco fast food restaurant's famous nacho cheese sauce. With a somewhat milder seasoning than other side dishes available at Taco Bell, the Nacho Fries Supreme allow the toppings to truly shine. Although many might not associate Taco Bell with great french fries, the thicker-cut seasoned fries are a natural addition to the beloved restaurant's fast food menu.
The original Nacho Fries are another version of loaded fries without the sour cream and beef. This version has been described by food critics as being incredible (via Spoon University). One Eater reviewer even says the fries are "objectively pretty disgusting, and I love them anyway". If you're a cheese purist or a vegetarian, these fries are not for you, but if you love yellow-hued nacho cheese sauce and have a penchant for Taco Bell's other menu favorites, you'll love this newer menu item quickly becoming a classic.
Skip the Del Taco chili cheddar fries
Del Taco's menu is massive. The beloved California-born fast food taco joint offers more than just Mexican food. With cheeseburgers, donut holes, and breakfast wraps on the menu, it's no wonder it also offers a variety of loaded fries, including a style that incorporates queso blanco and one with guacamole and carne asada. While Del Taco is generally on point with its taco and burrito options, its loaded fries miss the mark on texture.
Crinkle-cut style fries already tend to be on the less crispy side, but when smothered in a variety of ingredients, including a strongly-flavored beefy chili and melted cheddar cheese, they turn soggy very quickly. With an exterior that's not as crispy as other styles of fries, the somewhat starchy flavor and soft potato inside create a texture that's not a great vehicle for the toppings. Although there's not much fanfare online regarding these fries, reviewers have weighed in that they are less impressive than other items on the menu (via Insider).
Try the Sonic chili cheese fries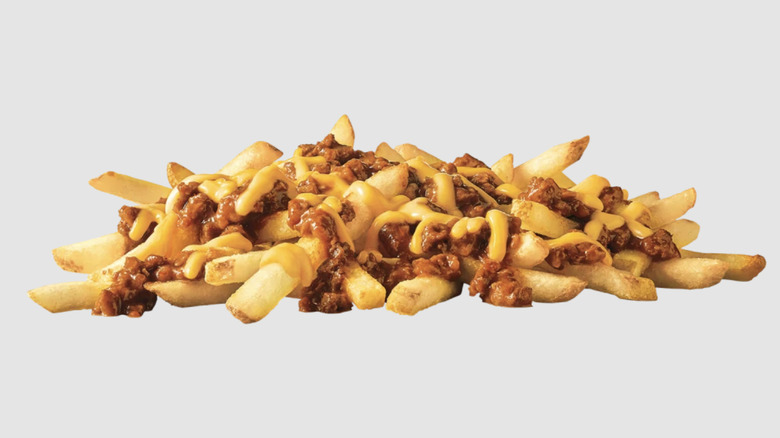 Sonic
The fast food restaurant Sonic knows great sides. The drive-in offers plenty of great savory sides, including tater tots, mozzarella sticks, onion rings, and fried peppers, among other items. Even among all the great options available, the burger place's chili cheese fries are still a standout. Cooked to perfection, the hefty portion features a base of salted skin-on fries (made from Russet potatoes) topped with melted shredded cheddar cheese and warm chili.
If a classic chili and cheese-loaded french fry is what you're craving, then Sonic has you covered. A great place to customize your order just the way you want, Sonic also offers additional options for toppings on the chili cheese fries, including jalapeño, cheese slices, and diced onion. With plenty of sauce options also available, from ranch dressing to honey mustard, this is a loaded fry you can get creative with and easily make completely your own.