Sam's Club Is The Latest To Test A Burger-Flipping Robot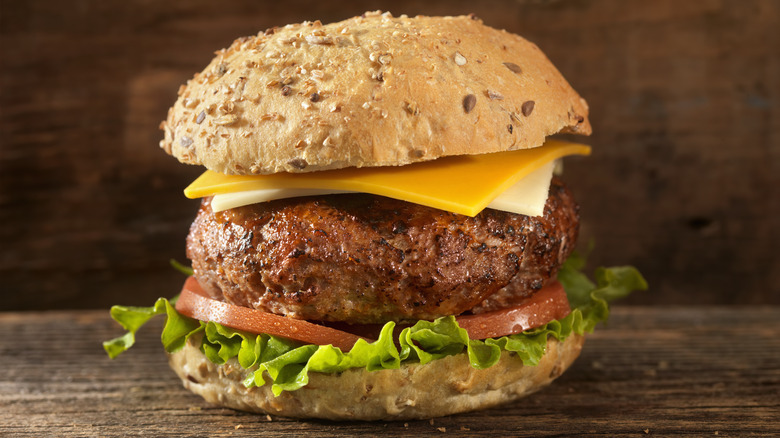 Lauripatterson/Getty Images
Members-only warehouse Sam's Club has several must-try food items, including spicy chicken sandwiches and hot four-cheese pizzas. Although burgers aren't typically on the menu, Sam's Club has recently been cooking them up in one location with the help of automation in the form of a futuristic burger-flipping robot.
According to Axios, the robot can only be found at a Sam's Club in Fayetteville, Arkansas. Not only can the robot grind beef, cut it into patties, and cook them, but it also can place the cooked burgers onto a bun, along with sauce and seasoning, to make a complete burger. However, for now, other toppings must be added manually. That said, there is perhaps another perk to the robot cook: Customers can order burgers in advance for the machine to prepare while they shop in the store.
A TikTok user posted a video showing the robot in action and gave some thoughts about the end product. "Classic mistake, robot. You put the fixings on the bottom patty. No human would ever do that," the TikToker initially complained. However, after tasting the burger, priced at a reasonable $6.72, the reviewer seemed pleasantly surprised. As for the final verdict: "Everybody should try it for the novelty of it." Then, the robot's burger was awarded a rating (out of 10) that fell "somewhere in the 8s."
How restaurants are using robotics
Sam's Club isn't the only place using robotics to improve food preparation and delivery. Restaurants across the United States are using robot servers to improve efficiency and reduce the workload for human employees. One example is at Sergio's Restaurant in Florida, where the introduction of robot servers has reportedly led to higher tips, posing an alternate view to concerns that automated services might replace jobs or negatively impact human workers. 
Another restaurant using robots is Chili's. According to its website, Chili's introduced Rita the Robot in over 60 restaurants. Rita's primary purpose is to assist servers by acting as a hostess and running food to tables. She even can sing "Happy Birthday" to customers! That said, reception to her services has reportedly been mixed. Per Restaurant Business, Chili's paused any further robot rollouts for the time being to shift its focus to other company-wide improvements.  
Robots are also popular in Japan, where, according to The Drinks Business, Skylark restaurants have approximately 2,000 robot cats working instead of human servers. Introverts rejoice: It may not be long before you can have a fully automated dining experience without speaking to anyone else.