Score 1-Cent Cheeseburgers At Wendy's For National Hamburger Month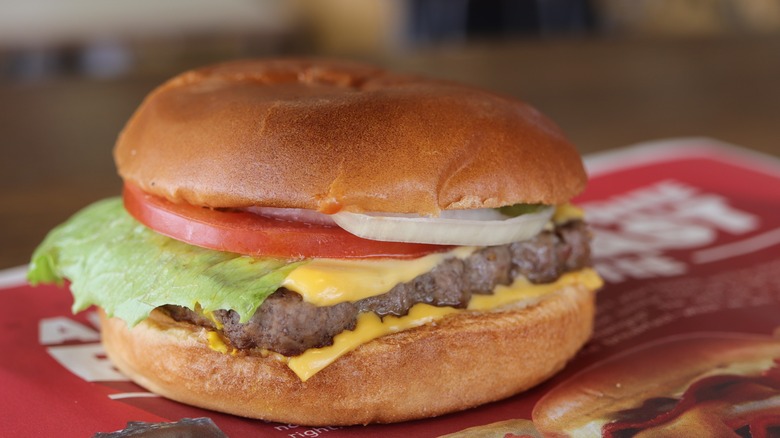 Deutschlandreform/Shutterstock
As May is National Hamburger Month, we'd like to send well wishes to all those who celebrate — and this probably covers a lot of people, as Americans consume roughly 60 burgers a year. May 28 is also National Hamburger Day. In celebration of both, Wendy's has a roster of special deals for customers to obtain through its app. 
Per People, starting on May 26 and going until June 1, 2023, Wendy's fans can buy a Junior Bacon Cheeseburger for the low price of only one penny. While this may sound like a joke, we swear it isn't. This deal is only available through the Wendy's app and is valid with any purchase. To help ensure people don't take advantage of its pleasantly priced burger deal, the one-cent burger offer can only be utilized once a week. We apologize: You won't be able to fill a U-Haul with Junior Bacon Cheeseburgers. However, Wendy's is also dropping a few other discounts onto its menu for National Hamburger Month. 
Wendy's is celebrating National Burger Month with other deals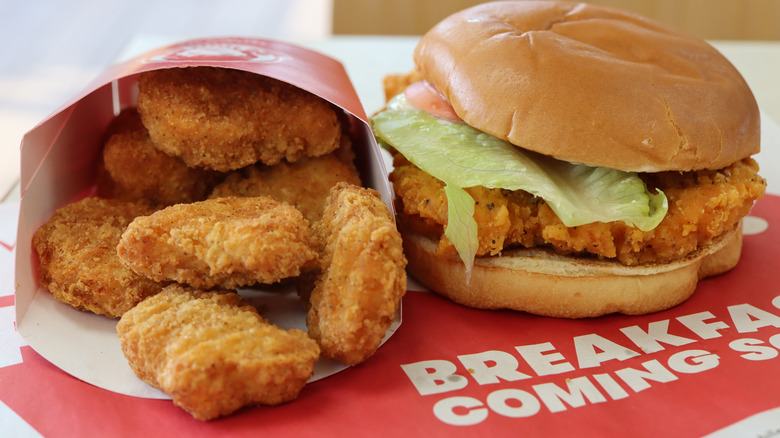 Deutschlandreform/Shutterstock
Along with its one-cent burger deal, a coupon for the Crispy Chicken Sandwich and Crispy Chicken BLT will let customers grab one for free with a $10 order through the app, starting May 15 and ending May 21 — but it can only be redeemed once. There is also a deal on burgers for the entire month, where if you buy one, you can purchase another for $1. Not to mention, Wendy's is offering $2 off any breakfast or premium combo for May via its app. Starting on May 29, you can also get a free drink when ordering in the app; this promotion ends on June 4. 
Wendy's other big announcement, unrelated to all its May food deals, is that the chain will soon test AI, powered by Google, to run its drive-throughs. At least, that's the idea. According to PR Newswire, Wendy's will start testing this new chatbot at one Columbus, Ohio store in June 2023. Hopefully, this experiment comes without any meat-fueled robotic uprisings. Outside the realm of Skynet, though, Wendy's is also promoting its new grocery-aisle item, Wendy's Chili with Beans (in a can), which retails for $4.99 and comes from a collaboration with Conagra Brands, the folks who make Slim Jim and Reddi Whip.