Cheetos New Flamin' Hot Smoky Ghost Pepper Puffs Look Awfully Familiar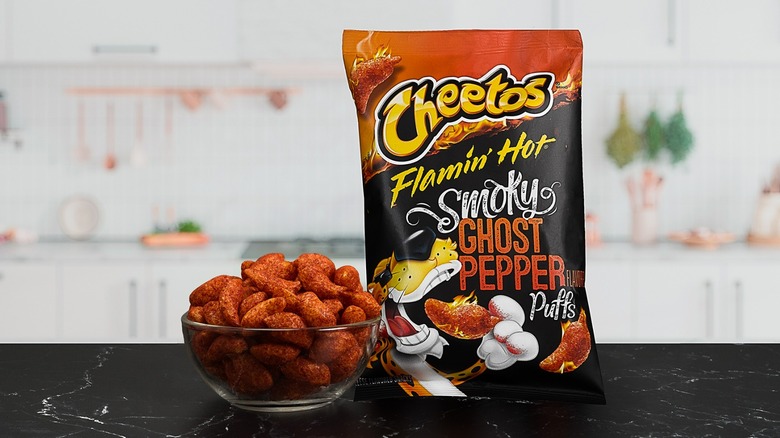 Cheetos
We've seen a few Cheetos flavors over the years, from white cheddar, to cheddar jalapeno, to Flamin' Hot. However, for fans not quite satisfied with Flamin' Hot Cheetos' heat level, fear not, the brand has dropped another spicy flavor.
According to a press release send to Mashed, Cheetos is releasing Flamin' Hot Smoky Ghost Pepper-flavored puffs. Between May 22 and August 14, shoppers can find these pepper-shaped puff chips at Walmart, alongside other unique Cheetos flavors like Mexican Street Corn, Tangy Chili Fusion, and Carolina Reaper. The new flavor will also be available for purchase on Frito-Lay's website.
In the meantime, you might have noticed that the name seems familiar, and you aren't wrong. In 2020, Cheetos released a similar flavor –- Flamin' Hot Pepper Puffs. This flavor was another Walmart exclusive and also came shaped like little chili peppers. Of course, this begs the question of how the new Cheetos differ from the 2020 version.
The new Flamin' Hot Cheetos are doing things a bit differently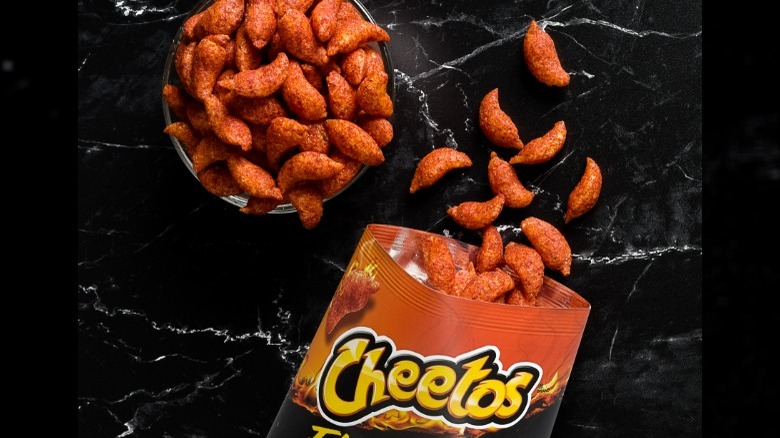 Cheetos
According to the ingredients, 2020's Flamin' Hot Pepper Cheetos didn't cite a particular chili pepper among their ingredients. The new Flamin' Hot Smoky Ghost Pepper Cheetos, as the name suggests, do indeed get their heat from ghost peppers specifically, as the product ingredient list shows (via Nutritionix).
Another key difference between the two Cheetos varieties is that the 2023 version includes a smoky flavor note. It's unclear whether the puffs get their smokiness from liquid smoke or from the ghost peppers, but regardless, we expect them to bring the heat.
The internet has yet to drop any reviews of these Cheetos, but we can only assume their heat level will come close to rivaling that of the Cheetos Sweet Carolina Reaper flavor. While jalapenos have a Scoville heat rating between 2,500 and 8,000, ghost peppers rate between a hefty 800,000 and 1,041,427. Carolina Reapers, on the other hand, range between 1,400,000 and 2,200,000 in heat. Needless to say, that's spicy.