Jesse Tyler Ferguson's New 'Dinner's On Me' Podcast Brings You To Celebs' Fave Trendy Spots - Exclusive Interview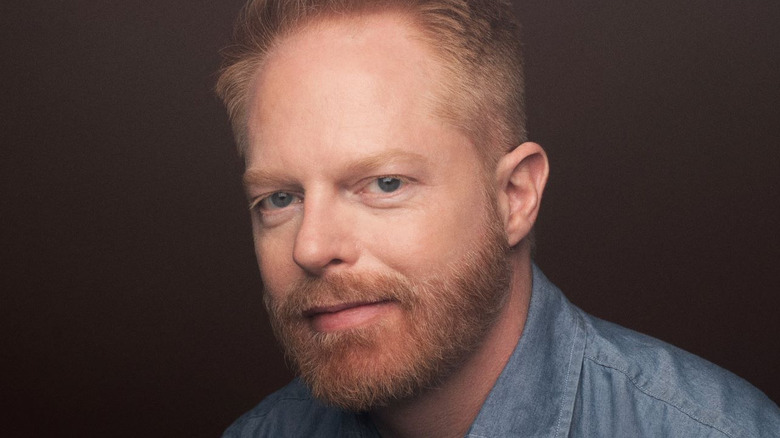 Luke Fontana
Sometimes all you need is an incredible-tasting meal and a smooth glass of wine to put you at ease, which is exactly what "Modern Family" alum Jesse Tyler Ferguson is hoping for. The award-winning actor is turning the tables and doing the interviewing on his new podcast "Dinner's on Me," which is produced by Sony Music Entertainment and premieres on May 23. Ferguson talks with a different celebrity guest on each episode of the series — which will feature everyone from his former co-star Julie Bowen to "Grey's Anatomy" star Jesse Williams — while eating at some of his favorite restaurants in Los Angeles and New York.
Ferguson admitted to us in an exclusive interview that he has some tough conversations on the show about culinary appropriation with "Top Chef" host Padma Lakshmi and delves deep into mental health with Kristen Bell. However, he also discusses lighter topics like pop culture and has a lot of hilarious moments speaking with guests like former "SNL" cast member Fred Armisen. We spoke to Ferguson about what made him ultimately want to enter the podcast world, what episode he thinks will resonate most with listeners, what current restaurant is his favorite hot spot in LA, and what food he can't live without.
How 'Dinner's on Me' came to fruition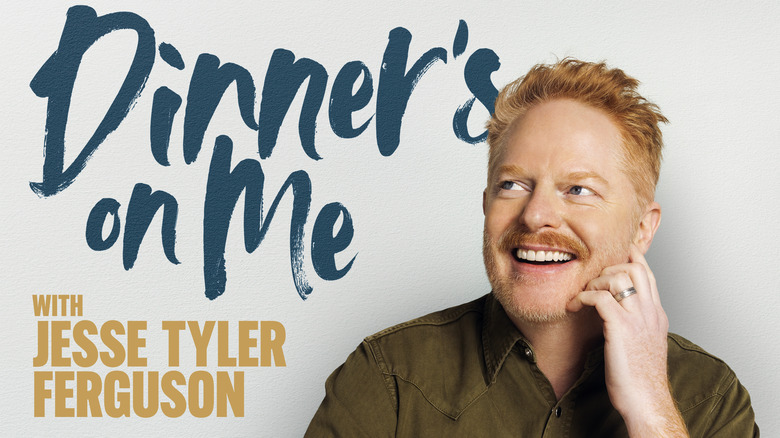 Sony Music Entertainment
Congratulations on your new podcast series "Dinner's on Me." As a busy actor, what made you want to venture into the food podcast world?
Thank you. It was something that was brought to me. It was a concept that existed [and] they were looking for a host, and they thought that I might be a good fit for it. I'm always looking for things that are out of my comfort zone. My career has done this interesting thing that I've loved where it's taken me into places where I didn't expect to necessarily go — hosting certain things, like being the host of the reboot of "Extreme Makeover Home Edition" on HGTV. I was like, "Who knew that would be something that I would be able to do?" And I had a great time doing it.
Even doing TV in general — I was a theater kid. I wanted to do Broadway, so doing a sitcom was something that was totally a surprise to me. This idea of doing a podcast ... I'm such a consumer of podcasts. I love them so much, and I listen to them. Being in LA, it's my main source of entertainment when I'm in the car for an hour and a half.
It was something that I already consumed, I already loved, I was a fan of, and I thought it would be a fun way and a great excuse to sit down with people that I admired. I loved a lot of the people — basically, everyone that I've interviewed so far — because it's my first season and I'm calling out a lot of favors because there's no proof of concept here.
A lot of the people who are doing this, who are sitting down with me, are good friends of mine whom I know really well but haven't seen in a while — mostly because of this pandemic that we've all been living through for the past few years and we're now coming out of. I love that the concept of this show forces us to come together, sit at a restaurant, have a great meal together, and have a great conversation.
He discusses some difficult issues with guests like Padma Lakshmi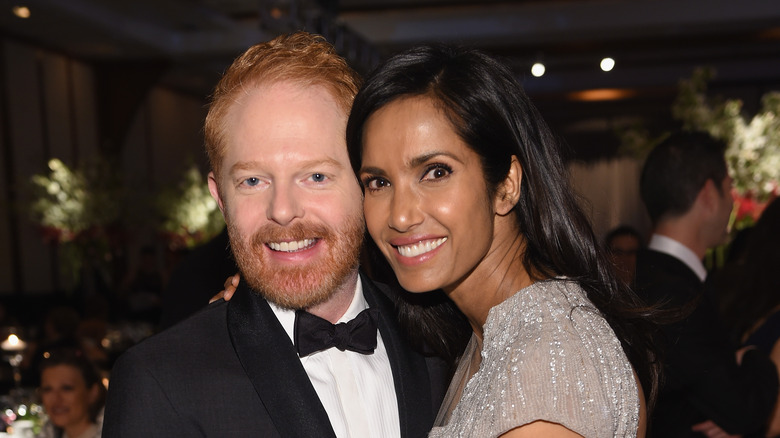 Dimitrios Kambouris/Getty Images
What can listeners expect to hear on each episode of the show?
What I love about podcasts, and also specifically this one that I'm doing right now, is that I can't predetermine what we're going to talk about. The conversation takes the turns that it's going to take. There are certainly topics that I'm interested in talking to some of my guests about. Kristen Bell and I talk a lot about mental health, which I know is something that's very important to her. Jesse Williams and I talk about imposter syndrome. I'm starting this new podcast, and he was making his Broadway debut last year and working through that as an artist and what it means to be unsure about doing a new thing. Padma Lakshmi and I had a really interesting conversation about culinary appropriation.
[You'll hear] very broad topics that we are able to, with the luxury of a podcast, dissect and go in deep with some of these interesting topics. Fred Armisen and I had a particularly hilarious dinner, and a lot of the common ground that we had is what it feels like to leave a show after 11 years. He was on "SNL" for 11 years. I was on "Modern Family" for 11 years. There we have a deep connection. It's very pop culture driven, but there are moments where we get in deep with things.
Do you think that eating food together helps people feel more comfortable opening up about topics like imposter syndrome and mental health?
The comfort of sharing a meal with someone — the experience of sitting down and having dinner together — immediately puts a person at ease. Almost every single one of my guests has been like, "Oof. I was a little more loose-lipped than I thought I was going to be." I'm like, "That's great. I love that you're feeling comfortable with me and we can talk about things." It doesn't feel like an interview. It feels like a discussion.
I love food. I would call myself a foodie — even though I hate that word — and I love being able to share restaurants that I adore with people that I love. I was able to take Marcus Samuelsson, who's a brilliant chef and knows all the restaurants in New York, to a brand-new Thai restaurant down in Soho. It was so exciting to watch him get excited about food, and in turn, I feel like he was more comfortable. He was like, "Okay, I'm in my zone now. I'm trying new things. Yeah, let's talk about this. Let's talk about that." We went to places that I don't think we would've normally gone had we just been sitting in front of a microphone.
His favorite guest so far and which episode he thinks will be the most impactful to listeners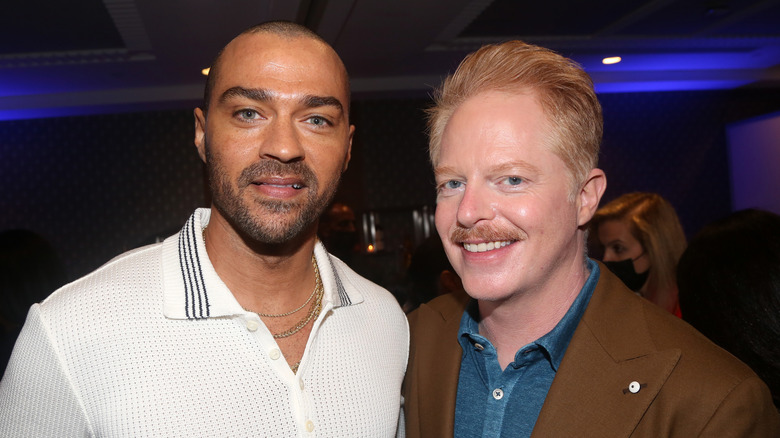 Bruce Glikas/Getty Images
You have some impressive guests on your show. Who's been your most memorable one so far?
I'm interested to see how they're all cut together. I've only heard a few rough cuts so far. They're all great in different ways. Tracee Ellis Ross and I had a fantastic time together. She's so fun to be around, and she's one of those people. I've actually shared one meal with her in our friendship, and we were taking a mutual friend out to dinner. It was fun to sit down with her and have her all to myself for an hour and a half because I adore her so much. She's royalty, and she was birthed from the loins of Diana Ross. Right there, you're like, "Okay, this hour and a half is going to be fantastic." She immediately puts me at ease.
Jim Parsons and I had a great conversation in New York. I took him to one of my favorite restaurants, Don Angie, and I haven't seen him in person in quite some time. So I don't know — I'd be hard-pressed to say who is my favorite. I don't think I have one. They've all been wonderful experiences.
Do you think that a particular topic that you discussed during an episode will really resonate with people?
Absolutely. Jesse Williams and I have [an] interesting conversation about relationships between fathers and sons that I found impactful. I was very moved by his willingness to open up, and I, in turn, opened up to him about my relationships. Busy Philipps and I talked a lot about what it's like to ... Her daughter, Birdie, is non-binary, and I talked a lot about, as a new dad, what it's like to raise kids in this new era that we're living in.
[They're] really interesting conversations. The conversation I had with Padma Lakshmi about culinary appropriation was uncomfortable, but also, I'm glad we had that conversation. I'm a cookbook author. She's a cookbook author. We talked a lot about what that means — what our responsibilities are as people who are publishing recipes. That was an interesting one. I felt very safe with her too. She is a very dear friend of mine, and she was able to speak very frankly with me.
His favorite Los Angeles eatery and which Modern Family co-star would be a dream guest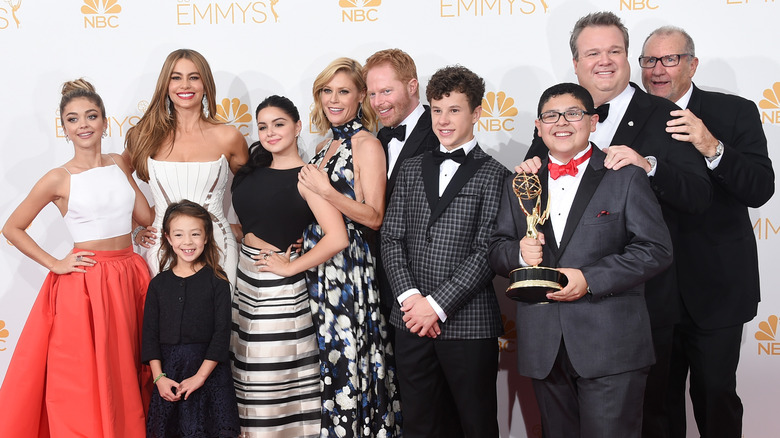 Jason Merritt/Getty Images
While making the podcast, which restaurant was your favorite to eat at in LA?
In LA specifically, I took Jesse Williams to this place called Pijja Palace, which is this Indian food sports bar. It's a fusion between Indian food and Italian food, which seems crazy, but it works. It's a restaurant that is nearly impossible to get into, so I love that we could pull some strings and get a table for the two of us. That was a particularly delicious meal.

That sounds like a unique mix. Will any of your other "Modern Family" co-stars stop by the show? Who would be a dream guest for you to have on a future episode?
Yes, I have a few other "Modern Family" co-stars booked coming up. I don't want to say who they are; I'm going to let it be a surprise. I hope to have all of them. I want to get Ed O'Neill because it's very hard to get him to leave the house. I might have to go set up a picnic outside on his front lawn, but I'm determined to get him to sit down with me. He's actually a dream guest for me. I would also love [to have] Adele. I would love to talk to Hillary Clinton. I would love to talk to Michelle Obama. There are so many people I'd love to talk to.
How his upbringing in New Mexico influenced his cooking style and what he makes on busy nights for his family
I read that you grew up in Albuquerque, New Mexico. Does that influence the types of meals you like to create yourself?
The cookbook that I wrote with my friend Julie Tanous — she's from Alabama, so a lot of the recipes that she contributed were Southern. A lot of the recipes I contributed were stuff that was inspirations from the food that I ate growing up in Albuquerque, New Mexico. Then there were a lot of the recipes that we created that were a combination of both.
I love Mexican food. New Mexican food, specifically, is very different than the Mexican food that we get out here, so I definitely crave a lot of the flavors from back home. It's a different way of cooking Mexican food. It's its own thing, but I definitely try and bring that into my kitchen. I order a lot of stuff from New Mexico. There are some restaurants that I love there. There's a specific salsa from this restaurant called Sadie's that I ship over to myself. I have tons and tons of jars of Sadie's salsa in my cabinet.
It's tough to find a good salsa; they're definitely not all the same quality. Did you grow up watching your parents make food in the kitchen, or was there anybody who was a big cook in your family?
My dad was always the manager of the grill. My mom was a fantastic cook. A lot of the recipes that she created for us in the mid-'80s were those casseroles that incorporated canned soups. Delicious, by the way — not the healthiest. A lot of the recipes in my book are recipes [where] I took those original recipes as inspiration and tried to elevate them, and use less canned and processed foods and recreate some of those dishes that I love so much.
Speaking of your cookbook — "Food Between Friends" — on busy nights with the kids, do you have a favorite recipe that you turn to?
My son loves chicken fingers, and there's a baked chicken finger recipe in my cookbook with homemade ranch dressing that's not hard to make at all. I love that they're baked because, first of all, when you're frying things in your kitchen, they're splattering grease. I get worried about it — he likes to be near me while I'm cooking, so I don't like to be working with hot oil. I love that he has one of those stools that he pulls up and is at counter height. He's very interested in what I'm doing on the counter, which I love because I wish I had that when I was a kid to be able to observe my mom making meals. So the baked chicken fingers are something that is really popular in our house.
The ingredient he can't live without and his go-to fast food order
You've had some incredible meals while making your podcast. Who is the one chef you'd want to cook you dinner that hasn't already?
There are so many — it's hard to pick. I spoke of Marcus Samuelsson; I would love to have him cook for me. I've gone to his restaurants, so I guess in a way, he has. It'd be great to have Roy Choi cook for me. I love all of his food. There are so many great ones — José Andrés, Nancy Silverton.
What's one ingredient you could never live without?
Hatch green chiles — a little throwback to home. There are a lot of hatch green chiles in New Mexican cuisine. It could go in anything from scrambled eggs to green chiles and chicken enchiladas. They're great on chili cheese toast.
That's making me hungry ... What is your go-to fast food order, and at which restaurant?
Oh, boy. You're going to see a theme here, but I would have to say Taco Bell. I love the soft Taco Supreme with ground beef. I love a classic burrito, a classic bean burrito, and also a soft beef taco.
"Dinner's on Me" premieres May 23 and will run new episodes each week on all major podcast platforms, including Apple, Spotify, and Stitcher.
This interview has been edited for clarity.