The Viral Cake Fail That Spoke To Millennial Emo Kids Everywhere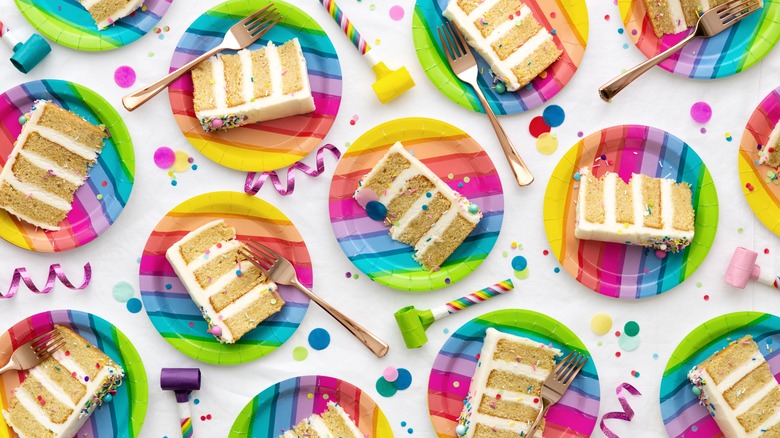 Ruth Black/Shutterstock
We all make mistakes, including professional bakers. You can find many of their unsuccessful cake photos all over the internet — even ones by celebrity chefs like Buddy Valastro, whose biggest cake fail ever was his first take on a spin art creation. And over on TikTok, the latest to go viral is an emo Elmo cake. The incident happened after a customer reached out to baker Brianna Romero on social media to request a last-minute Elmo cake for their granddaughter's fourth birthday party.
Romero agreed to make the cake — but after misreading Elmo as "emo." The pair exchanged a few more messages to address some other details, but Romero started decorating in full belief that the request was for an emo-themed cake. About an hour before the scheduled delivery, Romero realized that she'd made a major oops, but it was too late to start over, so she had to improvise.
She shared the incident on TikTok, calling it "her worst nightmare" as a cake decorator. Nevertheless, many followers responded positively to her error and begged for a photo of the emo Elmo cake. She didn't have one of the real thing, but she appeased her excited followers by creating a new version of the emo Elmo cake and sharing a photo of it following day, which quickly got millions of views.
Elmo with side bangs was a big hit for viewers
"Praying it's Elmo with a side bang," one TikTok user commented on Romero's first video before the big reveal. Their prayers were answered: The redone, mostly black cake with red sprinkles featured Elmo's face made of frosting with black hair and a side bang covering one eye. Some followers asked about the customer's reaction to the cake, assuming they'd received the one as pictured. However, to quickly fix her error, Romero had placed a paper Elmo topper on the all-black cake with a few red sprinkles, so that's the version the customer ended up getting, free of charge. The two laughed about it, she said in the comments.
Romero's story went viral, gaining the attention of various news channels, radio stations, and social media platforms. In response to the photo reveal TikTok, a couple of viewers said they actually wanted to order an emo Elmo cake on purpose. "I had an Elmo cake for my last birthday, but now I need an Emo Elmo cake for my next," one said, calling it "the most perfect cake ever." Millennial emo kids everywhere would agree.