The Easiest Way To Take Food On A Plane (And Through Security)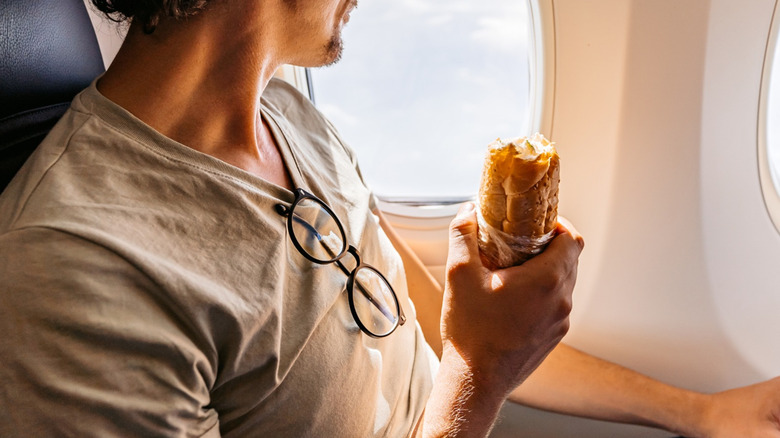 Stewart Sutton/Getty Images
If you cringe at the idea of spending $15 on a subpar airport sandwich, you've probably considered taking your own food through security for your next flight. With safety measures being so tight, taking prohibited foods with you through the security line could land you in some hot water, or at the very least get your home-cooked food unceremoniously confiscated before your departure. Fortunately, there are at least a few ways you can safely bring your favorite snacks with you through security and enjoy them on the other side. 
If you're flying domestically through the U.S., the Transportation Security Administration (TSA) provides clear guidelines on which foods are allowed through security. According to these guidelines, the easiest foods to bring through airport security are probably the grocery staples hiding in your kitchen. Most solid foods like bread, cereal, and even solid cheeses and lunch meats are typically allowed, meaning the sandwich you made before your flight will probably get the green light. As long as it's solid, it will probably be permitted. The confusion for most travelers, however, comes with the TSA's definition of what kinds of foods count as liquids. 
TSA food categories can get confusing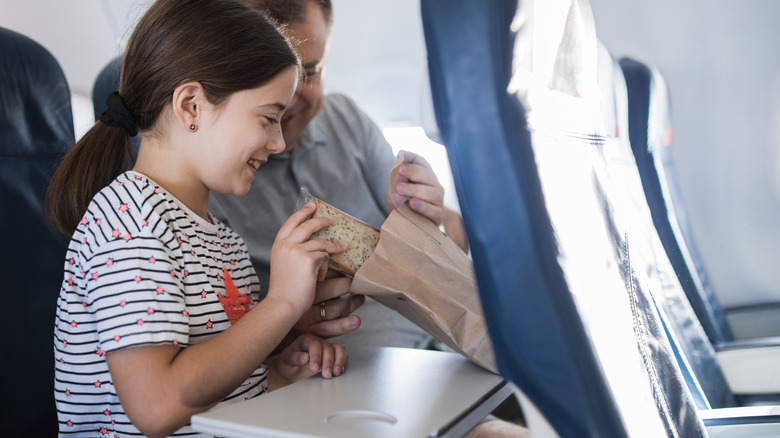 Dobrila Vignjevic/Getty Images
While you probably don't consider cream cheese to be a liquid, the TSA has a different opinion. If you're traveling with spreads like peanut butter, cream cheese, or hummus, the same 3.4 oz or 100 mL rule that applies to your cosmetic bottles is in effect. In other words, if your food of choice needs to be served with a spoon, it's probably worth checking whether it's considered a liquid by the TSA. 
While the TSA's guidelines apply while flying through the U.S., it should be noted that international locations may have different rules for what foods you can or cannot take on an airplane. Many international governments ban the import of any farmed products including vegetables and meats in order to prevent damage to local ecosystems. This even applies to foods kept in your checked luggage. With these regulations in mind, the best rule of thumb seems to be that most processed and shelf-stable foods probably won't have an issue on their way through security on domestic or international flights. 
If you're still craving some fresh food when you make it past TSA, there are certain airports that prohibit major price increases on airport food, making a pre-flight meal purchase slightly more cost-effective. If you have a flight through an area where these policies are in effect, like New York City, you can take advantage of reasonably priced fresh foods without having to wonder whether your homemade lunch will be allowed onto your flight.