These Are The Best Female Competitive Eaters Around The World
To the uninitiated, the world of competitive eating doesn't seem real. Do people really compete to eat as much of a given food as fast as they can in a predetermined period of time? And they get paid if they win? In short, yes. Competitive eating is a real thing, with the most popular contest (the "Super Bowl" of competitive eating, if you will), being Nathan's Famous Fourth of July International Hot Dog-Eating Contest, taking place each year on Coney Island. Around 35,000 spectators show up to watch the competitors stuff their faces with hot dogs for 10 minutes, with millions more tuning in on ESPN. 
Given the popularity of this contest (and the not-too-shabby prize money of $10,000 each to the top male and female winners), it's where most of the major competitors make a name for themselves. And while female competitive eating lags behind the men's contests, particularly when it comes to the number of participants, there are quite a few women who have gained a measure of fame thanks to their skills at masterfully stuffing their faces. Here's a rundown of some of the best female competitive eaters in the world — both on and off the competitive eating circuit.
Miki Sudo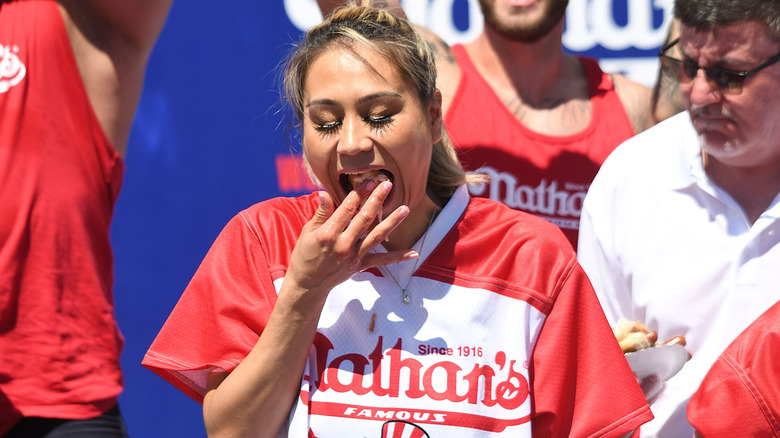 Bobby Bank/Getty Images
According to the Major League Eating (MLE) rankings (yes, there's a major league for eating competitions), Miki Sudo is the best female competitive eater as of 2023, and the third-ranked eater overall. This is due, in large part, to her impressive repeated wins at Nathan's annual hot dog eating contest, where she's taken the top prize every year since 2014 (other than 2021 when she took the season off and didn't compete). In fact, in 2020, she set the world record for women in the Nathan's event when she downed 48.5 hot dogs in the 10-minute time limit. 
But hot dog eating isn't her only skill when it comes to chowing down. Sudo also holds world records for eating 16.5 pints of ice cream in six minutes, 14 pounds of a wild rice hot dish in eight minutes, and 8.5 pounds of kimchi in six minutes. She's competed in practically every major eating competition around and has won contests for consuming masses of ribs, turkey, and buffalo wings. For someone as dedicated to the sport as Sudo, it shouldn't be a huge surprise that her time spent on the circuit led her to fall in love with a fellow competitive eater. Her husband, Nick Wehry, is no slouch when it comes to downing dogs himself, but he's not as impressive as Sudo — he's ranked the fourth overall eater, right behind his better half.
Leah Shutkever
Leah Shutkever is a bit of an outlier when it comes to the food-eating competitors on this list. Unlike most of the others, Shutkever hasn't competed on the Major League Eating circuit, nor at Nathan's hot dog eating contest. Rather, this U.K.-based competitive eater, who is considered the No. 1 competitive eater in Europe, primarily sticks to setting speed-eating records. Many of her records don't sound all that appetizing but are certainly still impressive. For instance, she ate three pickled eggs in just 7.8 seconds, 80 grams of watercress in 45.26 seconds, and a whole cucumber in 27.16 seconds ... who knew there were world records for such feats? 
She's also a master at consuming large amounts of food in a one-minute timeframe. In this category, she holds records for eating 10 sausages, 23 mini pickles, 20 marshmallows (without using her hands), and three-quarters of a pound of chicken nuggets. As of 2023, she holds 20 speed-eating records with the Guinness World Records. When she's not trying to set new and interesting world records, she keeps busy by participating in food challenges that she often posts to her YouTube channel. 
Michelle Lesco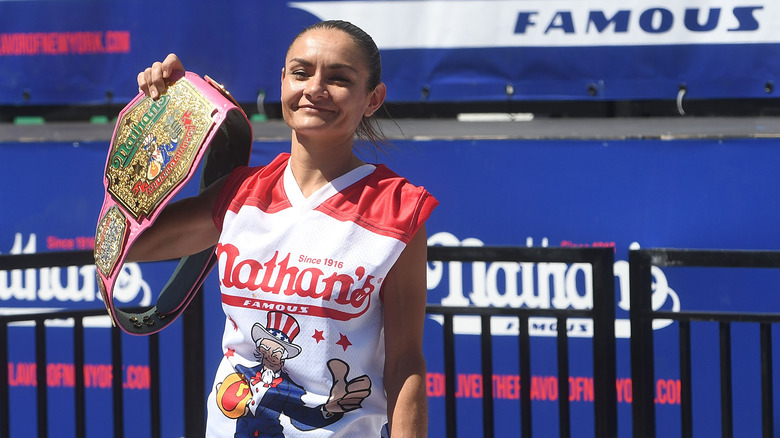 Bobby Bank/Getty Images
In 2021, when Miki Sudo didn't compete in Nathan's Famous International Hot Dog Eating Contest, that left the door open for another female competitive eater to show her chops. Michelle Lesco, the second-ranked Major League Eating female competitive eater (ranked ninth overall), ended up taking home the gold that year, inhaling an impressive 30.75 hot dogs in 10 minutes. She tried to defend her title in 2022, but with Sudo back in the contest, there wasn't much she could do — her 26.3 hotdogs didn't hold a candle to Sudo's 40. 
But just because Lesco isn't as dominant in the sport as Sudo, she's clearly no slouch when it comes to eating massive amounts of food in short periods of time. She's also eaten 4.6 pounds of rib meat in 12 minutes and 131 gyozas in 10 minutes. 
One other interesting tidbit is that Lesco is a genuinely good person, having earned Major League Eating's Humanitarian of the Year award. In addition to working with troubled youth in Arizona, she's funded several wells in Africa to help ensure clean water is accessible in the community. 
Sarah Rodriguez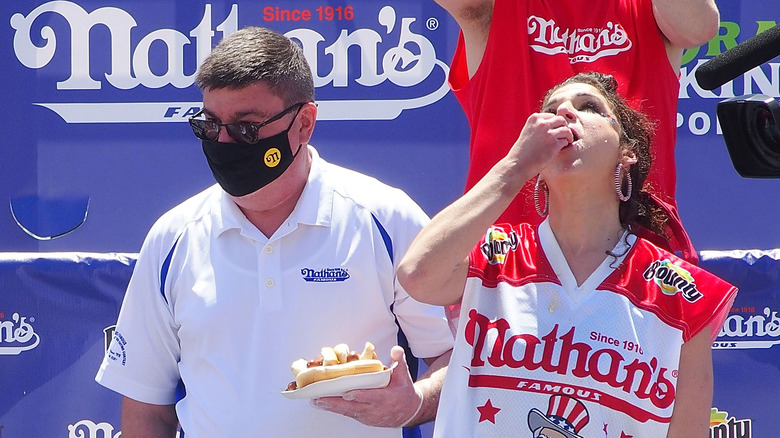 Bobby Bank/Getty Images
Sarah Rodriguez is Major League Eating's third-ranked female and 24th-ranked overall. Not surprisingly, she often places third in the female division of the MLE's competition circuit behind Sudo and Lesco. In 2022, she tossed back 23.25 hot dogs in Nathan's competition — not a shabby number, but still three whole dogs behind Lesco (and almost 17 behind Sudo). Rodriguez has also participated in a Peeps eating contest (eating 67 in five minutes) and has personal-best records eating pizza slices — 29 in 10 minutes — and donuts — 17.5 in eight minutes. 
Interestingly, like Sudo, Rodriguez is also half of a competitive eating couple. She and her husband, Juan Rodriguez (who is ranked 19th overall by the MLE), met in 2017 at Nathan's hot dog-eating contest. In addition to connecting over their love for glorified gluttony, the two are actually professionals in the health and fitness industry. Rodriguez is a fitness coach when she's not training her stomach to hold more food than it's intended to contain.
Molly Schuyler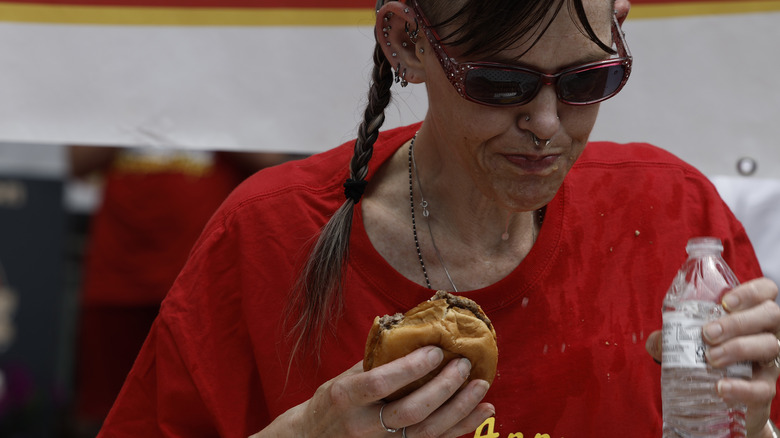 Anna Moneymaker/Getty Images
Like Shutkever, female competitive eater Molly Schuyler is considered one of the best independent competitive eaters in the world. That basically means she doesn't take part in the MLE competitive eating circuit, but she's still no slouch when it comes to tossing back food. 
For instance, in 2018 Schuyler set a world record by eating 501 chicken wings in just 30 minutes. That was after setting a world record in 2017 for eating the most pumpkin pie (without using her hands, no less) by consuming 48 pieces in 10 minutes. The same year she set a speed-eating record when she finished a stack of seven hamburgers, french fries, and a drink in under two minutes. 
Most of Schuyler's action takes place on YouTube and social media where you can find regularly updated videos recounting her most recent food challenges. Usually, the foods she eats look delicious, if not particularly healthy — giant pizzas, obscene amounts of pancakes, HotPockets, Yoo-Hoo, and more.
Sonya Thomas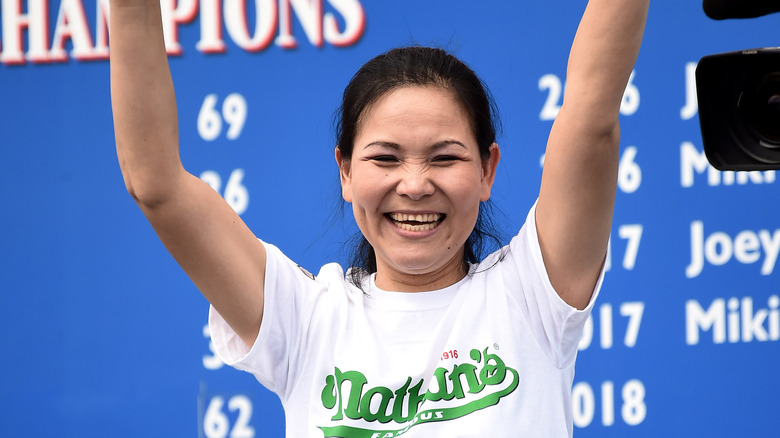 Steven Ferdman/Getty Images
Sonya "the Black Widow" Thomas may be considered the OG of female competitive eaters. Before Sudo became the queen of the eating world, Thomas was the one putting in the hard work to set the big records. In fact, her reign of gluttony began way back in 2003, and in 2011 she became the first woman to win Nathan's hot dog contest by downing 40 dogs and buns — this was the first year the competition was separated into men's and women's divisions. 
She doesn't currently hold a ranking with MLE, and her personal website hasn't been updated since 2018, so it's unclear whether she's still taking part in the competitive eating world. Regardless, you can't take away her impressive array of records. For instance, in 2013, she chugged 445 oysters in 5 minutes; in 2012, she snarfed 15 extra large hard-boiled eggs in a minute flat; in 2010 she ate 53 Taco Bell soft tacos in 12 minutes; in 2006, she inhaled 9.75 pounds of fried okra in 10 minutes; and in her first year of competition (2003) she scarfed 4 pounds and 14.25 ounces of fruitcake in 10 minutes ... and those records barely scratch the surface of her accomplishments.
Larell Marie Mele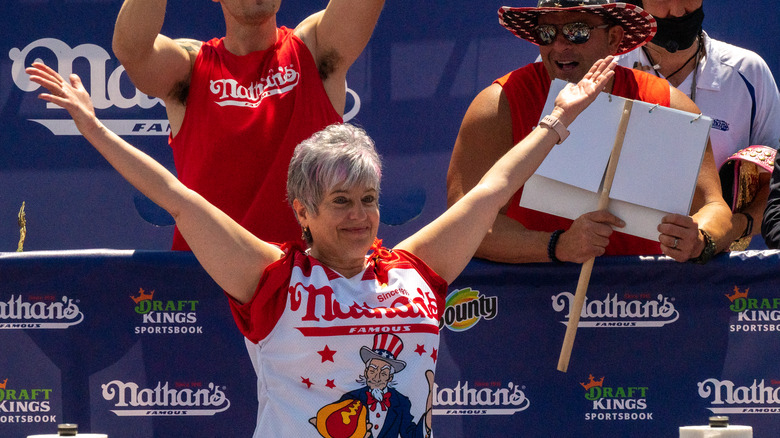 David Dee Delgado/Getty Images
Larell Marie Mele is the fourth-ranked female in MLE, and the 29th-ranked competitive eater overall. While the ranking is certainly nothing to scoff at, it's important to recognize that after the top three MLE females, there's quite a drop in overall ability. So while Mele certainly competes and qualifies to be called a top female eater, her actual prowess within the sport isn't nearly as impressive as the ladies further up the list. 
In 2022, Mele finished fourth at Nathan's hot dog-eating contest, sucking down 15 hot dogs. While her placement and ranking have remained more or less untouched for several years, the 2022 showing wasn't actually her best. In 2012 she ate 21.25 dogs in the same 10-minute timeframe. And in 2021 (the fateful year Sudo didn't compete), she took home the bronze medal after eating 18.25 frankfurters. Other notable feats include her 10-minute trouncing of 9.75 cheeseburgers and her six-minute indulgence (if you can call it that) of 15 cannolis. 
Juliet Lee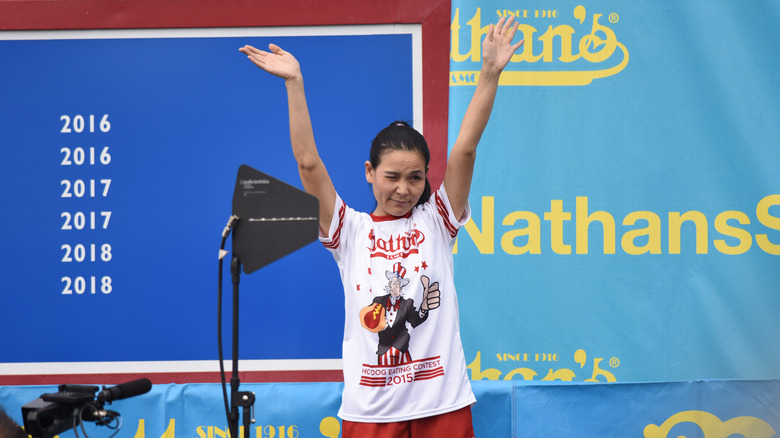 A Katz/Shutterstock
At the height of her eating activity, Juliet Lee was a force to be reckoned with — another one of the OGs in Major League Eating who first started competing in 2006. Nicknamed "The Lovely," Lee was known for her eating capabilities, which were on par with her lovely personality and her lovely day job — Lee owned several hair salons in Germantown, Maryland. 
Lee was a tiny person — not someone you'd assume works a side gig as an eater — weighing in at roughly 100 pounds. Her slight build belied her impressive ability to throw back the food. Sadly, Lee passed away suddenly in 2019 at the age of 54, but her eating prowess lives on through memories of her achievements. From the first amateur contest she participated in, where she ate 11 slices of pizza in 10 minutes, to Nathan's Famous Fourth of July International Hot Dog Eating Contest where she consumed 36 hot dogs, she was wowing the audience. It's not a feat most people can claim, and Lee held her own within the competitive eaters' world for years.
Jocelyn Young
Jocelyn Young could be considered a newbie in the world of competitive eating ... at least, comparatively speaking. She's appeared at the Coney Island hot dog-eating contest two times and will be appearing in the 2023 July 4th event, thanks to her qualifying showing leading up to the competition where she ate 10 hot dogs in 10 minutes. 
Hot dog eating isn't her only competitive drive, though. She's participated in sweet corn-eating events, including the MLE National Sweet Corn-Eating Championship where she placed eighth, consuming 22 ears of corn in 12 minutes. While regular, her participation doesn't seem to be on the level of other up-and-comers, like Shutkever or Schuyler, who harness the power of social media to advance their careers outside of the MLE circuit and participate in online and restaurant-sponsored eating challenges. To be fair, unless you're a top performer, the activity is really more of a hobby than an actual career pathway, so maybe she's just in it for the bragging rights and trophies. 
Mary Bowers
Albert L. Ortega/Getty Images
Mary Bowers is another one of MLE's lesser-known female competitive eaters. The Beverly Hills, California, eater is currently ranked No. 49 overall, which places her 11th among women. But while she hasn't performed at the top of the ranks to date, she's put more effort into working her social media angle and doing what she can to make a name for herself through her face-stuffing skills online. Her blog and its associated Instagram account, Eat Be Mary, chronicle her competitive eating competitions as well as her life as a designer and model. She also makes appearances on podcasts and YouTube channels where she's happy to show off her eating skills. 
In July 2023, Bowers will be participating in her eighth Nathan's hot dog-eating contest, and for the first time, she'll be representing Korea at the table. While she considers herself a "sausage and hot dog specialist," she has also attempted taco, gyoza, and donut eating challenges.
Katina DeJarnett
Katina DeJarnett is another competitive eater following a path similar to Leah Shutkever. DeJarnett isn't involved in MLE circuit events, but rather she pursues eating contests online, chronicling them on her website and YouTube channel where she's known as Katina Eats Kilos. As someone working to make a career as an influencer to support her lifestyle, she knows the importance of staying present and offering regular content, releasing new eating-related videos every single Sunday. Her regularity has helped her amass more than 500,000 followers on YouTube, with subscribers tuning in to watch her complete restaurant challenges, like consuming massive burritos, pizzas, burgers, or steaks. 
One thing that sets her apart from others is that she combines her eating content with travel and goes around the world taking on new and interesting restaurant challenges. She's been to Ireland, the United Kingdom, and Australia (just to name a few spots), all in the name of competitive eating. 
Katie Prettyman
On her Instagram page, Katie Prettyman calls herself "The World's Okayest Competitive Eater," but that's merely a bit of self-deprecation from one of the planet's most voracious sport eaters. As of 2023, the Seattle area-based Prettyman ranks No. 32 in Major League Eating's ranking of the world's top competitive eaters. On that list dominated by men, Prettyman ranks fifth among all female eaters worldwide. 
Prettyman showed off her ability to eat huge quantities of food at one of her field's most high-profile events: the Nathan's Famous Fourth of July International Hot Dog-Eating Contest. In the regional qualifier in 2018, she made 14.5 hot dogs and buns disappear in the 10-minute period and scarfed down another 11 in the New York-based final. Prettyman is a regular at the finals now, increasing her intake with each event. In 2019, Prettyman finished 12 and a half hot dogs with buns, and in 2020, she set a new competitive best with 15. That was good enough for a third-place finish in the women's division that year with a limited field due to the pandemic. A year later, Prettyman's hot dog-eating prowess led to a total consumption of 16 and a fourth-place finish in the women's class. In addition to hot dogs, Prettyman has participated in competitive-eating events for other foods, including hot peppers and Spam; at a 2021 contest centered around the canned meat, Prettyman ate 3 cans in eight minutes.
Sophia DeVita-Gutierrez
Competitive eater Sophia DeVita-Gutierrez racked up tens of thousands of YouTube views and subscribers with a series of "Girl vs. Food" challenges. In one clip, she devoured more than 3,000 calories worth of Ben and Jerry's ice cream. In another, she showed off her skills at the World Aebleskiver Eating Contest, where she placed fifth after downing 32 of the Danish puff pancakes. But eating sweets like ice cream, pastries, and dessert pizzas — and savory dishes like baked clams — was preparation for the big show for DeVita-Gutierrez. 
The Abilene, Texas-based eater moved into the world of major hot dog contests in 2016 and made an impressive showing for a rookie. At the Nation's Famous International Hot Dog-Eating Contest, DeVita-Gutierrez won the Ladies division qualifier and then tied for seventh place at the official Fourth of July event with 15.5 hot dogs and buns in 10 minutes. The following year she returned to New York and placed fifth after consuming 18 hot dogs and buns. She has returned to the event four more times (skipping the 2020 competition due to the pandemic). At the 2021 event DeVita-Gutierrez downed 15 dogs and buns, and in 2022 she finished 12.25 wieners and buns. Each of those top finishes placed DeVita-Gutierrez into the upper echelon of female competitors in the heavily contested hot dog division. She is ranked No. 33 among the world's top competitive eaters by Major League Eating for all of her gastronomical feats.