Frozen Nuggets That Use 100% White Meat Chicken
Now more than ever, shoppers are paying attention to the ingredients in grocery-store foods, particularly when it comes to pre-made, pre-packaged, and frozen dishes. In fact, according to the International Food Information Council (IFIC), a 2021 study showed that more than 60% of shoppers agreed that they cared more about the ingredient list of foods than they did five years prior. In addition, more than half agreed that they favored food and beverages with "clean" ingredients.
Even when it comes to convenience foods, not all shoppers are willing to sacrifice quality, so brands have had to adjust their ingredients to cater to those who prefer healthier, cleaner, and higher-quality foods. Even brands specializing in a classic frozen family favorite — chicken nuggets — have upgraded their ingredients. Many consumers don't want to feed their families nuggets made with mystery meat like chicken byproducts, and some are even turning away from dark meat in favor of lower-fat white meat.
If you prefer all-white meat in your chicken nuggets, read on to see which brands are catering to you.
Applegate Naturals chicken nuggets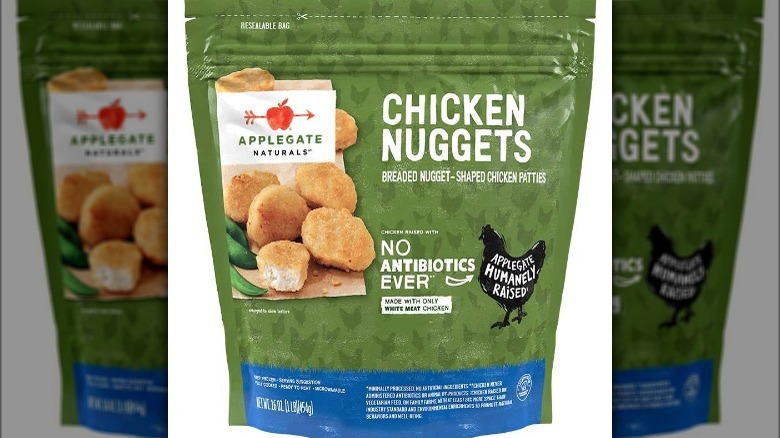 Applegate
Applegate Natural & Organic Meat is known for its wide range of organic meat and dairy products, like deli meat, cheese, and hot dogs. The company boasts that its products contain no fillers or artificial ingredients and that all Applegate products are non-GMO. This includes the company's frozen breaded chicken nuggets, which are available in a variety of package sizes at retailers like Target, Walmart, Whole Foods, and other national and regional grocery store chains. 
The first ingredient in Applegate's Naturals chicken nuggets is white meat chicken, followed by flour, starches, and seasonings, making it a great, all-natural choice for those looking for 100% white meat nuggets. Just 12 minutes in the oven and you'll be able to serve a delicious dish to your kids. Plus, you can feel confident it doesn't contain anything other than white meat from chickens who are humanely raised and fed a 100% vegetarian diet free from animal by-products. These nuggets are also nitrite and nitrate-free, chemical-free, and as always at Applegate, non-GMO.
Banquet chicken breast nuggets
Banquet, a frozen meal brand that has been feeding families since 1953, has always managed to evolve with the times as shoppers' tastes and priorities have changed. One thing that hasn't wavered is the company's commitment to offering affordable frozen meals and products that are made with high-quality ingredients.
Banquet's frozen chicken breast nuggets are made with 100% natural white meat chicken breast and undergo minimal processing. These tasty bites have recently been revamped with a new and improved recipe. The chicken is breaded, seasoned with spices like paprika and garlic, cooked, and ready to be reheated in a microwave or traditional oven whenever hunger strikes. 
Banquet's frozen chicken nuggets are perfect for eating on their own with dipping sauces and fries or as an ingredient in a sandwich or salad. In addition to being made with all-white meat, the nuggets also contain zero artificial colors, artificial flavors, or preservatives.
Bell & Evans breaded chicken breast nuggets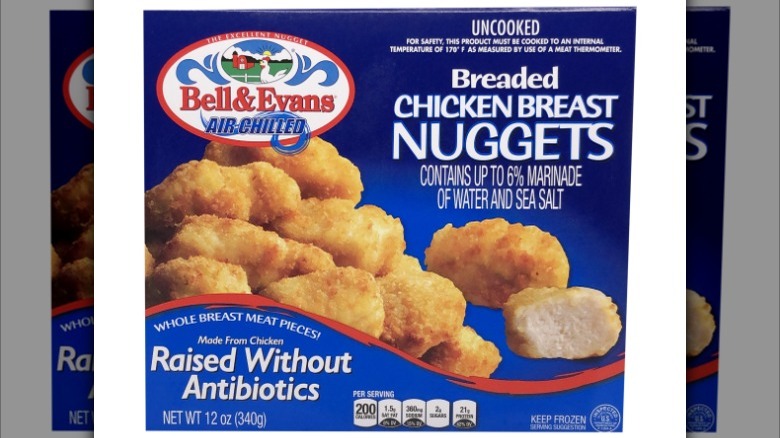 Bell & Evans
According to Bell & Evans, the company's best-selling product is its frozen, breaded chicken breast nuggets. It's no wonder why, as the frozen meal brand's nuggets are made with 100% whole breast meat pieces. "Whole" pieces mean that the nuggets are not made with meat that is mechanically chopped or separated. The result is a delightful texture and a taste more like homestyle nuggets than low-quality, frozen mystery meat-style bites. Bell & Evans is so proud of its chicken nuggets, the company even showcases how they are made in a video on its website and official YouTube channel.
The company describes itself as the "oldest branded chicken company in America," with its roots dating back to 1894. The business is run by the Sechler family, who clearly state they prioritize high-quality, humanely raised, and natural chicken. To taste the quality for yourself, grab some Bell & Evans chicken nuggets at national retailers like Whole Foods.
Earth's Best chicken nuggets for kids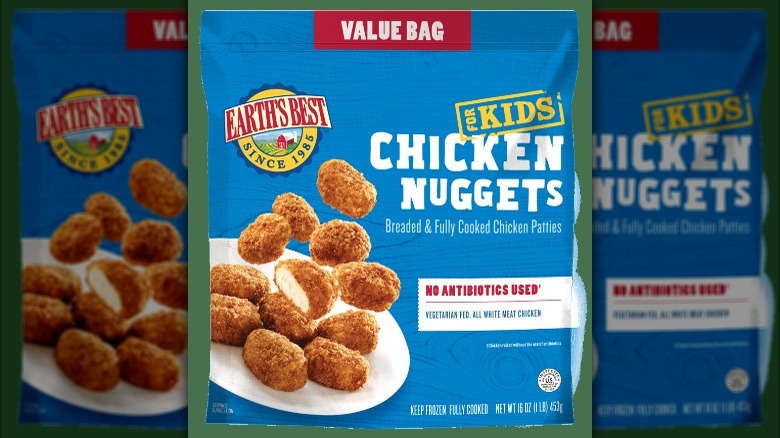 Earth's Best
Since 1985, Earth's Best has been a mainstay in the baby care and nourishment sector. The company prioritizes products that are as good for the world as they are for your kids. In addition to diapers, wipes, oral care, and formula, Earth's Best also makes a variety of food products for babies and toddlers alike.
Recommended for kids two years of age and older, Earth's Best makes 100% white meat chicken nuggets that are breaded with whole grains and quick for busy parents to whip up. Their ingredient list starts out with chicken breast meat, which is a good sign for any parent wanting to stick to serving their kids only all-white meat products. The list goes on to include natural ingredients like whole wheat flour, corn starch, sugar, salt, garlic powder, and onion powder. Earth's Best boasts no artificial colors or flavors and uses meat from vegetarian-fed, antibiotic-free chickens.
Golden Platter All Natural gluten free chicken nuggets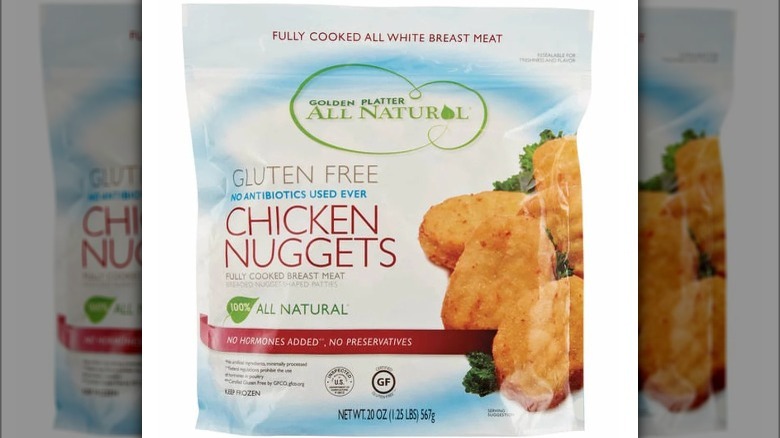 Golden Platter
Following a gluten-free diet shouldn't mean missing out on nostalgic and delicious favorites like chicken nuggets. Luckily, for those trying to avoid gluten, Golden Platter offers all-natural, white meat chicken nuggets free of gluten but full of taste.
Instead of wheat flour, Golden Platter's frozen chicken nuggets are breaded with a mixture of yellow corn flour, rice flour, yellow corn meal, rice starch, corn starch, sea salt, garlic powder, and onion powder. After baking these delectable nuggets for a little over 10 minutes in the oven, you and your family can enjoy crispy, flavorful bite-sized chicken without gluten, preservatives, hormones, or artificial ingredients.
Golden Platter products are available at Costco, Walmart, and many other grocery store chains. The company's chicken nuggets are perfect for kids and adults alike, and they are available in a variety of package sizes and fun shapes to satisfy your appetite.
Ian's breaded chicken nuggets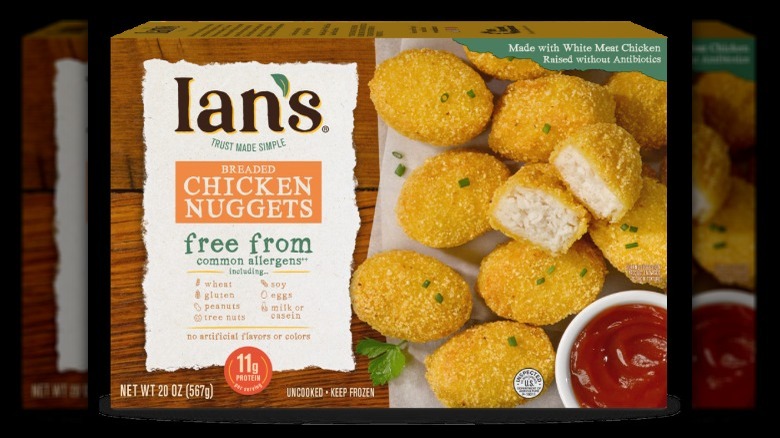 Ian's
Ian's is a company that was founded on a "free from" principle, meaning it ensures products are made in allergy-friendly facilities with ingredients that are frequently tested to ensure safety for those with food allergies. The company was created with the founder's son in mind, so naturally, chicken nuggets were one of the first products on the market.
Ian's breaded chicken nuggets are made with juicy, 100% white meat chicken. The chicken used to make Ian's nuggets is boneless, skinless, and free from antibiotics, hormones, and of course, gluten. In addition, the nuggets are prepared in allergy-friendly facilities, making them safe for those with allergies to wheat, gluten, soy, peanuts, eggs, tree nuts, milk, and casein.
The batter used to bread these allergy-friendly chicken nuggets is made with yellow corn flour, corn starch, garlic powder, and sea salt. In addition, the pieces are breaded with cornflake crumbs, offering the crunch everyone craves when biting into a classic chicken nugget.
Soules Kitchen lightly breaded chicken breast chunks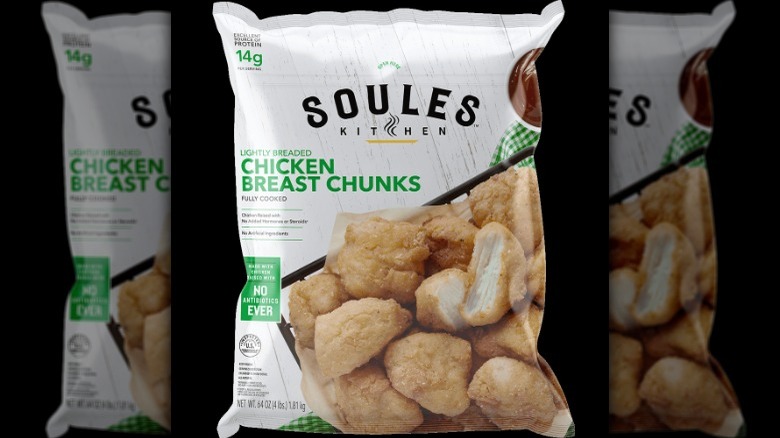 John Soules Foods
For a chicken nugget that contains 100% white meat and isn't too heavy-handed on the breading, try Soules Kitchen Lightly Breaded Chicken Breast Chunks. These nuggets are fully cooked, frozen, and ready to be heated at a moment's notice, making them perfect for busy families.
The nuggets are not only made completely with boneless, skinless chicken breast but they are also tossed in Soules Kitchen's savory marinade before breading to ensure an extra unique flavor. The breading also features a custom seasoning blend to make sure these nuggets are unlike anything you've tasted. The chicken breast chunks are made with antibiotic-free chicken. In addition, they contain no steroids, hormones, or artificial ingredients.
This particular variety of Soules chicken nuggets is sold exclusively at Costco. At a whopping 64 ounces, this package should last a long time. Unless, of course, you can't help but eat them every day.
Just Bare boneless skinless lightly breaded chicken breast chunks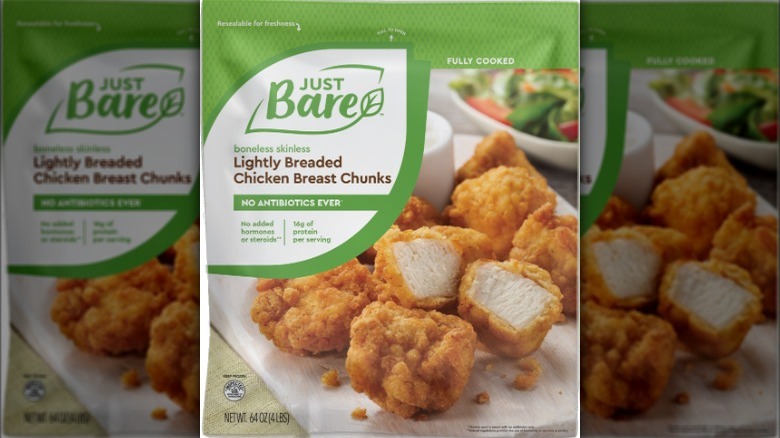 Just Bare
If you prefer your chicken nuggets to be both 100% chicken breast meat and light on the batter, consider Just Bare's Lightly Breaded Chicken Breast Bites. They are made with boneless, skinless chicken breast meat and wheat flour breading. Seasonings like paprika, celery seed, and salt help give these nuggets extra flavor. Best of all, the nuggets are small chunks of all-white meat, so they're filling and natural.
Just Bare is a brand committed to using no antibiotics, hormones, or steroids. It even offers a variety of unique recipes on its website, so if you're stuck on what to serve for dinner, you can visit its gallery for inspiration. The company uses its chicken breast bites in unique recipes like crispy chicken skewers with pesto and a spicy chili chicken breast chunks bowl. Just Bare chicken breast bites are available at Costco and other grocery retailers.
Kidfresh white meat chicken nuggets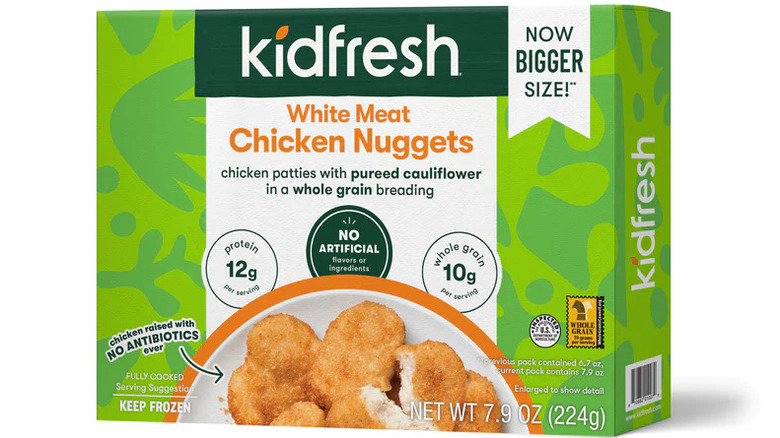 Kidfresh
Any parent is sure to agree that getting kids to eat vegetables can be a difficult task. Kidfresh, a brand dedicated to helping parents feed their kids wholesome and healthy food, has created a unique chicken nugget that will satisfy kids of all ages while also encouraging them to eat their veggies.
The Kidfresh white meat chicken nuggets are made with 100% white meat chicken and include the secret addition of pureed cauliflower and onions. The exterior features whole-grain breading to ensure your kids get all the good nutrients. Kidfresh nuggets boast 70% less fat than the leading brand of chicken nuggets as well as 40% less sodium. In addition, they are free of preservatives and antibiotics. With 12 grams of protein and 10 grams of whole grain per serving, parents can feel good about feeding their kids these nuggets. Kidfresh nuggets can be found at Target, Walmart, Whole Foods, and many popular grocery chains.
Pilgrim's chicken nuggets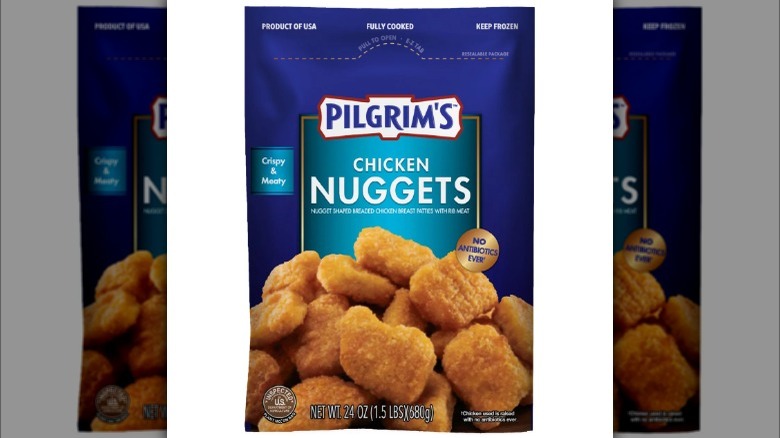 Pilgrim's
Pilgrim's, a food company that has been around since 1946, specializes in chicken products, both fresh and frozen. The company's frozen chicken nuggets are a classic staple in many homes and are made with all-white meat chicken that is antibiotic-free. In addition, Pilgrim's chicken nuggets come from chickens that were never treated with hormones or steroids. This USA-produced brand is available in stores like Walmart and Randalls.
Just like all of the options on this list, Pilgrim's chicken nuggets are perfect on their own with dipping sauces, as a topping for a hearty salad, or served with french fries and vegetables. If you're looking for more meal inspiration, Pilgrim's website features a variety of recipe ideas, like loaded chicken nugget poutine or buffalo chicken nugget pizza.
Pilgrim's features oven baking instructions as well as cooking information for making the nuggets in the microwave or air fryer, ensuring these bites are perfectly cooked and crispy every single time.
Perdue's panko breaded chicken breast nuggets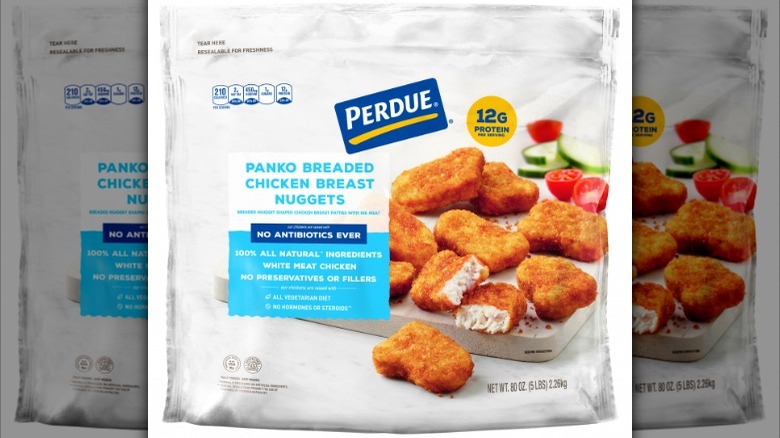 Perdue
Perdue, one of America's largest chicken companies, is popular for its fresh and frozen chicken products, which range from whole birds to prepared food like frozen chicken nuggets. All of the chicken produced by Perdue is guaranteed by the U.S. Department of Agriculture to be 100% vegetarian-fed with no animal by-products. The company asserts that its chickens are free-range, never imported, and humanely raised. 
In addition, the production of the panko-breaded frozen chicken nuggets steers clear of preservatives or fillers, which means you can feel good about serving them to your family. Perdue's nuggets are made with all-white meat chicken and seasoned panko breadcrumbs. Whether you use them in a sandwich or serve them on their own, these tasty panko-breaded nuggets are sure to be popular with adults, teens, and kids alike. Perdue products are sold in retailers nationwide including Target, Walmart, Randalls, and regional grocery stores.
Realgood Foods Co. chicken nuggets
When leading a low-carb lifestyle, you often have to forgo eating breaded meats like chicken nuggets. However, Real Good Foods Co. makes all-white meat frozen chicken nuggets that feature only 3 grams of net carbs per serving, making them ideal for those looking to cut back on carbs without sacrificing their favorite foods.
Real Good is known for its line of high-protein, low-carb products. The company makes everything from cauliflower breakfast sandwiches to chicken pasta bowls that are sure to feed your appetite without overdoing it on the carbs. The chicken nuggets are no exception.
These nuggets are lightly breaded in chickpea flour, making them low-carb, gluten-free, and grain-free, which is perfect for people with allergies. Each serving features 23 grams of protein thanks to the hefty portion of chicken breast used to make them. The nuggets are packed with flavor from seasonings like salt, paprika, onion powder, garlic powder, and black pepper.
Tyson white meat panko chicken nuggets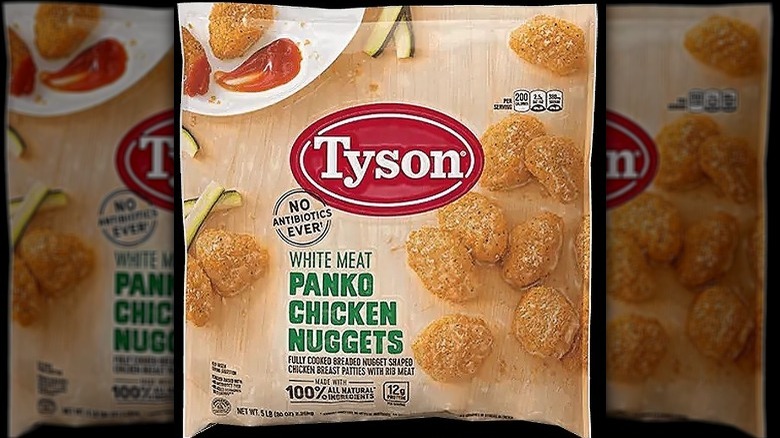 Tyson
Tyson is one of the country's biggest chicken producers. The company began in 1935 and its products can now be found in most places groceries are sold. However, despite the brand's popularity, many consumers avoid the company's original chicken nuggets due to the fact that the ingredient list doesn't specify what part of the bird is used to make them. This can be a big concern for shoppers who are looking for ingredient transparency as well as clean and natural ingredients in their food.
Luckily, the chicken company sells an all-natural, antibiotic-free, all-white meat chicken nugget too. Tyson's panko chicken nuggets boast chicken breast meat as the first ingredient. In addition, the nuggets feature other all-natural ingredients like breading made of wheat flour and seasonings such as paprika, garlic powder, onion powder, and salt. The catch is that these chicken nuggets are sold exclusively at Costco, so you'll have to be a member of the warehouse club to try them.