If Baking A Birthday Cake Seems Too Stressful, Make Blondies Instead
Birthday pressure is real, whether you're celebrating yourself or a loved one. And of course, as is the birthday tradition, everyone is expecting cake in some form or another. While it's tempting to just order a dozen gourmet cupcakes for a small fortune, there's nothing quite as special as baking a birthday treat from scratch. However, a cake isn't always doable. They require lots of effort and time between baking, cooling, and decorating. For an equally special and delicious alternative to traditional birthday cake, try out a blondie recipe. 
Similar in ingredients and baking procedure, blondies are vanilla's answer to chocolate brownies, and they're just as easy to make. Though they are often compared to brownies, one TikTokker explains that the blondie base is "very similar to a cookie dough base but with a higher butter and sugar ratio to flour." 
The trick to giving it that classic birthday cake FunFetti birthday cake treatment relies on a special ingredient: almond extract. If you're baking for someone with a nut allergy, swap this out for imitation almond extract, which is nut free. If you just don't have any almond extract on hand, you can opt for extra vanilla extract or even maraschino cherry juice for a similar flavor. 
Don't forget the sprinkles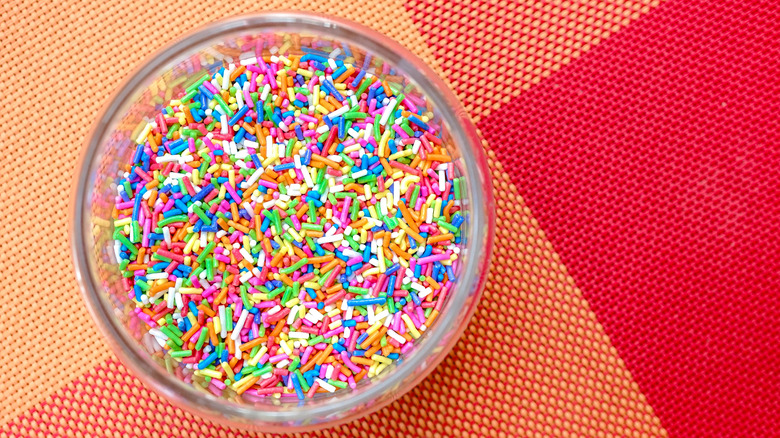 Enchantedfairy/Getty Images
If your childhood isn't coated in memories of rainbow-dotted FunFetti cakes, then you're missing out on one of the most iconic birthday flavors of all time. You can add that same nostalgic color to your blondies with some rainbow sprinkles. 
You'll mix these into the batter, so they don't need to be the top-shelf sprinkles, because they will disintegrate during the baking time, just leaving their food-colored essence behind. If you want to top the blondies off with a more distinct sprinkle like this TikTokker (they chose stars), just toss a few on the surface layer before baking so they retain their shape. 
Put them on a parchment paper-lined brownie pan or Pyrex dish and bake. When they've cooled, just remove them from the pan and cut them into equal squares. No extra icing or fussy decorating is necessary, and this dessert feels like a birthday classic. Though, we do recommend serving with a generous scoop of vanilla ice cream, just for good measure.