Despite The Hate, The Way McDonald's Makes Hamburgers Checks Out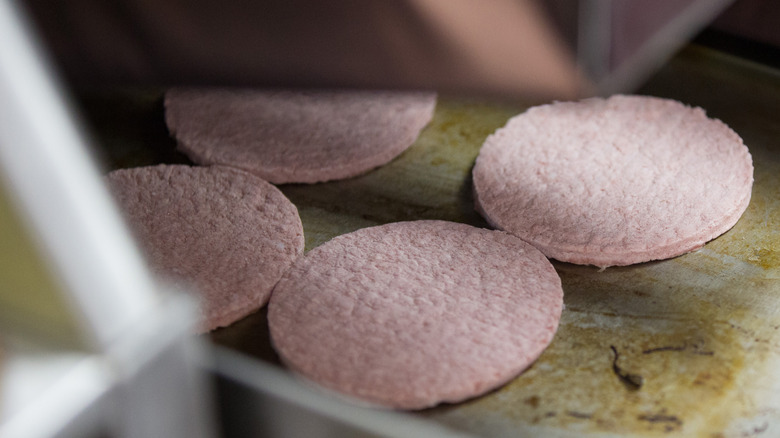 Bloomberg/Getty Images
Even if you have never worked at a McDonald's, you have probably seen your favorite sandwiches being prepared thanks to their open-concept style of kitchen. You may have noticed that the burger patties that are in your favorite McDonald's sandwiches are actually pulled from a variety of different steam trays. However, this is not actually how they are cooked. 
A TikTok video shared by @xvive4 takes you further behind the scenes to show how the McDonald's meat patties are pre-cooked before they hit those brightly colored plastic steam trays and it had some folks questioning the process. First, a stack of frozen beef patties is pulled from a freezer and tossed in symmetrical rows on a hot flat-top grill. Then a lid is pulled down on top of the patties, which is actually an extension of the same flat-top. This way, instead of waiting for the bottom of the patty to cook and flip over, the patties are being cooked on both sides at the same time. This saves valuable time and effort as employees need to act quickly to keep up with the demand for speedy service.
Some commenters were quick to jump on the process and throw some shade at the employee. "Is it jus me but one of em looked raw," said one person, while another mentioned "POV: the pan is so dirty 😳" However, despite the negativity, the way that McDonald's prepares their round patties is not that different from other fast-food chains.
McDonald's isn't the only chain using this cooking strategy to prepare their burgers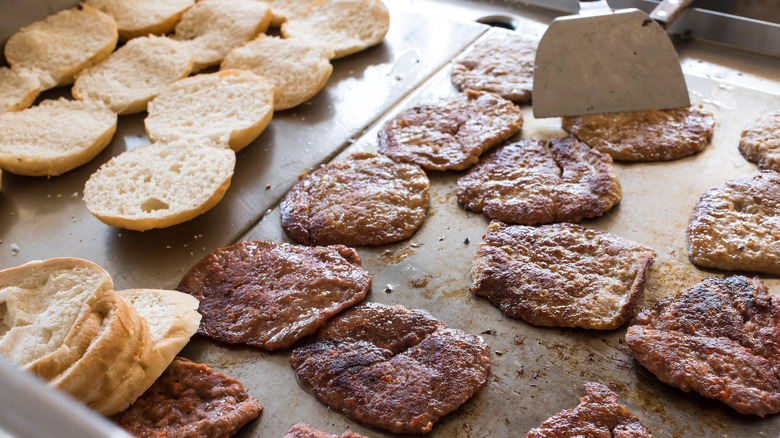 MDV Edwards/Shutterstock
Unlike a traditional grill — where heat rises from below from a gas source or hot coals and up through a thick metal grate creating those signature grill marks you may see on a barbecued burger — McDonald's grill utilizes a flat-top grill which can be more beneficial to the overall cooking process. A flat-top grill is able to keep consistent heat throughout the entire surface instead of having hot spots like you would on a traditional grill. These types of heating surfaces are used in many restaurants so they can easily cook multiple items at the same time on a single station. Think of all of those smashed patties you love so much from places like SmashBurger, Shake Shack, or Five Guys — they use the same type of cooking apparatus to ensure an evenly cooked delicious burger.
McDonald's takes the same flat-top design but makes it more efficient by using a clamshell type of grill. That way both sides of the burger can be cooked at the same time. According to the McDonald's FAQ, at most, it takes 180 seconds to cook a beef patty. 
Now, some haters may come in and put the chain on the hot stove for using frozen patties instead of freshly made-to-order burgers. However, their burgers are actually flash frozen, which helps to save the flavor; and, when serving hundreds of burgers a day, it just makes sense to keep it quick.