The Pros And Cons For Both Costco Memberships In 2023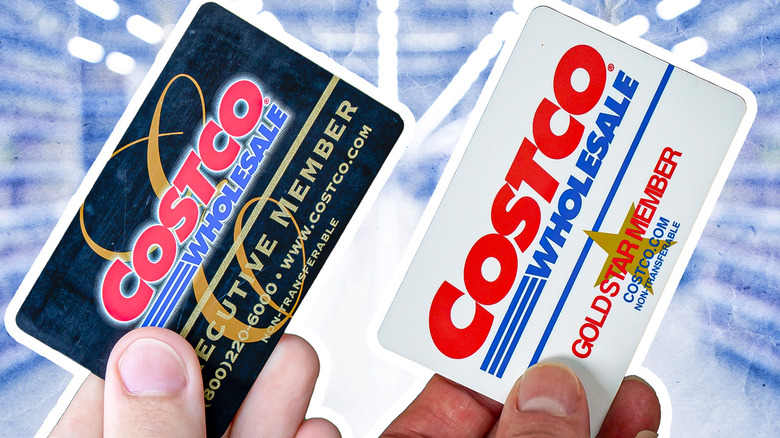 Static Meida
Only members can shop at Costco and becoming one costs either $60 or $120 annually, depending on whether you choose the Gold Star or Executive card. Spread out over 12 months, these memberships cost less than most Netflix subscriptions. Even so, if you're about to sign up for one, you'll want to know if it's the plan that will get you the best deals on the products and services you'll purchase.
There are different reasons to shop at Costco. Most people like the cheap merchandise, but others sign up for the competitive gas prices. Some customers adore the low-priced fare at the food court. Others head there for the thrill of the treasure hunt — they like picking through the aisles looking for fantastic, high-quality goods at low prices. Then there are also the amazing return policies and long warranties for appliances. Finally, Costco offers some attractive services — travel planning, home improvement, and insurance — that you might not even know about yet but could take advantage of if you wanted.
While you think about the Costco memberships you want to buy, consider your weekly grocery needs, how prone you are to splurging, and how loyal you want to be to Costco. Take into account which of the many products and services you're most likely to consume before deciding to become a Gold Star or Executive member.
If you plan on spending less than $250 a month, go for Gold Star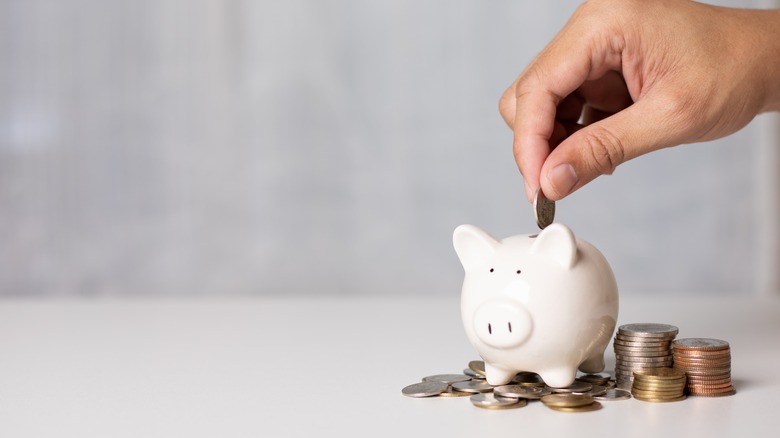 Natthapol Siridech/Shutterstock
Costco Gold Star Membership is cheap; the yearly $60 fee comes out to just $5 a month. Going to Starbucks twice a month generally costs more and seeing a movie in the theater typically requires at least twice that. It's simple to spend $5 less at the Costco warehouse than you would at other stores if you stick to non-perishables like gas, toilet paper, diapers, and dish washer detergent. For example, a pack of 92 Cascade Platinum Action Pacs from Amazon costs roughly $35 while an identical purchase from Costco goes for around $25. With a single product, you could justify two months' worth of membership and won't run out of detergent for the next three months — two birds, one stone.
If you only use membership for household necessities, though, you won't spend much. If you usually keep your shopping budget down to less than $250 per month, Gold Star Membership is your best option since the cash back benefits of the Executive plan don't justify the greater cost until you spend more. That's not a problem, though — this plan has nearly all of the same benefits as the Executive Membership, even though it costs half the price. It gives you access to all the same merchandise, gas prices, and food court menu items. Just like the more expensive membership, it also provides two cards — one for the primary member and one for another person from the same household.
If you spend more than $250 a month, an Executive Membership is the right call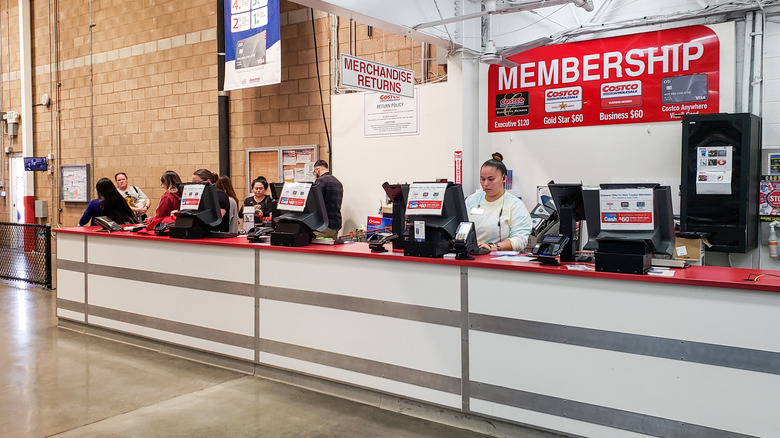 The Image Party/Shutterstock
In the big scheme of things, the $120 fee for an Executive Membership at Costco isn't expensive — it comes out to $10 a month. That comes out to less than what a monthly Xbox Game Pass usually costs. Of course, even though the price is accessible, you'll want to make sure that you get the most from an Executive plan, and that means taking advantage of the biggest difference between an Executive and a Gold Star card – the cash-back benefit.
With the Executive Membership, you get 2% cash back from your year of Costco purchases. This comes in the form of a rewards card which you have to redeem through purchases at the warehouse. So, if you spend $3,000 in a year, about $250 a month, then the company sends you a reward card for $60. That amount alone justifies having upgraded from Gold Star and you'll come out even. Once you hit the $6,000 mark ($500 a month), you'll get $120 back, or the entire cost of executive membership.
Consider the fact that the USDA (United States Department of Agriculture) calculated that thrifty, four-person families spend just slightly more than $970 on groceries every month. That means spending the $250 or even $500 monthly to justify Executive Membership is way under an average family's monthly grocery budget. In other words, if there are four people in your family, you'll be spending that amount on food anyhow, regardless of whether it's at Costco or not, so why not do it with an Executive Membership and get rewards?
New parents benefit from Gold Star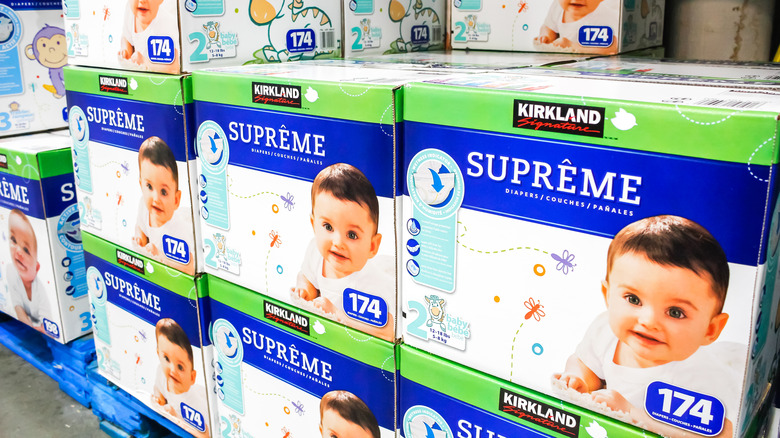 The Image Party/Shutterstock
Diapers are a reason to sign up for a Gold Star Membership. In the first year of a human life, this product represents a major expense for families. The National Diaper Bank Network says providing 12 diapers a day costs between $70 and $80 per month. Getting the best quality diapers at the lowest price can only help keep household budgets down. Some moms on Reddit say that's why they head to Costco. Of course, if your Costco list only includes diapers, wet wipes, and formula, your monthly spending will likely stay below $250. Many new parents don't have extra cash for impulse purchases; thus, the Gold Star plan makes the most sense for folks in their position.
Purchasing diapers in bulk from the warehouse saves time, and of course, there's the price. A box of 192, size 3 Huggies costs around $50 at Costco while Amazon offers 156 Huggies for a similar amount — that's roughly $.27 versus $.33 per unit. If a baby needs 360 diapers a month, their family saves about $20 a month by buying them from Costco.
Huggies are expensive, though, and there are cheaper options out there, like Kirkland Signature, Costco's store brand. On Reddit, a woman named NicoleD84 said her sister gave her a case of these diapers and she liked them so much she signed up for a Costco membership. A case of 222, size 3 Kirkland diapers costs a little less than $45, or right around $.20 per unit.
If you love Costco's hidden treasures, go for the Executive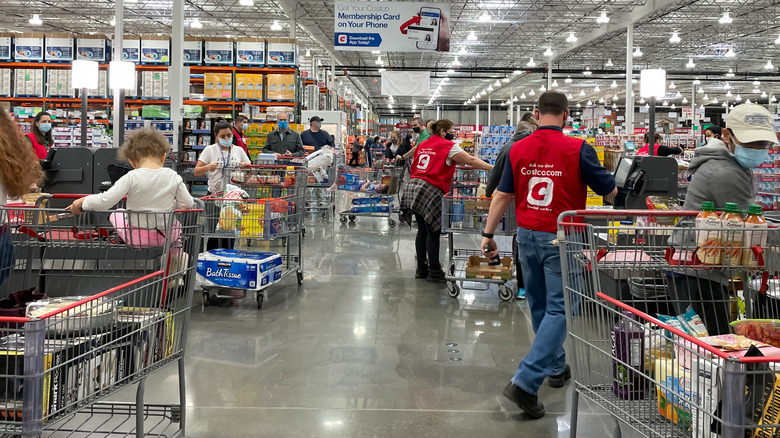 Jiujiuer/Shutterstock
There's a category of products on Costco's website called Treasure Hunt. That term could also apply to the company's selling strategy in general. They want people to feel like they're searching for hidden treasure, and it works — shopping at Costco can be tremendously entertaining. If that's why you like the warehouse, you should probably get an Executive Membership since you'll earn cash back on all those deals you discover.
Shopping at Costco is similar to treasure hunting, because the warehouse retailer doesn't label aisles and regularly moves products around, which means customers have to look harder to find what they need. Shoppers might find a fantastic electric scooter beside their favorite taco seasoning one week; then, the next time they go in the store they'll locate the same spice next to sleek leather shoes. Meanwhile, Costco only stocks the leather shoes and electric scooter until they sell out. That means when deal hunters discover these amazingly priced products, they want to snatch them up immediately.
Shopping this way and finding great deals can be psychologically rewarding, as long as you have the money to spend. If you're on a tight budget, though, stick with your list, don't get side-tracked, and stick with a Gold Star Membership. On the other hand, if your wallet doesn't mind you splurging now and then and you love the treasure hunt, Executive is your kind of card.
The Gold Star card could save you a bundle on gas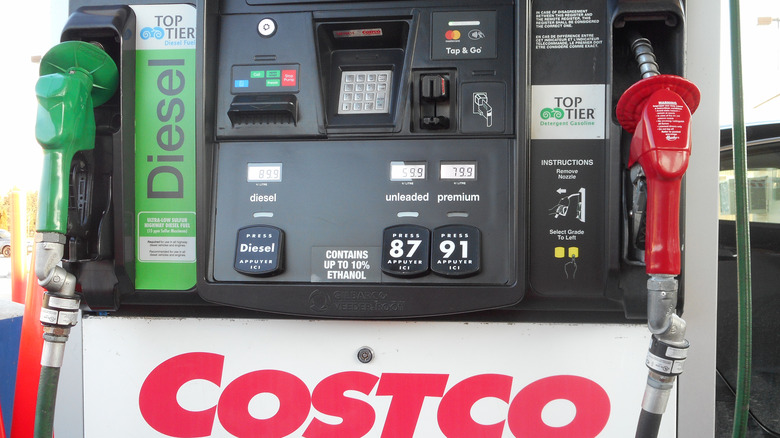 Johnathan001/Shutterstock
If you spend a lot on gas every month, look into becoming a Costco Gold Star member. According to financial advice website The Ascent, the average American could save around $106 annually by filling at the warehouse's pumps. That figure assumes Costco is $.20 cheaper per gallon, people drive 13,476 miles per year, their cars get 24.5 miles to the gallon, and they only fill at Costco. Once we factor in the $60 membership, that means drivers come out $46 ahead. It's not enough to justify the Executive Membership, but it's a fit for the Gold Star.
Research fuel prices in your area before forking over $60 for membership, though. In some regions, the difference can be as much as $.37 less per gallon. Your savings could vary wildly depending on where your location is, but if Kirkland gasoline in your area is regularly $.20 cheaper per gallon than average, the Gold Star membership is worth it. 
There are also a couple of reasons you might decide not to fill at Costco. The long lines can be an issue — you might not want to wait just to save a few dollars. Additionally, depending on the location, these pumps usually open from 6 a.m. to 9:30 p.m. If you like heading to the gas station later or earlier than that, membership just for Kirkland fuel may not be for you. Finally, you might have to make a longer drive to Costco pumps and end up preferring a site closer to your house.
Buy the Executive Membership if you're replacing an appliance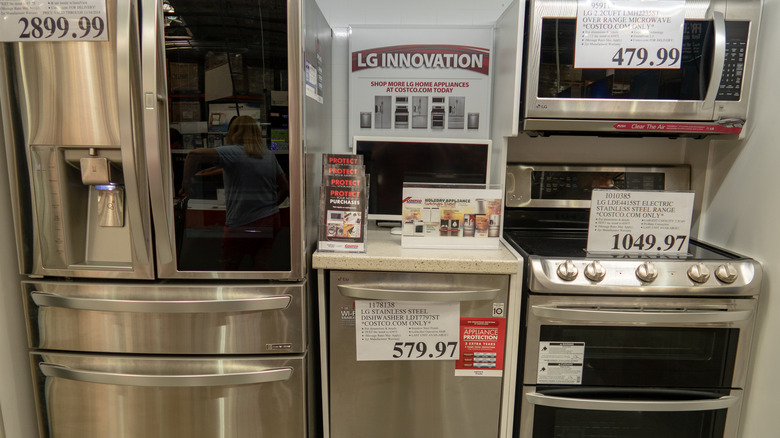 Arne Beruldsen/Shutterstock
If you're planning on replacing big appliances this year, get an Executive Membership. Both memberships give you access to Costco's complementary technical support, two-year warranty, and 90-day return policy. Members really appreciate that extra year on the warranty, and the 90-day policy is longer than what many other retailers offer. For example, Best Buy gives most customers only 15 days to return items, and members get 60 days. So, buying appliances at Costco is tempting for both Gold Star and Executive members, but the more expensive membership is preferable since 2% of what you spend on an appliance will become a cash back reward.
Large appliances frequently come with complications: delivery, installation, and haul away. Costco says it'll take care of this for no extra charge, but since the company subcontracts these services with local providers, customers have mixed experiences. For example, on Reddit, a user named trickertreater said they ordered a washer on sale and used a PTO day to receive the delivery and oversee the installation, but the washer didn't show up as expected. The purchase had been canceled by the warehouse for an unknown reason. That was a terrible experience, but, on the same thread, velvet_milkman_ said they bought a fridge, range, and dishwasher with no problems. The delivery, installation, and haul away went smoothly. So, ask around town for info about your local Costco's third-party contractors.
Gold Star is best if Costco isn't your only grocer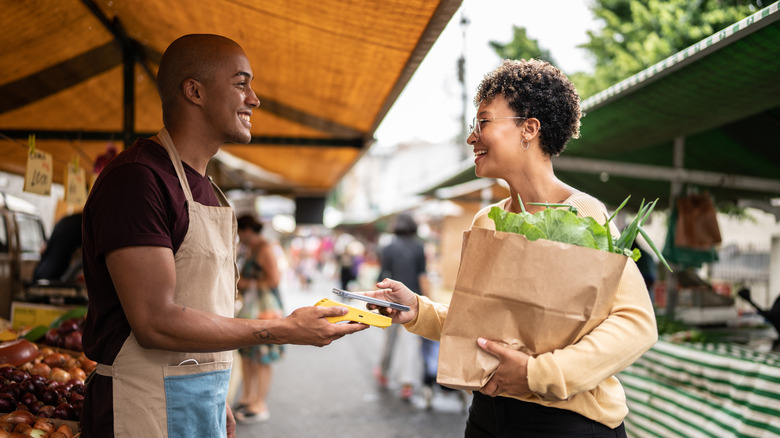 Fg Trade/Getty Images
Shopping at Costco is great, but you probably get groceries at other stores, too. If that's the case, then you'll be happier with a Gold Star Membership. Having an Executive Membership might drive you to stop shopping around and go to the warehouse more exclusively since you want to get enough cash back to pay for the more expensive membership.
Ultimately, most people don't like staying that faithful to just one grocery store. Perhaps they like a particular brand of peanut butter only stocked at Aldi but prefer Kroger's microwave popcorn, and there are countless similar examples. Shopping sales and coupons also get consumers around to several different supermarkets. A 2018 study of store loyalty, performed by the University of Washington in St. Louis, found that 83% of people visited between four and nine different stores. They only bought about 40% of their household needs at a favorite grocer, spreading the rest amongst various retailers.
So, imagine that you spend about $1,000 on groceries each month for your family of four. If you spend 40% of that at Costco, it comes out to $400 which is enough to cover the $60 difference between the plans, but still isn't enough to pay for the entirety of an Executive Membership through cash-back rewards.
Grab an Executive Membership if you want to use Costco's travel planning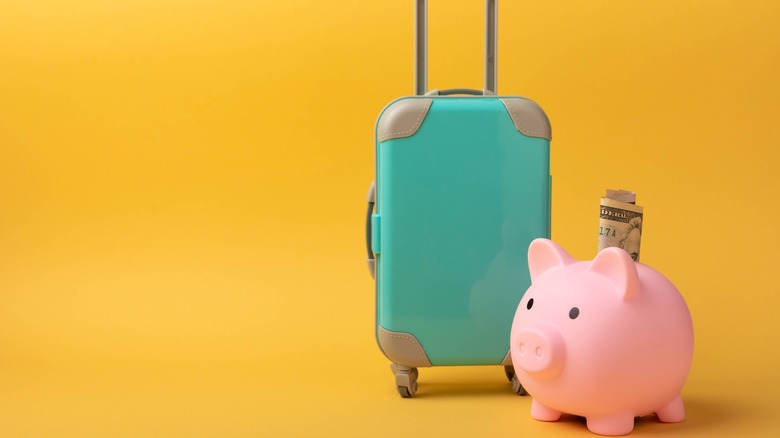 Avocado_studio/Shutterstock
Costco plans trips for members — flights, hotels, airport transfers, and car rentals. If you want to use that service, sign up for an Executive card. Firstly, there are spectacular hotel and resort deals that are exclusively available through this membership. Secondly, the amount of cash back you'll get by splurging on a Costco vacation will justify paying for the more expensive membership.
Costco's packages are not necessarily cheap, but these deals often have lower prices than booking the same flight, hotel, and transfers through separate companies. There are downsides to a Costco vacation, though. First, you may find cheaper, alternative hotels and airlines. Second, the warehouse limits the number of destinations and hotels you can pick from. Finally, if you were thinking of taking a year to travel around the world with Costco and get rewards for all of it, beware. There's also a limit to the cash back you can earn — $1,000. Although, to reach that number you'd have to spend $50,000 on travel, groceries, and gas.
Go for the Gold Star card if you mostly visit Costco for the food court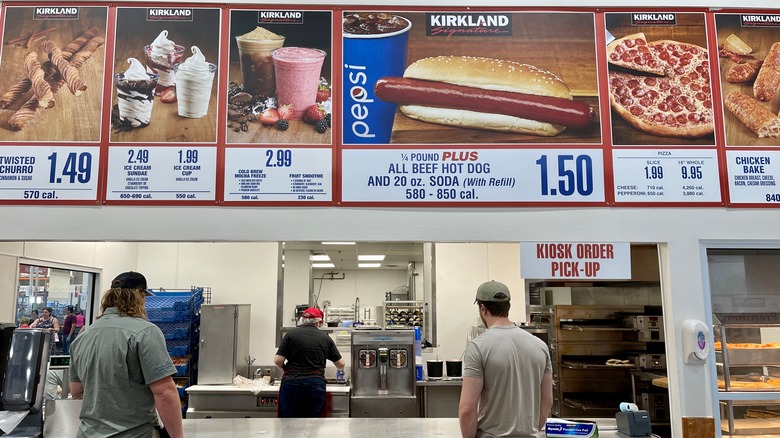 Ant DM/Shutterstock
Costco's food court has amazing prices — most famously its $1.50 hot dog. You'll only get to eat there, though, if you're a member — the warehouse got much stricter about this starting in 2020, although that may depend on the specific location. People who work near a Costco can run there for a quick, cheap lunch and save a lot, but if this is your main reason for becoming a member, you'll only spend enough to justify a Gold Star card. Think about it this way: If you work 50 weeks a year, that comes out to 250 days. If you go there every workday lunch and spend about $10, your yearly lunch expense is $2,500 — not enough to earn back the cost of an Executive Membership.
The prices on Costco's food court menu definitely justify a Gold Star card, though. First, the national average price of take-out pizza is $17.81, according to Slice of the Union. The price of a pizza at Costco is just $9.95. That's a big difference. Then, you might also like to pick up a $4.99 Costco rotisserie chicken. One at Kroger costs $7.99. 
If the only thing you ever buy from Costco is a rotisserie chicken once a week, your Gold Star Membership is worth it. Yearly, you'd spend $260 plus the cost of a $60 membership for a total of $320, as opposed to the $416 you'd spend at Kroger.
Got for the Executive if you want to use Costco's home improvement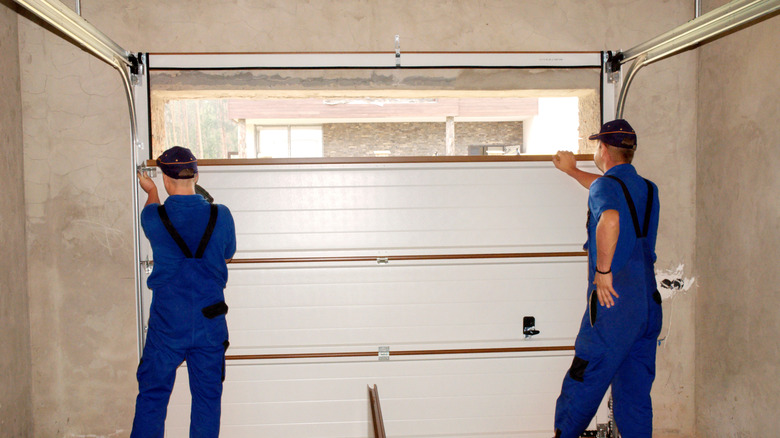 Radovan1/Shutterstock
If you're planning on installing a new garage door, putting in solar panels, or a new HVAC system for your home, you should consider going to Costco. They'll give you a quote, and if you're an Executive member, you'll have access to extra savings on these home improvement services.
Costco works with third parties to offer these services. For example, their deal on solar panels is with Sunrun. Whatever you spend on that company's panels through the warehouse, Costco will return 10% in the form of a rewards card. Then, Executive members get an additional 2% back. In the case of putting in window blinds with Graber, the warehouse returns 20% on a rewards card and 2% more for executive members.
Since Costco works with third parties to provide these services, the promptness of delivery and installation can vary as can the quality of customer service. Anyone who's considering hiring these services should get quotes from several providers and research reviews online to see who has the best customer care. Reddit users have had varied experiences. BeenThereNDunThat said that when they asked for quotes, Amarr through Costco was more expensive than some local competitors despite the rewards cards. On the other hand, the user Jfortyone had a fantastic experience and jealous neighbors because their garage door looked so good.