Magnolia Bakery Launches Banana Pudding Cookies At Costco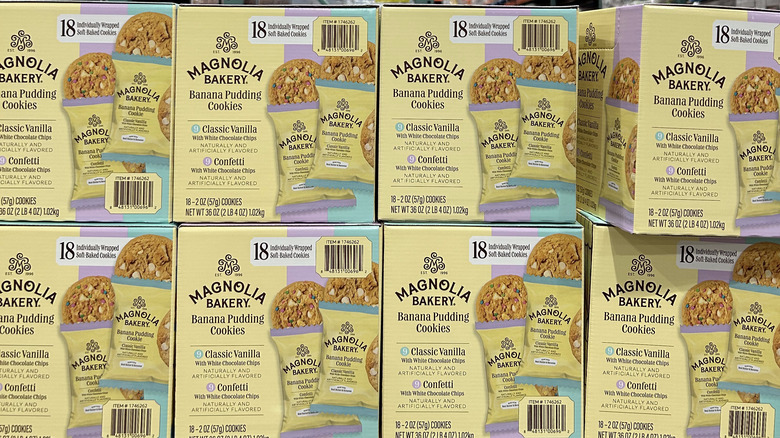 Rebecca Cherico/Static Media
Fans of Magnolia Bakery, take note! Their first cookie is launching in Costco stores across the country for a limited time. Starting in July, you'll be able to purchase boxes of 18 individually-wrapped soft baked cookies inspired by the bakery's famous banana pudding. The boxes will come with nine of their "Classic Vanilla" and nine of the "Confetti" variety — both featuring white chocolate chips and rich banana notes. The price may vary by location, but it should be around $16.99 per package (or less than $1 per cookie). 
Magnolia shared their initial batch of pre-packaged goods with the world in March of this year, marking their first foray into the cookie market. Magnolia decided to whip up the cookies in three different varieties, all of which feature the strong natural banana flavor of the decadent banana pudding that has garnered so much enthusiasm. The cookies also come in a chocolate chunk flavor in addition to the two white chocolate varieties now on offer at Costco. 
The company sees the cookies as a way of expanding the "magic" of their brand into the many parts of the country that don't have access to Magnolia Bakery's freshly baked delights. Since they first opened the doors of their first shop on West Bleecker Street in 1996, Magnolia has opened bakeries in other parts of New York as well as California and Illinois and has a host of international locations, largely in the Middle East and India. 
Bakery-inspired delights of all kinds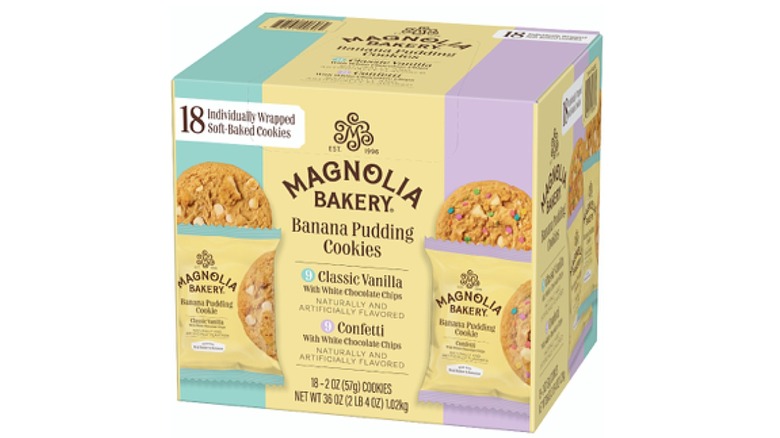 DW labs Incorporated/Shutterstock
Magnolia Bakery catapulted to fame when its cupcakes appeared on an episode of "Sex and the City" in 2000. At the time, cupcakes were the hottest thing in town. While Magnolia's cupcakes remain popular, they offer a wide variety of crowd-pleasing options, including confetti cake, brownies, and classic chocolate chip cookies. Recently, the bakery has chosen to capitalize on their cult-favorite pudding — and we can't blame them! There is something sweetly nostalgic and satisfyingly retro about banana pudding that evokes childhood's sweetest moments. 
Before launching the cookies, the company did its research. They found that 70% of customers wanted to see their products in stores, which suggests high enthusiasm and a receptive market. Further studies demonstrated that soft-baked cookies were the fastest-growing segment of the cookie market, making a perfect entry point for their pudding-inspired treats. The company got the green light when Magnolia experimented with cookie sales at their bakeries before launching them in supermarkets. The response from shoppers was overwhelmingly positive, and Magnolia's first retail cookie was born. Do the cookies live up to those expectations? You be the judge!