All Kodiak Cakes Flapjack Mix Flavors, Ranked Worst To Best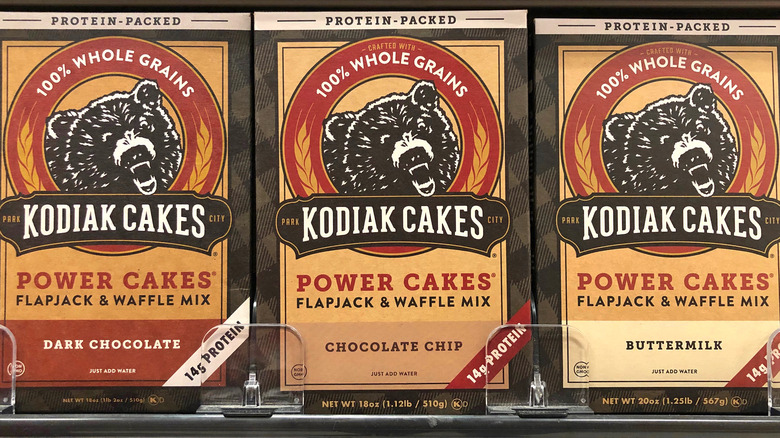 Sheila Fitzgerald/Shutterstock
Kodiak Cakes seem to be all the rage in the pancake arena, and honestly, it's not hard to see why. Loaded with tons of protein and hearty good-for-you whole grains, Kodiak seems to have flipped breakfast into something we can actually feel good about. For this reason, we were totally stoked to find Kodiak dishing up the goods with its flapjack and waffle mixes. 
Available in a large variety of drool-worthy flavors, Kodiak is helping each and every one of us up our breakfast game. Whether you've got dietary restrictions or are looking to carelessly down your power cakes, we're willing to bet Kodiak has a flavor out there for you. So, which of these flavors are worth trying, and which are better off skipping? 
We've done our best to rank these high-performing power cakes, relying on general customer consensus and using ratings and comments. If that sounds good to you, then keep reading as we dive right into the details!
13. Buttermilk Power Cakes
They say there's nothing better than the original, but when it comes to Kodiak Buttermilk Power Cakes Flapjack and Waffle Mix, this may not ring true. For most people, buttermilk pancakes sound like a delectable way to start the day, and they are. They impart a nostalgic and overall pleasant taste, usually paired with a fluffy texture. Drizzling rich and robustly flavored maple syrup over the top only takes it over the edge.
Sadly, Kodiak's Buttermilk Power Cakes Flapjack and Waffle Mix has seemingly failed to live up to this standard. Though there are many out there that love this flavor (after all, most Kodiak products tend to taste great) there were still quite a few commenters that had negative things to say. From bland tasting to dry, Kodiak fans had a few choice words for this particular flavor that makes us wonder if it's actually worth the buy.
Nevertheless, some consumers claim this protein-rich whole grain and whole oat flour flapjack and waffle mix is delightful and they actually look forward to eating it on a daily basis. What's one person's trash is another's treasure. Looks like you'll have to sample this one to determine for yourself which side you land on.
12. Carb-Conscious Buttermilk
Are you trying out the keto lifestyle or embarking on a low-carb journey? If so, you'll be pleased to know that Kodiak offers its flapjack and waffle mix in a carb-conscious product designed with about 15 grams of net carbs per serving. But as we all know, there's no real point in eating a carb-conscious pancake if the taste isn't on par with what you'd expect from a true buttermilk pancake, right?
Well ... kind of. Although Kodiak's carb-conscious flapjack and waffle mix is labeled as a healthy and lighter option for the carb-cautious community, the fact of the matter is that many keto devotees are fully aware that low-carb options will have a different taste than non-keto options, and therefore, tend to be a bit lenient when it comes to packaged products.
The comments about this Kodiak flavor back up this claim, as one customer insists that you must adjust your expectations if you're looking for something that tastes like what your mother used to make for breakfast on Sunday mornings. Instead, expect this wheat, almond, and oat flour blend to taste slightly dry and flavorless when compared to a traditional fluffy pancake. Still, many people are ecstatic to continue eating this low-carb option for breakfast, especially since it can come as a much-welcome treat for those who love pancakes but still adhere to a strict keto diet.
11. Almond Poppy Seed Power Cakes
Almond Poppy Seed Kodiak Power Cakes? Yup, they make 'em, and no, they aren't a typical flavor you'll find in other pancake and waffle mix varieties. Regardless, we were curious as to how this would taste, given that neither ingredient is commonly highlighted in pancakes — not to mention, this isn't exactly a classic among store-sold brands. So, how'd it fare?
That depends. To our surprise, it turns out that the almond really does stand out. Actually, it stands out so much that it even turns some people off. One reviewer went as far as to say that it tasted almost medicinal with a smell not unlike their almond-scented cleaning supplies. Still, Kodiak devotees state that those who love almond flavors will likely enjoy this one given its bold almond taste.
This one's tricky to rank; after all, almonds taste nice, but cleaning supplies are a whole other flavor we'd rather not add to our morning routine. The only thing that makes us feel a little better is that there are still mostly glowing reviews of this mix out there; it may just be a matter of taste as to why this Kodiak mix garnered such oddly opposing reviews.
10. Buttermilk and Honey Frontier Cakes
Aside from standard buttermilk Kodiak cakes, there's a buttermilk and honey rendition, too. Though this one gets a little more love than the original, the addition of honey to the mix leaves a bit to be desired. In fact, some customers have begun to suspect there's a little more going on beneath the surface regarding this flavor than most people realize.
Since some commenters notice a weird taste in the mix, they suspect that the company may have silently changed up the recipe. Many lament the fact that this mix tastes like salt and baking soda, with some even making the claim that this flavor barely registers any discernible taste at all.
Nevertheless, many consumers love this product for its thick texture. As well, like other Kodiak varieties, it provides a hefty dose of protein to keep you full. Just bear in mind that you may not love the taste. This one's truly a hit or miss that may soon have to call for a recipe overhaul.
9. Raspberry Lemon Power Cakes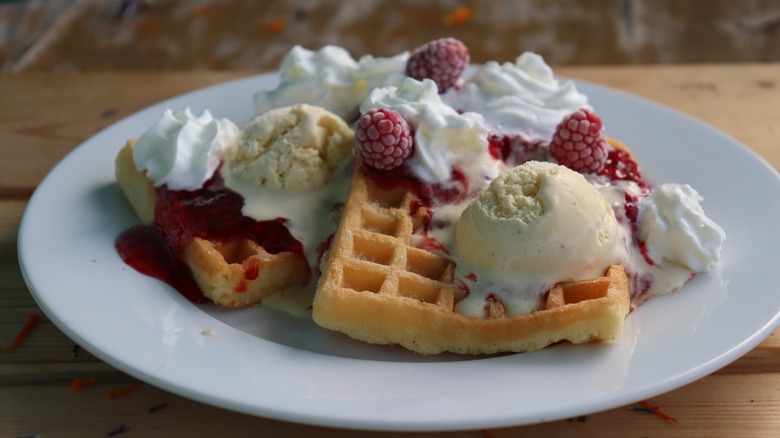 Veronika Karvai/Shutterstock
Raspberry and lemon are like a match made in food heaven. There's just something about their combination that hits all the right notes and tastes absolutely fantastic. This bright and sweet combo is the perfect addition to your breakfast spread, especially during the spring and summer months. And while most customers seem to agree that Kodiak's Raspberry Lemon Power Cakes Flapjack and Waffle Mix is indeed delicious, there are some who aren't too keen on the flavor, especially when it comes to the lemony taste.
Sadly, many people are slightly put off by this promising mashup. Instead of melding together smoothly as lemon and raspberry often do, the two fruits seem to clash, yielding unexpected flavors that consumers can't get behind. Some even claim that the lemon in the mix tastes odd and even downright artificial in many cases. We're not sure if it's the lemon juice powder that's been added to the mix, but whatever it is, many fans just aren't having it.
We recommend approaching this seemingly delicious flapjack and waffle mix with caution. Though it may seem like the ultimate flavor combo, you might not like it due to the offending nature of the strong lemon flavor.
8. Plant-Based Classic
If you're vegan or are looking to add more plant-based options to your morning meal, you'll want to give Kodiak's Plant-Based Classic Flapjack and Waffle Mix a go. It's formulated with whole grain ingredients and pea protein, brown rice protein, and wheat protein isolate to give your body the boost it needs without animal by-products.
Thankfully, this Kodiak flapjack and waffle mix checks out in terms of taste — at least when it comes to most consumer opinions. While there are a few naysayers out there, the majority seem to sign off on this plant-based breakfast option as being a healthy and nutritious way to start the day. Those who balk at it seem to be turned off by the texture and the way it cooks up. A few have claimed that the mix isn't as fluffy as the other products and that the middle remains raw.
If you're looking for a healthy plant-based source of protein, it's worth giving this Kodiak option a shot. It doesn't contain any exciting flavors, but it certainly gets the job done when it comes to loading up on vegan protein. 
7. Frontier Oat Gluten-Free
If you're a fellow gluten-free consumer, you likely already know the challenges of finding a good waffle and flapjack mix that you'll actually enjoy eating. Gluten-free pancakes have a reputation for being dry, brittle, and somewhat flavorless. They often fall short of delivering the piping hot fluffy pancake experience everyone wants in the morning.
Fortunately, dry, brittle, and flat aren't factors you'll have to worry about when it comes to Kodiak Frontier Oat Gluten Free Flapjack and Waffle Mix. Commenters concur that this Kodiak blend is amazing, with many even stating that you can't tell it's gluten-free. The mix comes together easily, it's filling, and most importantly, it's downright delicious. We also love the minimalist ingredients list, as the mix contains mostly oat flour, sugar, baking soda, eggs, and salt. This makes for a richly wholesome and satisfying breakfast that still yields 13 grams of protein per prepared serving. What's not to love?
6. Cinnamon Oat Power Cakes
Oats and cinnamon? Yes, please. This Kodiak Cinnamon Oat Flapjack and Waffle Mix combines the right amount of flavor with near-perfect ingredients to give you a boost of protein and other healthy nutrients all in one go. Reviewers rave about the taste and claim the cakes are the perfect addition to their sunrise feast, especially when compared to traditional pancake mixes sold on the market.
So, what makes this particular mix so special? We're not so sure. Maybe it's the warm cinnamon essence or the fact that they make such a perfect blank canvas for yummy add-ins like blueberries, dried fruit, or walnuts. Or maybe it's the versatility of the mix as it lends itself to yummy muffins and other fun treats. Either way, we're convinced that this cinnamon-flavored high-protein morning meal is a major win in the flapjack and waffle category. And we've found plenty of glowing customer reviews to prove it! 
5. Birthday Cake Power Cakes
If you're looking for something classic, flavorful, and dusted with a sprinkling of fun, be sure to make Kodiak's Birthday Cake Power Cakes Flapjack and Waffle Mix a part of your morning chow. This delicious mix not only offers dynamic flavor, but it's also a vibrant feast for the sleepy gaze. Speckled with tons of multicolored rainbow sprinkles, it's very much reminiscent of the Funfetti birthday cakes you used to devour as a kid. 
Customers who have tried the birthday cake power cake agree that it certainly lives up to its name. It's sweet, has no weird aftertaste, and overall serves as a fun and filling breakfast fit for kids and adults alike. What's more is that these pancakes work well even as a dessert, so we totally wouldn't judge you if you put a dollop or two of ice cream on top. After all, what happens in the kitchen, stays in the kitchen, right?
4. Dark Chocolate Power Cakes
If you're a fan of chocolate, you'll definitely want to get in on this action. Kodiak's Dark Chocolate Power Cakes are an amazing flavor addition to the Kodiak family, and we couldn't be happier to have found this product. Of course, you'll need to love dark chocolate to get on board with this one. Still, Kodiak has managed to drum up a flapjack flavor creation so tempting that it has many customers drooling over its uniquely decadent chocolate flavor perfect for pancakes, muffins, picky toddlers, and more. Yep, it's really that good.
Despite the many positive things people had to say about the mix, one dark chocolate power cake fan warns about cooking this particular variety using only water. Though this simple method is certainly a viable way of making these chocolate flapjacks and waffles come to life, it isn't the most preferable. Instead, this commenter recommends using milk and egg as featured on the box. This will help you skip the mess of pancakes getting torn or sticking to the pan. 
3. Pumpkin Flax Power Cakes
We totally get it. Pumpkin-spiced everything can be excessively hyped, especially when it's everywhere you turn during the fall season. Nevertheless, we have to admit, Kodiak really outdid itself when it comes to its Pumpkin Power Cakes, and we just can't help but share our excitement. Kodiak Pumpkin Flax Power Cakes are an awesome find that will make you once again excited to enjoy this flavor profile. 
Not only is the taste unreal, but the pumpkin flavor is just right. It's described as having a true pumpkin spice essence, likely because of the added nutmeg, ginger, clove, and allspice found in the mix, all similar to what you might expect if you made pumpkin flapjacks from scratch at home. For those who don't love pumpkin? Well, you may not believe it, but these pumpkin pancakes are subtle enough that they might not offend the pumpkin skeptics out there. All in all, Kodiak somehow invented one of the most noteworthy and balanced pumpkin flavors available, that can please both pumpkin and non-pumpkin fans alike. It's a win!
2. Blueberry Power Cakes
There are pancakes and then there are Kodiak Blueberry Power Cakes. Seriously, it doesn't get much better than this. Packed with real blueberries and plenty of hearty flavors, you don't want to miss out on this flapjack and waffle mix on Sunday mornings.
Reviewers exude admiration over this product, claiming it to have a genuinely fresh blueberry taste that rivals fresh blueberry waffles and pancakes made at home. Most point out that blueberry flavors from other brands can sometimes come off as artificial, but with Kodiak, the fruit is the real deal. Actually, we were hard-pressed to find more than just a few negative reviews for this one, which is a sign of how solid this flavor really is. Since blueberries are already included in the mix, there's really no need to throw in fresh ones too. Of course, you can up the blueberry content and indulge — we certainly will.
1. Chocolate Chip Power Cakes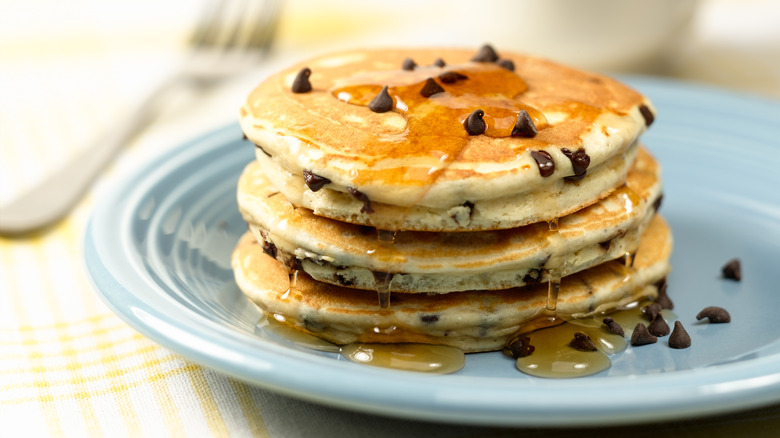 High Impact Photography/Getty Images
If there's anything better than blueberry pancakes, surely, it's chocolate chip pancakes. This delicious flavor proves to be a crowd-pleaser for both children and adults alike, so there's no better way to dish up a breakfast that everyone will love.
Kodiak has done it once again with this flavor, garnering so many positive reviews we're led to believe this one is the best of them all. The texture is perfect, the flapjacks and waffles are easy to make, and the mix lends itself to many opportunities for fun mix-ins. Try adding dried cherries or even peanut butter chips for a slightly different taste — or simply enjoy them as is. Just know that Kodiak's Chocolate Chip Power Cake Flapjack and Waffle Mix may have a sweeter taste than some of the other flavors in this lineup, but with handfuls of miniature chocolate chips thrown into the mix, this is to be expected.