Macaron Cakes Are The Viral Desserts That Are Almost Too Pretty To Eat
We've all been there, faced with a tantalizing dessert so exquisite, we hesitate to even lay a finger on it. Enter macaroon cakes, a sensation sweeping the internet food scene. But what sets these delicate delights apart from the rest?  Macaron cakes are true marvels that come in a delightful array of shapes and sizes. What differentiates them is their gargantuan size — they can be about four to five times larger than your average 2-inch macaron. With such a delicate structure, they demand a certain finesse when handling. But the effort is truly worth it.
These marvelous creations offer a playground of possibilities for fillings and frosting, giving rise to an incredible range of flavors and combinations. Picture sinking your teeth into a macaron cake adorned with a velvety white filling, perfectly complemented by a tangy burst of fresh raspberries. Or, if you're feeling adventurous, join TikToker @minica.macs on an audacious flavor fusion adventure with the whimsical addition of fruity pebbles — a combination that's truly out there and intriguing.
With popular trends like the macaron cake going TikTok viral and #macaroncake hitting more than 28 million views, it is truly hard not to want to eat these whole cakes in one sitting. But remember dear foodie, the next time a macaron cake crosses your path, brace yourself for an experience that transcends the ordinary and relish every moment with its fanciful creation.
Quick tips for the perfect macaron cake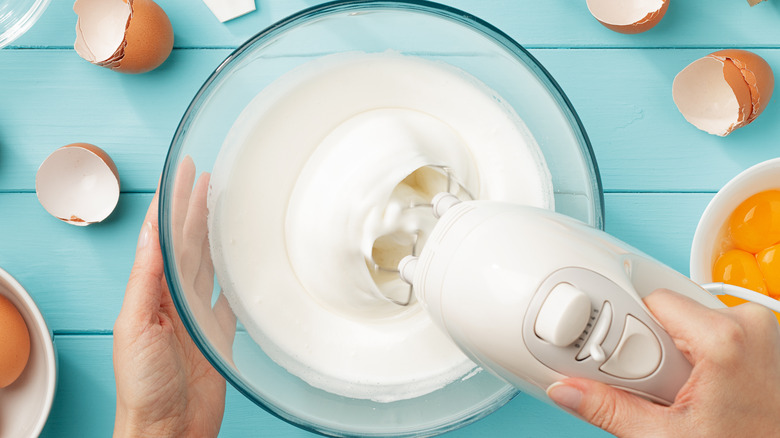 Dubravina/Getty Images
If you're eager to try making this treat, it may seem like a piece of cake. Wrong, macarons are not an easy dessert let alone in colossal cake form. We have some tips to help you on your macaron cake-making journey. To begin, you may want to make some modifications to your regular macaron recipe. One option is to start by piping mammoth-sized macarons using a snail shell method, allowing the batter to fall in a spiral pattern so the shells can form swirls and ridges. 
With significantly larger shells this will extend their baking time, and a slight browning could occur, says Baran Bakery. But, these lightly toasted shells add an extra hint of flavor to the overall taste of the cake. Once the macaron shells have cooled, it's time to frost the cake. We recommend using a pastry bag equipped with a piping tip. It can be helpful with fruit fillings to add an extra layer of that buttercream as a barrier to prevent any cake leakage.
Finally, after assembling your masterpiece, it is essential to let your cake sit in the fridge for a few hours or even overnight. Yes, we know, waiting can be challenging. But this slumber allows the flavors to mingle and harmonize. If the idea of baking a macaron cake feels like navigating outdated Mapquest directions, we recommend you drop that whisk and seek assistance from your local baker or viral TikTok creator. Happy macaron-making!