TikTok's Men Cake Trend Puts Hotties On An Edible Pedestal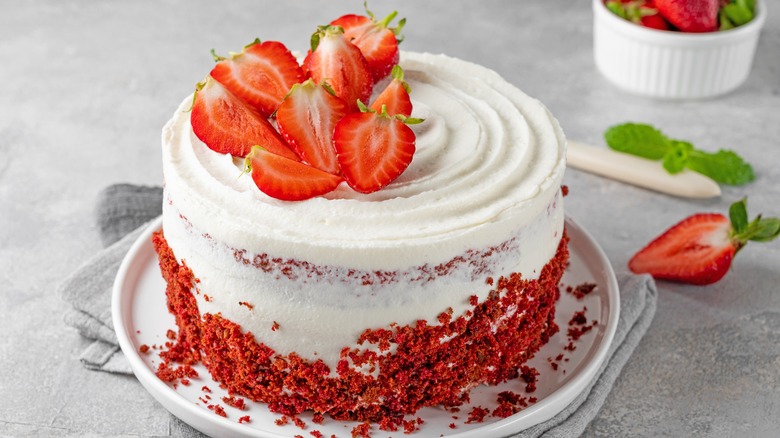 irina2511/Shutterstock
We've seen many cake trends over the years. Some last a few months. Others will never die. Chiffon cakes, German chocolate cakes, Jell-O poke cakes, ugly cakes, and many others. Now added to the long and growing list are celebrity men cakes, as shown on TikTok. The concept is pretty straightforward. It's a regular frosted cake, topped with paper cutouts of male celebrities.
Brad Pitt, Justin Bieber, Jay Hernandez, Michael B. Jordan — whichever celebrity you fancy, for whatever reason, can make a photo appearance on your cake. You can have the photo toppers placed toward the back of the cake, allowing room for words, candles, and other embellishments. Or, you can have the entire top surface of the cake filled with the photos, like TikToker @oceanarber's version.
What's fun about these cakes is that they can easily stir up some fun commentary, either on social media or in person. Some viewers will agree with the photo selections while others will offer their own "hottie" suggestions. And although it's most common to include photos of human celebrities, you can add photos of cartoon characters, too.
You can enjoy your own men cake without a trip to the bakery
Another neat feature about men cakes is that you don't need to go to a bakery to have one specially made or spend a long time making one yourself. Unlike cakes that feature intricate frosting, fondant, and edible embellishments, these baked desserts can be baked at home and coated with a single layer of frosting. Plus, you don't even have to decorate them since the photo toppers alone can serve as the focal point, but if you're a skilled cake decorator, you can have toppers and edible embellishments – perhaps a multilayered cake featuring Austin Buttler, Spider-Man, a collection of other men, and decorative peaks and borders.
Speaking of the toppers, you can print photos of your selected celebrities from the internet on cardstock or cut them out of a magazine. For cutout photos, you may need to glue them to thick paper so they won't bend or rip. Then, you can attach the photos to skewers or lollipop sticks. This may be a time-consuming part of the DIY process, but it could also turn out to be the most enjoyable. Whatever form it takes, the idea appeals to people, as #mancake has amassed more than 2.6 million views.