The Fancy Budapest McDonald's That's Inside An Old Train Station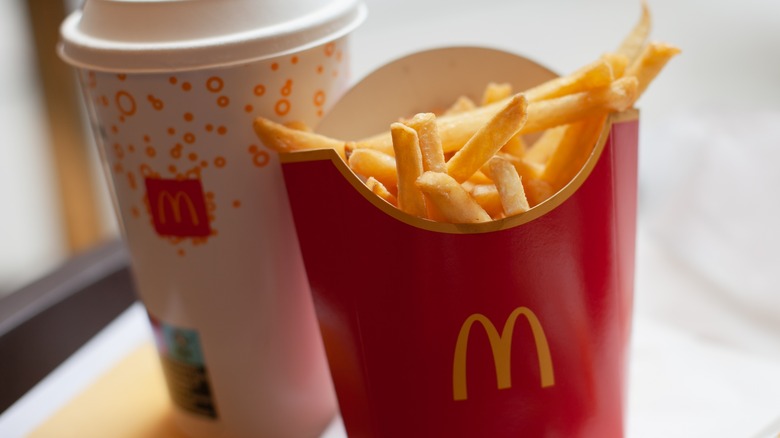 Dina Mukhutdinova/Shutterstock
There are plenty of McDonald's in other countries that look a lot different from the ones in the United States, but at the front of the pack is the one located at Nyugati Railway Station. Found in Budapest, the capital city of Hungary, this impressive restaurant boasts a huge light blue ceiling that towers well above the compact nature of traditional McDonald's restaurants, as well as historic wrought iron gates, ornate lamps, and multi-colored tiled flooring.
On the outside, giant windows surround the historic structure, which is decorated with patterns of red and brown bricks and a detailed facade. The restaurant's entrance even features the grand presence of a shiny, gold-framed menu.
Before its fast food incarnation, the station building hosted dark wooden furnishings, long dining tables, and a dangling chandelier. These have since been replaced with the expected soft, green sofas, yellow-painted walls, and a McDonald's coffee shop with a separate seating area. While now showcasing modernity, the imposing, glass-fronted railway station opened in 1877, meaning that its history in Hungary far exceeds its life as a McDonald's.
There were no McDonald's locations in Hungary before 1988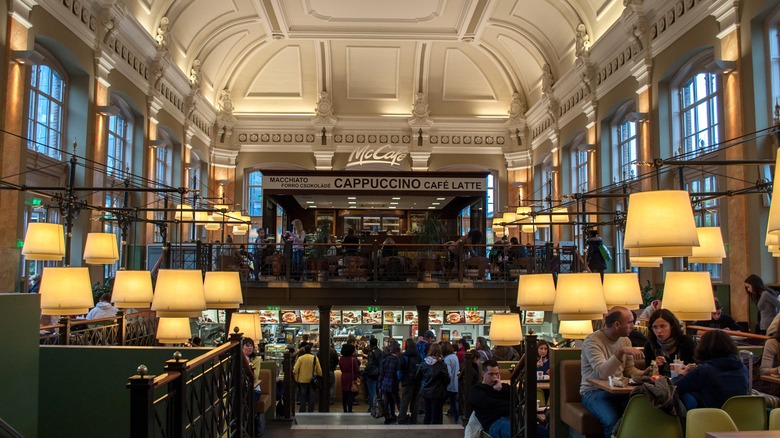 Jan Zabrodsky/Shutterstock
The first McDonald's in Hungary didn't open until 1988 — and served over 10,000 customers on its first day. McDonald's expansion in Hungary was late, happening long after the fast food chain had conquered numerous other countries. This was probably because the Communist regime in charge of the country wasn't all that keen on openness with Western nations, such as the United States. However, Communist control ended in 1989, paving the way for improved relations. By 1996, there were 50 McDonald's locations in Hungary.
Menus in Hungarian McDonald's look different from those in other countries and contain some menu items you can't find in the States. For example, you might see curly fries, apricot and meringue ice cream, and cakes, including mango, marzipan, and blueberry cheesecake. The Happy Meals in Hungary are more flexible than in America, allowing customers to mix and match a different main dish, side, and drink, rather than being restricted to a hamburger or chicken nuggets meal. Other traditional McDonald's treats are omitted, which is most noticeable in the breakfast section, where there are no burritos or pancakes — and even its famous hash browns are missing.