Aldi Shoppers Are Upset About A Change To Its Marinara Sauce Recipe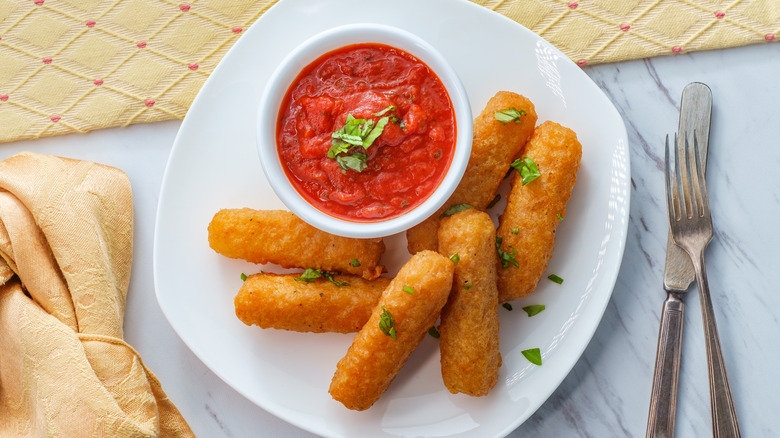 Ezume Images/Shutterstock
Aldi shoppers are not happy with the grocery chain after it allegedly changed up its marinara sauce. Over the past few months, the supermarket chain has made several significant business changes, increasing self-checkout aisles at some locations and removing Specialbuys from its online order portal. But, it's Aldi's marina sauce that has shoppers angry, as one Redditor suggests the chain made a major change in its specially selected pasta sauce.
The change has sent Reddit users into a tailspin, with one poster on r/Aldi suggesting, "The flavor is more sweet than robust. The old recipe had substantially more olive oil. Honestly, it tastes like they threw the raw ingredients together instead of simmering it and letting the flavors meld. The difference is drastic compared to the previous recipe." While there is no way to know for sure what changes were made to the sauce, this recipe update seems to put an end to the long-held rumors that Aldi's private-label sauce is secretly Rao's tomato sauce jarred under a different label.
Is there a way to replicate the old recipe?
If you're a believer in Rao's conspiracy theory, you are in luck. That product is still readily available on the market but is considered a premium sauce, meaning it's more expensive than the sauce that Aldi sells under its brand. 
Change is difficult. However, as with all great hardships, this alleged change in recipe has given way to a wonderful opportunity. For those who are no longer enamored with Aldi's signature sauce, the grocery chain also sells a variety of other marinas as well. You could also try to doctor Aldi's sauce to make it according to your preference. To combat the sweeter profile of the sauce, one Redditor says they add bell pepper and onion to the tomato sauce and let it slow cook. Of course, you could also try to replicate the sauce at home. Since many believe Aldi's sauce tastes similar to Rao's, your best bet is to go with one of the numerous copycat Rao's recipes online.  
However, it's important to note that everyone's taste buds are different. It's best to try Aldi's premium sauce for yourself to see if you notice any difference.