Undeclared Allergens Have Caused A Recall On Whole Foods Salad Kits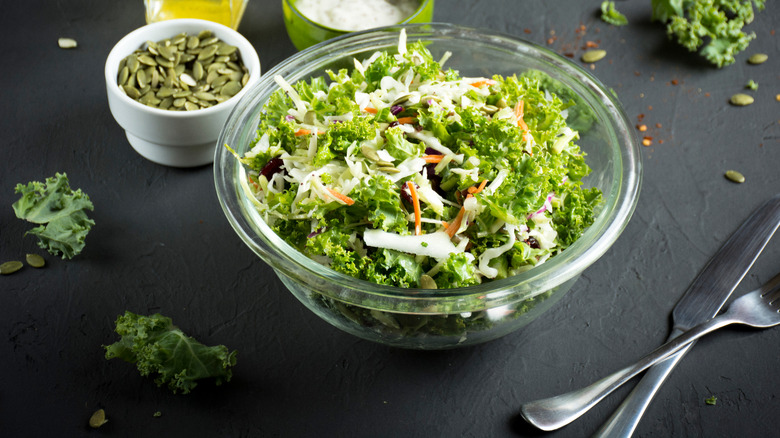 Pavlenko Oksana/Shutterstock
Sometimes it feels like we're constantly hearing about a new lettuce or salad recall. Just this year alone, Publix and Meijer both had salad recalls in April, and there was a romaine lettuce recall due to deer poop in several Midwest states. While E. coli is often a major factor in lettuce recalls, the recent Whole Foods Market recall doesn't involve the bacteria — instead, it's for allergen-related reasons.
The company's 365 by Whole Foods Market Organic Asian Inspired Salad Kits have been voluntarily recalled due to the kit's condiment ingredients not being listed correctly, according to the FDA. Because of this, undeclared milk and egg weren't listed on the salad's label. The UPC code for the 12-ounce salad kit is 9948246932 with Best if Used By Date 7/16/23 and Lot Code BFFS179A2. Anyone who purchased the product (between June 28 and July 10, 2023) can bring their receipt to the store for a refund. Whole Foods Market has already moved all the affected products from store shelves.
While this isn't the scariest reason for a food recall and no illnesses or allergic reactions have yet to be reported, those with sensitivities or allergies to milk or eggs could have a serious or life-threatening reaction if the product is consumed.
Whole Foods has been plagued by undeclared allergen recalls
Whole Foods has been known to have strict standards when it comes to the foods it sells. Jason Buechel, who has taken the reins from longtime co-founder and CEO John Mackey, knows this is a core reason Whole Foods' customers love it. "One of the key reasons why many of our customers come in is our quality standards," he told The Shelby Report in 2022. "I have no intention of us changing. In fact, I feel like it is going to be an opportunity for us to further elevate our quality standards as we go forward."
While it's expected that some mislabeling will always slip by even the most diligent of workers, Whole Foods seems to have quite a few related to undeclared allergens. In April 2022, the grocery chain issued a recall for its Organic Creamy Caesar Dressing regarding soy and wheat allergens, which were not listed in the ingredients. Six months later, Whole Foods announced a cheese recall, when Zerto Fontal cheese was found to contain egg lysozyme, an undisclosed egg product.
Whole Foods' website shows that this year the company has recalled nine items for undeclared allergens, such as milk, egg, wheat, or tree nuts. With Buechel even acknowledging that many of their customers come because of their quality standards, it may be something the CEO needs to work on tightening up.