Every Little Debbie Ice Cream Flavor, Ranked From Worst To Best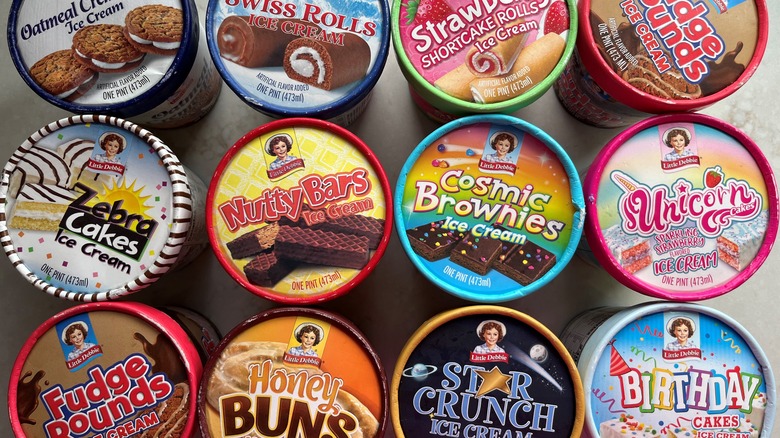 Adeline Jasinski/Mashed
Little Debbie snack desserts have been a lunch-box staple for decades — who doesn't remember biting into a Swiss Roll or a Star Crunch cookie in the cafeteria? These shelf-stable desserts are perfect for a school lunch dessert or an afternoon snack. Kids love them because they taste good, and parents love them because they make packing lunch in the morning just a little bit easier. Little Debbie desserts feature classic flavors such as strawberry, spice cake, vanilla, and chocolate, and the names and packaging are all designed to appeal to kids.
McKee Foods, the parent company of Little Debbie, began when O.D. and Ruth McKee purchased a failing bakery during the Great Depression. They started the Little Debbie line in 1960, naming it after their granddaughter. Four generations later, Little Debbie is still a family business. Oatmeal creme pies were the first Little Debbie dessert and remain popular today, with many others joining the lineup over the decades.
Children everywhere have enjoyed these desserts for years, and now grown-ups can indulge their nostalgia (and sweet tooth) with Little Debbie ice cream. McKee Foods has partnered with Hudsonville Ice Cream to take classic Little Debbie desserts and spin them into a frozen treat. Hudsonville has released 11 Little Debbie ice cream flavors, and we tried them all. Here they are, ranked from worst to best.
11. Unicorn Cakes Sparkling Strawberry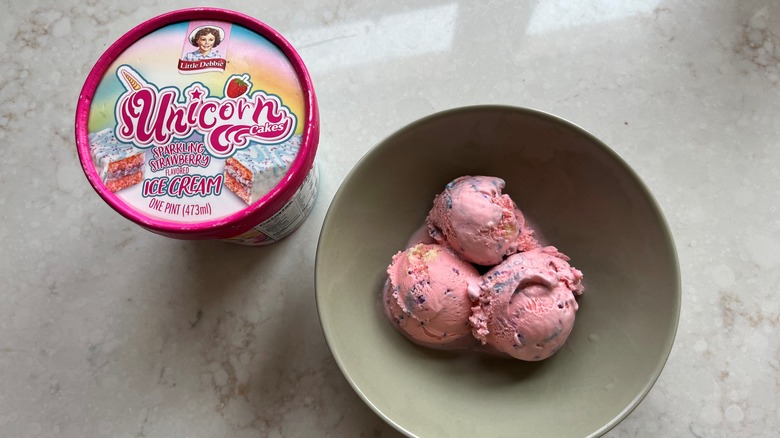 Adeline Jasinski/Mashed
The name alone should attract little kids everywhere to Unicorn Cakes sparkling strawberry flavored ice cream. The fun name and adorable carton imply rainbow-inspired, magically delicious dessert. Unfortunately, this falls right on the unicorn's face when it comes to flavor. This sickly sweet ice cream comes dead last in our rankings of Little Debbie flavors.
Unicorn Cakes desserts consist of strawberry-flavored cake layered with lavender-colored vanilla creme, coated with white frosting, drizzled with a blue stripe, and sprinkled with purple candy glitter. The frozen version consists of strawberry-flavored ice cream with chunks of pound cake, swirls of blue icing, and purple sanding sugar dispersed throughout.
The description really sounds like a Unicorn Cake transformed into ice cream, but the result is overly sweet and overpowering. The strawberry flavor tastes less like a strawberry and more like artificial fruit flavoring, and the pink color is so fake that it reminds us of pink crayons rather than real strawberries. The icing and sanding sugar just add to the overwhelming sweetness. We had a hard time discerning any individual flavors because this ice cream was just so sugary, which is why we placed it at the bottom of our list.
10. Strawberry Shortcake Rolls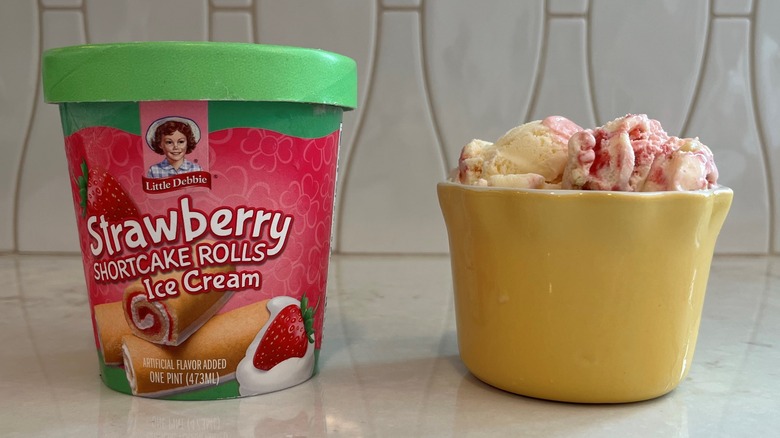 Adeline Jasinski/Mashed
While we love real strawberries, we are not partial to strawberry-flavored desserts. We were not expecting much from the strawberry shortcake rolls ice cream, and unfortunately, it lived up to our low expectations. With its artificial taste and overwhelming sweetness, this one came in second to last on our list of Little Debbie ice cream flavors.
Strawberry shortcake rolls are made of yellow sponge cake rolls filled with strawberry-flavored creme, then dipped in white icing. The presentation of the actual dessert rolls is very pretty, but the ice cream does not capture their visual appeal or flavor. Instead, it consists of cake-flavored ice cream dotted with chunks of pound cake and swirls of strawberry flavoring, which seems like it should work, but just doesn't.
When we sampled this Little Debbie flavor, we couldn't really taste the cake. We encountered the same problem with some of the other Little Debbie ice creams that are described as cake-flavored. All we could taste here was the syrupy strawberry swirls. Our overall impression was this fake flavoring was way too sweet, which is why strawberry shortcake rolls fall almost at the bottom of our rankings.
9. Honey Buns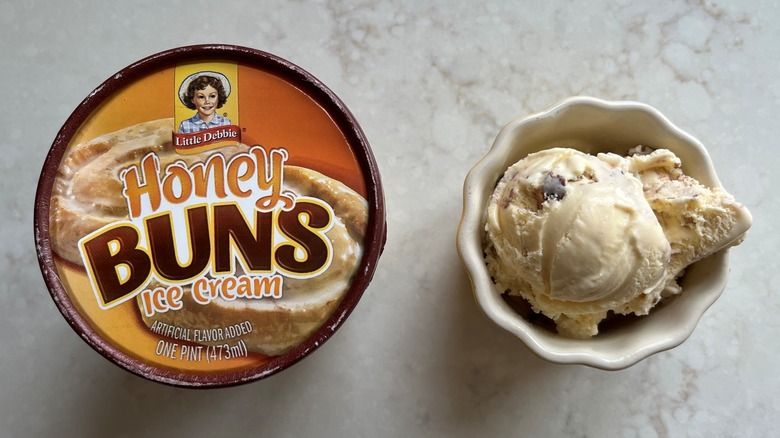 Adeline Jasinski/Mashed
We have fond memories of Honey Buns showing up in our college care packages, so we had high hopes for the ice cream. Our first spoonful of this cloyingly sweet dessert dashed those hopes. What a disappointment!
Honey Buns are snack-sized pastry rolls flavored with cinnamon and honey, then coated with a sugar glaze. Honey Buns ice cream aims to capture the flavor of a glazed cinnamon donut, which might be part of the problem; a honey bun and a donut are not the same. Here, Hudsonville combines donut-flavored ice cream with glazed donut pieces and swirls of cinnamon frosting. The result is a super sweet dessert that is missing something.
The ice cream itself has a weird flavor that is hard to pinpoint but doesn't really taste like a donut. We did like the flavor of the glazed donut pieces, and the texture provides a nice contrast. But even with the donut chunks, Honey Buns ice cream would not be our first (or second) choice of Little Debbie flavors.
8. Fudge Rounds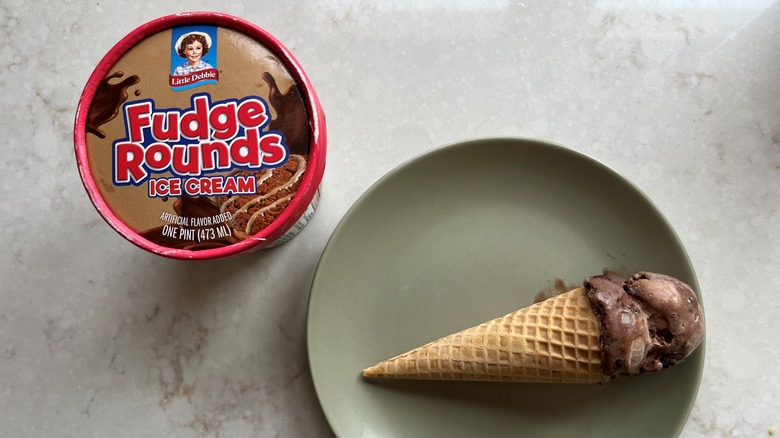 Adeline Jasinski/Mashed
We really wanted to like Little Debbie's Fudge Rounds ice cream, because we typically love any kind of chocolate treat. Unfortunately, this flavor came on a little too strong, leaving our stomachs feeling a bit queasy. Fudge Rounds are Little Debbie's chocolate version of its oatmeal creme pies. This dessert sandwich consists of two chocolate cookies filled with chocolate creme and drizzled with chocolate frosting. 
Hudsonville takes that concept and turns it into ice cream by pairing two different flavors — chocolate and chocolate cake-flavored — and sprinkling chocolate cake crumbs throughout. The two types are distinct in the carton because they are different shades of brown, but we can't say for sure which is which. The chocolate cake crumbs add to the texture, but the addition of another type of chocolate is overkill. Overall, we found Fudge Rounds ice cream to be a little too chocolatey, even for chocolate lovers like us. We'll stick with the Little Debbie dessert for our chocolate fix. 
7. Swiss Rolls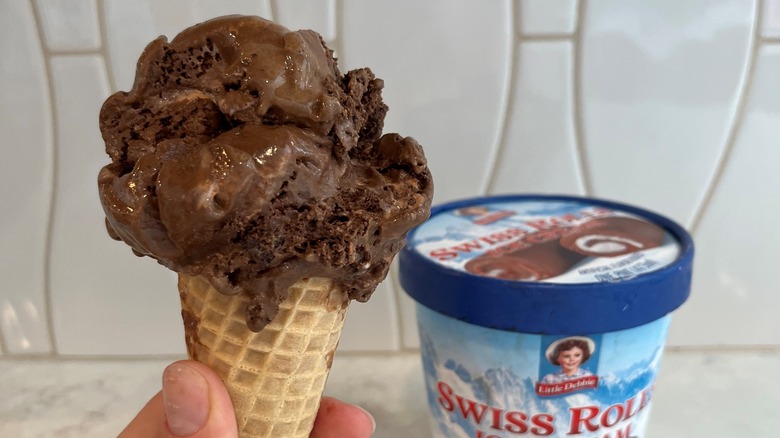 Adeline Jasinski/Mashed
Swiss Rolls are one of Little Debbie's oldest and most-loved desserts. These cake rolls have been around for 60 years, and their long-standing popularity is a testament to their classic flavor. Each treat consists of chocolate cake rolls filled with sweet creme and coated in fudge. This simple combination appeals to chocolate lovers of all ages.
These cakes were one of our favorite school lunch desserts growing up, and we were excited to try the frozen version. While Swiss Rolls ice cream did not turn out to be our favorite flavor, it is not our least favorite either. This dessert perfectly translates the roll into ice cream: chocolate cake-flavored ice cream (which, to be honest, just tastes like chocolate) packed with chunks of chocolate cake and swirled with whipped cream. All the elements of the original dessert are there.
Nothing about this flavor stood out to us, which was kind of disappointing because it is one of the few Little Debbie flavors that use chocolate ice cream, which we love. We found the chunks of cake to be just okay, but there just wasn't enough of a contrast between the chocolate cake and the chocolate ice cream. This dessert needs a little something else to perfect the flavor. 
6. Birthday Cakes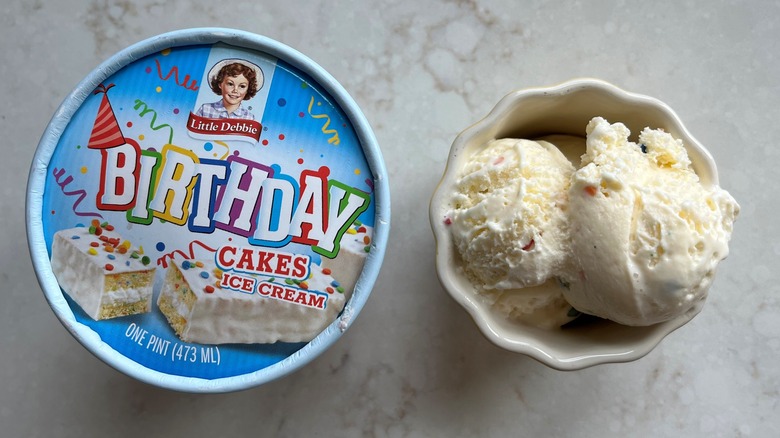 Adeline Jasinski/Mashed
Little Debbie birthday cakes will probably never replace a traditional birthday cake, but they make a great lunch-box substitute. Each treat consists of a yellow cake and white frosting sandwich, coated in more white frosting and decorated with rainbow confetti sprinkles. This fairly basic dessert translates into a fairly basic ice cream flavor, which is why birthday cakes ice cream rolls in around the middle of our rankings. It is neither the best nor the worst, and just about anybody will probably like it fine.
Hudsonville combines white-cake-flavored ice cream with chunks of yellow cake pieces and rainbow sprinkles to create the flavor. To us, the white-cake-flavored ice cream did not really come through; it just tasted like vanilla. We found the chunks of yellow cake to be a little on the tasteless side. Although the sprinkles add an element of color, we were surprised at how few there were. This ice cream really needed more color or texture to make it stand out from plain vanilla.
Even though we found birthday cakes ice cream to be a little bland compared to some of the other Little Debbie flavors, we didn't find anything wrong with it, which is why we ranked it in the middle of the pack. 
5. Oatmeal Creme Pies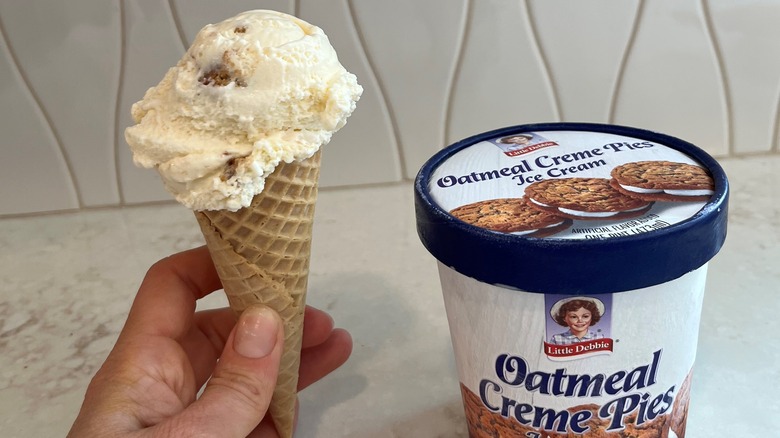 Adeline Jasinski/Mashed
Just looking at the picture of the oatmeal creme pies on the carton brings back childhood memories — we can practically taste these desserts. Introduced in 1960, oatmeal creme pies were Little Debbie's first snack, and they are a fan favorite even today. This oatmeal cookie sandwich filled with sweet creme is not too sugary and provides some whole grain from the oatmeal, making it a popular choice among parents and kids.
Little Debbie's ice cream version is spot-on when it comes to capturing the flavor of the original dessert. The treat pairs vanilla creme-flavored ice cream with chunks of spice cake. Although it is a little on the sweet side, it is not overly sugary like some of the other Little Debbie flavors turned out to be. The spice cake chunks taste a lot like the original oatmeal cookies and pair nicely with the frozen dessert for a tasty treat. 
4. Zebra Cakes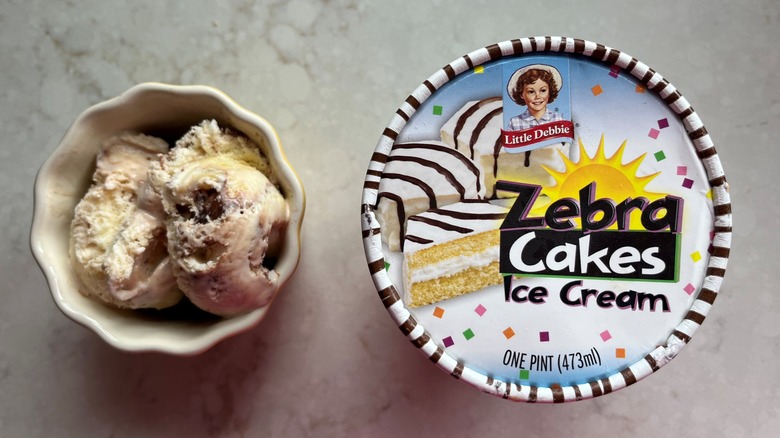 Adeline Jasinski/Mashed
Zebra Cakes, the Little Debbie dessert, are pretty basic. They consist of nothing more than two pieces of yellow cake filled with creme, covered in white icing, and drizzled with fudge stripes. But basic doesn't mean bad. These tasty sweets show that you don't need fancy flavors to make a great dessert. Chocolate and vanilla combine perfectly in Zebra Cakes, and the fun name brings out the kid in all of us.
Hudsonville's Zebra Cakes ice cream highlights the fact that classic combinations never go out of style. This frozen dessert combines vanilla ice cream, pieces of pound cake, and swirls of fudge. Each flavor stands out rather than blending together, and the combination is not overly sweet. This flavor reminds us of fudge swirl ice cream with an added pop of taste and texture from the pound cake chunks. Kids and grown-ups alike will enjoy Zebra Cakes ice cream.
3. Star Crunch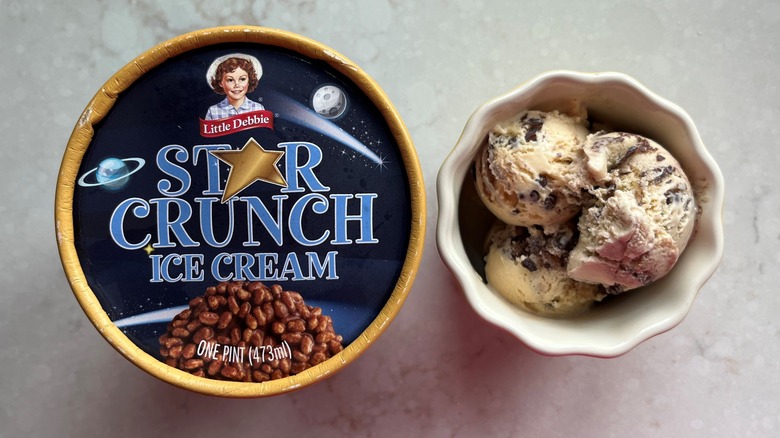 Adeline Jasinski/Mashed
Star Crunch cookies regularly appeared in our lunch boxes back in the day, so we were happy to see how well Star Crunch ice cream turned out. The original dessert is a soft cookie coated with caramel, crispy rice, and fudge. Hudsonville turns that into a frozen dessert by taking caramel-flavored ice cream and adding fudge swirls and crispy rice coated with chocolate. The result is a great balance of creamy and crunchy textures and, unlike some of the other Little Debbie flavors we sampled, is not too sweet.
The fudge swirls contrast nicely with the caramel-flavored ice cream, and the chocolate-coated crispy rice adds some texture. Each of the flavors is distinct without overwhelming the others. This dessert stands out because caramel-flavored ice cream is a little bit unusual without being totally unfamiliar. This flavor is a great choice for anyone nostalgic for the lunch-box desserts of their childhood.
2. Cosmic Brownies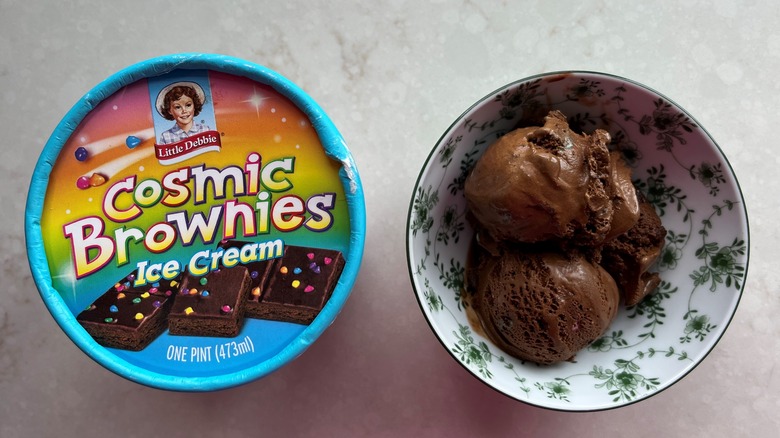 Adeline Jasinski/Mashed
Oatmeal creme pies might be the original Little Debbie dessert, but Cosmic brownies are the most iconic. These dense, chewy brownies with thick, fudgy icing take us right back to school lunch. In our elementary school years, these brownies were guaranteed to provoke jealousy in any classmates seated at our table, as they eyed up the rainbow-colored, candy-coated chocolate chips that take these brownies from standard to out of this world. Even now, we can practically taste Cosmic brownies just by looking at their box.
Hudsonville's Cosmic brownies ice cream directly translates the flavors of this iconic treat, with brownie-flavored ice cream, brownie chunks, and rainbow chips, and the result is spot-on. The brownie-flavored ice cream has a rich chocolate flavor, the chunks of brownie have a firm consistency that holds up, and the rainbow chips (which are really candy-coated mini-chocolate morsels) add just the right amount of crunch to make every bite a playful surprise.
1. Nutty Bars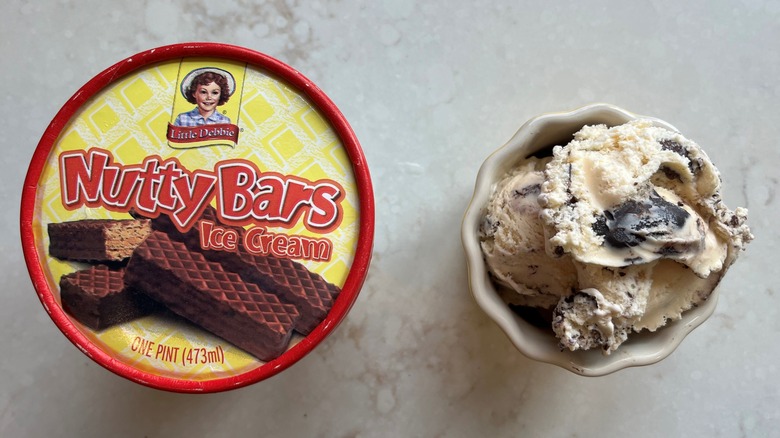 Adeline Jasinski/Mashed
Nutty Bars ice cream gets its inspiration from Nutty Buddy wafer bars, which were never one of our favorite Little Debbie desserts growing up. However, Nutty Bars ice cream just might be our new favorite. The perfect blend of elements makes Nutty Bars our top-ranked Little Debbie flavor.
Nutty Buddy wafer bars are made of crunchy wafer cookies filled with peanut butter creme and coated with chocolate, and the ice cream really captures those flavors in a balanced, delicious manner. Hudsonville merges peanut butter ice cream with ripples of fudge and milk chocolate-coated chunks of waffle. The peanut butter ice cream is smooth and not too sweet, which allows the nutty flavor to shine. The swirls of fudge and chunks of waffle add a nice texture and a pop of chocolate flavor without overwhelming the peanut butter.
Peanut butter and chocolate are a classic combination, and this dessert gets it just right. With its rich, authentic taste and perfect level of sweetness, Nutty Bars ice cream comes in at the top of our list.