The Tool That Easily Turns Frozen Fruit Into Homemade Shaved Ice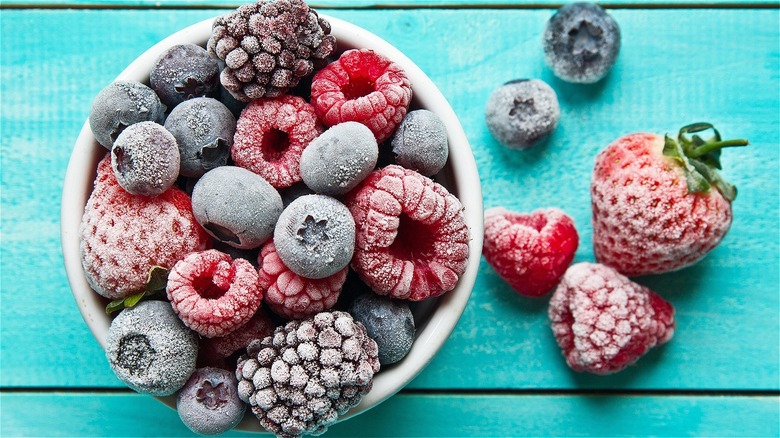 Sagarmanis/Getty
We may receive a commission on purchases made from links.
Everyone has that one kitchen tool they rely on for a variety of jobs, even tasks it's not designed for. Well, it turns out that the grater or microplane you use for your cheese, vegetables, nutmeg, or even chocolate can also turn your frozen fruit into fluffy shaved ice! In a TikTok that has already been viewed more than four million times, cookbook author Frankie Gaw grates frozen strawberries in a bowl, then tops the mound of delicate flakes with a drizzle of condensed milk, scattering of crushed peanuts, and sprinkle of black sesame.
Making homemade shaved ice from frozen fruit is as simple as holding the grater over your bowl and shaving the fruit directly into it. While it's pretty straightforward, how fast it comes together is dependent on your arm strength and confidence with a grater. While Gaw claimed grating the fruit took all of four minutes, others who tried it reported frozen fingers and grate times of 20 minutes or longer. One helpful fan pointed out that if it's taking too long, use a chilled or frozen bowl so it doesn't melt as you go.
More tips for shaving frozen fruit
This trick doesn't just work for frozen berries, you could also use fruits like mango, watermelon, pineapple, or orange, the latter of which Gaw has demonstrated on Instagram, describing the flavor as a "creamsicle dream." There is really no wrong fruit to use, provided it can be frozen and is large enough to hold while you grate without hurting yourself. (Alternatively, you could invest in a fancy rotary grater — like this one from Amazon – which allows you to fill the box with small fruit and press down using the leaver, saving your fingers.)
You may want to consider buying fresh fruit to freeze yourself, which can make the produce ultra-sweet. And while you'll still get the results you're looking for with a box grater, a Microplane is definitely the way to go if you want a super-fine, fluffy texture; it also allows you to grate in both directions, speeding up the process. For those who don't want cold fingers or want to make a larger batch of the dessert, you can also use a grater attachment or shredding blade with your food processor, which many fans of the tip claim works just as well.
Simplifying a global dessert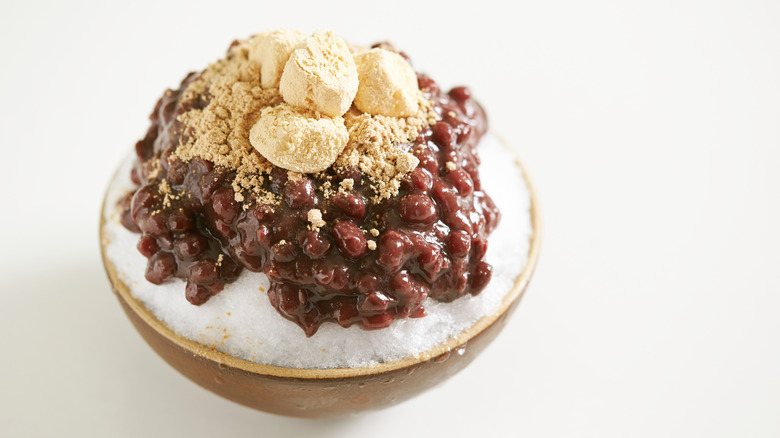 mnimage/Shutterstock
Though this dessert trick may seem totally novel, many countries around the world have their own version of shaved ice similar to Gaw's recipe. One example is Korea's bingsu, which is made from frozen milk that's been shaved and topped with ingredients like boba, fruit syrups, and condensed milk. Similar is Japan's kakigōri, which features shaved ice flavored with fruit syrups; kakigōri can be served plain or dressed up like bingsu. Iran has a traditional dessert called paloodeh talebi. This is made by freezing cantaloupe and grating or blending it into a drinkable consistency. Granita, a Sicilian frozen fruit dessert, is made by blending fruit into a puree, freezing it, and then scraping it with a fork.
By simply grating the fresh fruit whole, Gaw is simplifying the traditional desserts into a single-step process (okay, two steps if you freeze the fruit yourself), making it a quick and cooling treat suitable for any time.