Emeril Lagasse's Curated Menu Sets Sail On Carnival Cruise Lines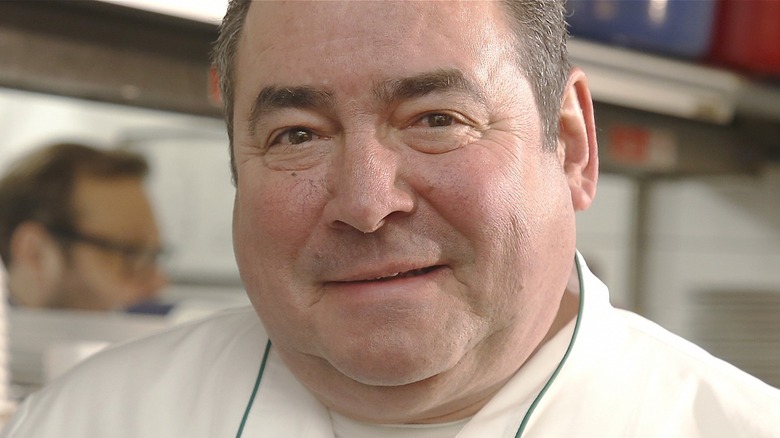 John Lamparski/Getty
There are many reasons people go on cruises, but the 24/7 access to food is a big selling point. From cruise ship buffets and dining rooms to reservations-required restaurants, there's a lot of food to choose from on a cruise. Depending on the ship you're on, the quality can vary, but at its best, cruise ship food can rival many land-bound establishments. Carnival Cruise Lines is planning to elevate their culinary offerings with a slew of new dining room menu items, created in collaboration with celebrity chef Emeril Lagasse, who is also the cruise line's Chief Culinary Officer.
Emeril Lagasse has teamed up with Carnival Cruise Lines to develop 60 new dishes that will be served at various dining rooms on several Carnival ships. At present, this includes the Carnival Dream and the Carnival Conquest, with other ships rolling out the new menu in the months to come. The cruise line's ships in Australia will adopt the new items in 2024. These new menu items include internationally-inspired flavors, fine-dining classics, and Emeril Selects, which are menu options that have Lagasse's personal seal of approval.
What's on the menu?
For guests who like sticking to traditional upscale dining favorites, the new Emeril Lagasse-influenced menu includes dishes like Classic Beef Wellington and Stuffed Mushrooms. A little farther afield, new additions include internationally-inspired dishes like Hawaiian Shrimp Poke and Roasted Duck Spring Rolls, as well as Emeril Selects dishes, including Coffee Glazed Roast Duck and Beef Carpaccio flavored with mascarpone-truffle cream. But while some cruise fans were relieved that the menu was "finally" being refreshed, not everyone was convinced. 
"I think the menus needed a huge overhaul, but I think this missed the mark," one person shared, concerned that the new items don't "have mass appeal" (via Prof. Cruise). Another said, "If these changes are permanent, I'll cancel my dinner reservations and take my chances with the buffet." Many were worried they wouldn't be able to order the food they had been looking forward to from previous cruises. But those currently on board the Dream, where the menu is being served, seemed happy. "The new menu has been amazing," shared one passenger on Facebook, and many with upcoming cruises booked were excited to try the new dining room options. The new menu is expected to be available across Carnival's fleet of ships in the US and Australia by 2024, and in the meantime, those Carnival traditionalists who aren't so keen on change can try to get one last meal in before the changes take place.