Why There Are So Few Tim Hortons In The United States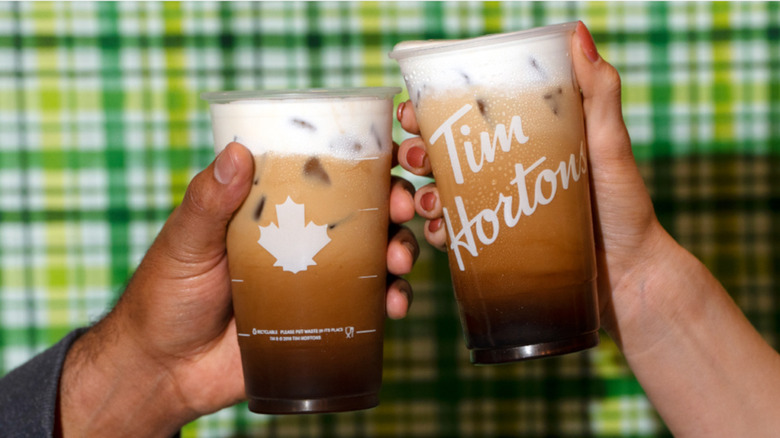 Shaunl/Getty Images
Just as Dunkin' Donuts and Starbucks dominate the United States market, Tim Hortons is Canada's coffee giant. Despite stiff competition, Tim Hortons began opening stores in the U.S. in 1984, with its first location in Tonawanda, New York. There are currently more than 600 Tim Hortons operating throughout the country. However, the coffee chain hasn't risen to the level of popularity of American rivals Dunkin' Donuts and Starbucks, which boast over 9,000 and 15,000 U.S. locations, respectively.
Apart from being major players in the coffee industry, Starbucks and Tim Hortons don't have much in common. However, Tim Hortons should appeal to Dunkin' customers, as it has similar offerings. The company's Timbits satisfy a sweet tooth, much like Munchkins, and its sandwiches and wraps bring convenience to any meal. Like Dunkin', Tim Hortons also caters to patrons on a budget. Sadly, this hasn't helped it gain traction in the U.S. Tim Hortons and Dunkin' Donuts' overlapping customer base may be working against the Canadian coffee chain.
Dunkin' Donuts presents a challenge for Tim Hortons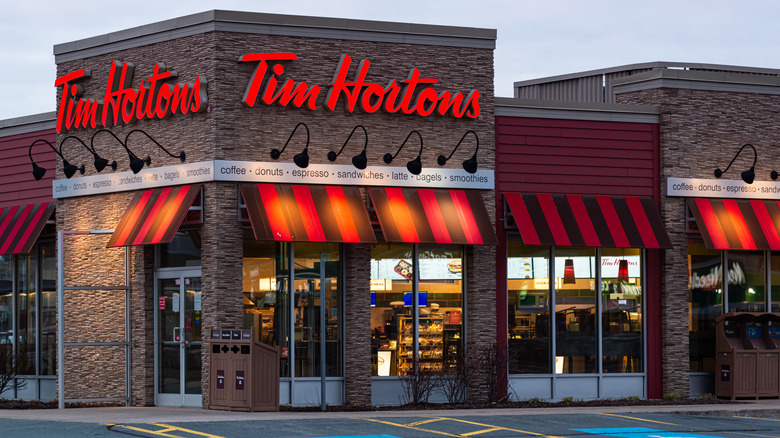 Shaunl/Getty Images
The fact that Dunkin' Donuts is a mainstay in the U.S. market makes it difficult for competitors to gain footing. Even as Tim Hortons attempts to individualize its menu with paninis and specialty beverages, it fails to draw Dunkin's numbers. ScrapeHero suggests the American coffee chain presents too much competition for Tim Hortons, as Dunkin' "has a strong pull in the Northeast markets where Tims would theoretically do well."
The challenge for Tim Hortons is that it needs some seriously unique menu updates to stand out. Regionalization probably isn't helping the company, either. As the website notes, "It can be difficult for longtime regional brands to expand nationally because they don't quite get the love of consumers in the newer markets that they had back home." This seems to be what's happening with Tim Hortons — just on an international scale. Although Tim Hortons massively changed Canadian culture, it's had less impact abroad. Its name doesn't summon the same feelings and associations in the U.S. However, Dunkin' has infused itself into American culture.
There's a reason Dunkin' Donuts' catchphrase is "America Runs on Dunkin'," and that's unlikely to change any time soon. As such, Tim Hortons will need to find inventive ways to stay relevant in the U.S. market — or it will have to accept itself as a much smaller player in the American coffee game.