14 Savory Cakes That Turn Desserts Upside Down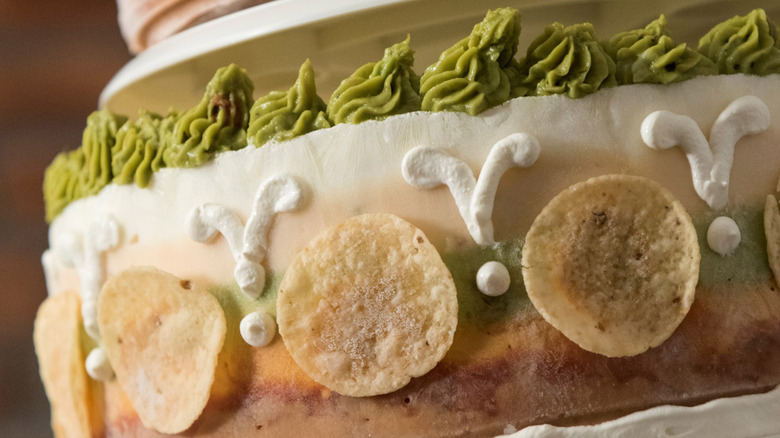 Kris Connor/Getty Images
Do you have a missing sweet tooth, but don't want to miss out on a cake course? If so, you'll be pleased to know that there's an extraordinary culinary world of savory cakes awaiting. And if you love desserts, then consider cakes that are savory rather than sweet as simply widening your cake recipe repertoire. There's something satisfying about sitting down in the afternoon with a slice of savory cake or even starting the day that way. These veggie, cheese, and meat cakes are also ideal for a mid-morning snack or supper. 
Savory cakes aren't breads as they aren't made with yeast, but they often seem like a bread-cake hybrid and that's what makes them so good. What's really fantastic is anything goes with a savory cake, so they are a great staple for using up ingredients in new and creative ways. Let's explore savory cakes that turn desserts upside down.
1. French savory cake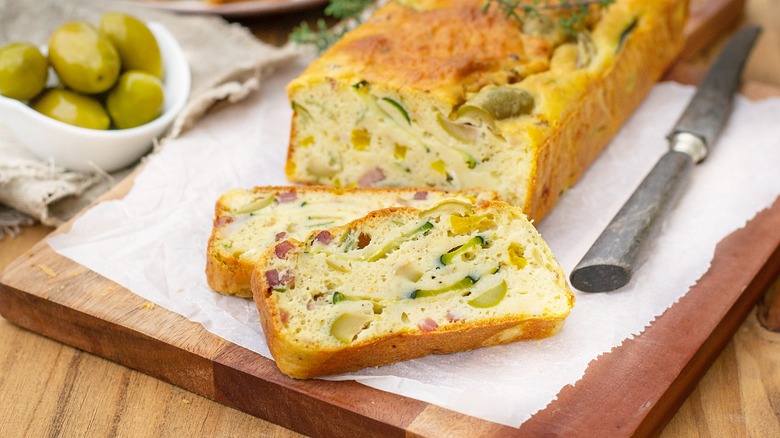 larik_malasha/Shutterstock
Perhaps one of the most loved of the savory cakes that turn desserts upside down is the French cake salé. This literally translates as salty cake and it's beyond divine. It's often served at breakfast or as an appetizer, perhaps with an aperitif. While it looks and sounds spectacular, it's a breeze to make. The main ingredients vary, but common flavorings include olives, ham, and cheese. You can use whatever cheese you like — it doesn't have to be French — and swap out the ham for bacon lardons if you prefer. You can also use black or green olives. 
Make the batter with flour, eggs, olive oil, and milk, with baking powder added. Or you can use yogurt in place of milk. Once cooked, you can refrigerate or freeze the cake and simply heat it for 10 minutes when you want to eat it. Try making this cake with rice flour as it mixes better than other types of flour to create a smooth batter. And don't be afraid to experiment with ingredients. What about adding Parmesan, cocktail sausages, asparagus, and cherry tomatoes? 
2. Pumpkin cake
When the leaves turn brown and there's a chill in the air, fall is upon you. This is pumpkin season, and after a long summer, it's comforting to enjoy a slice of pumpkin pie that's full of seasonal flavors. This all might sound quintessentially American, but if you like to stretch your culinary experiences, then you could make an Asian-style pumpkin cake. You can make a steamed Instant Pot cake with canned pumpkin, ground pork, shallots, and dried shrimp. This is one of those savory cakes that turn desserts upside down. After steaming, you fry the cake to crisp it up on each side. Either cut it into squares or you can serve thinner fingers of the cake. It's superb with Sriracha hot sauce, so don't forget to add this on the side. 
If you want to mix sweet and savory flavors, try our pumpkin bread recipe. The batter is made with sugar, but it's the spices that define the flavor and give each slice a wonderfully warming quality. You'll need ginger, nutmeg, cinnamon, and cloves to add to the batter. The main ingredient is pumpkin puree which ties together the sweet and spiced elements. 
3. Filipino cassava cake
Some savory cakes put a strict ban on any sweet ingredients in the mix. However, Filipino cassava cake is a scrumptious serving of sweet and savory flavors that give it a delicate taste. If you find chocolate cakes with thick, sugary frosting a little too much, then this is a must-try recipe. What is so yummy about this cake is that you bake a custard on top. 
The main flavor comes from the nutty cassava. Head to an Asian food store to find this or look for it in the freezer department. You'll need to defrost it then you can grate it, which is your first step. All the other ingredients are easily sourced. The cassava is sweetened up with condensed milk, coconut milk, and evaporated milk. You use these three ingredients to make the cake as well as the custard. The overall effect is to create a creamy and eggy cake with a tropical flavor. The cassava and custard give the cake a chewy texture with a velvety smooth topping. The two contrasting textures and tastes complement each other. The best way to enjoy a slice of this savory cake is to serve it warm. 
4. Savory herb cheesecake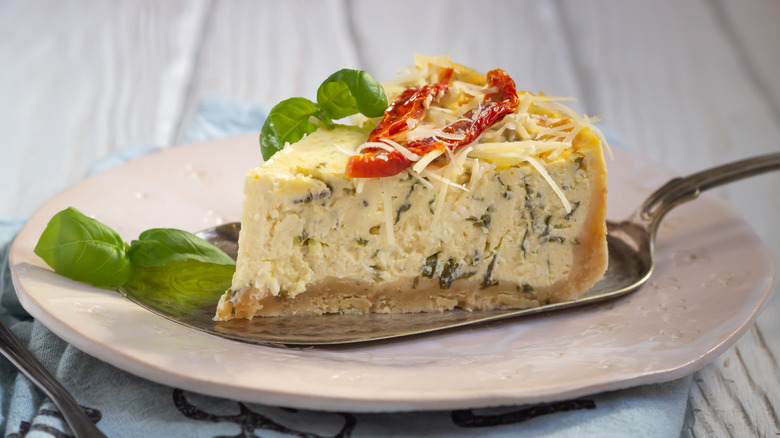 Maslova Valentina/Shutterstock
If buttercream, frosting, and sponge cakes aren't really your thing because they are just too sweet, then you may be a fan of cheesecake. Blueberry cheesecake is fruity, for example, but the cheese filling pulls back the sweetness a lot. Of course, you could even turn the idea of this dessert upside down by making an herby cheesecake instead. In place of a cookie or biscuit base, try making it with whole wheat cracker crumbs. You can make this with three cheeses for a powerful savory punch, such as gorgonzola, ricotta, and cream cheese. A red wine onion jam cuts through the creaminess too. Be sure to use fresh herbs to give your savory cake a vibrant taste. Rosemary, basil, and thyme work perfectly with the other ingredients. It's best served warm rather than hot. 
You can also top cheesecake with veggies such as roasted beetroot with garlic and shallots. For the creamy part, try mixing cream cheese with velvety mascarpone and salty feta. You can also blend in some lemon zest and green onions to give this part of your cake a little citrusy, oniony pep. Again, although you bake this cheesecake, it really needs a good few hours in the fridge before serving. 
5. Zucchini savory cake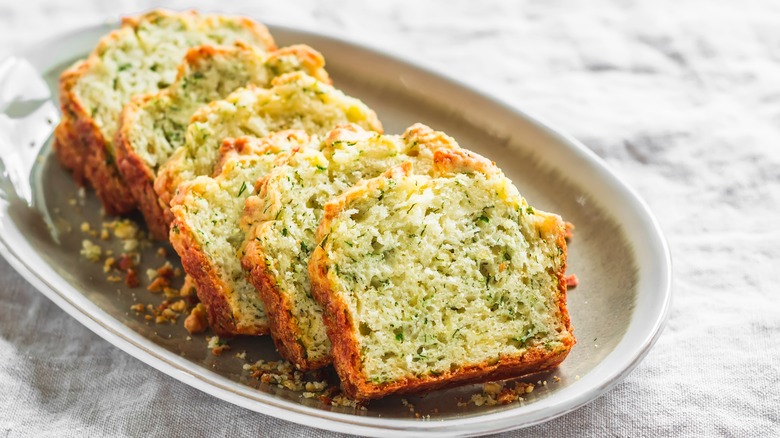 Kiian Oksana/Shutterstock
Using zucchini to make cakes and bread isn't anything new. In fact, it's often used to make sweet cakes like brownies as the vegetable pairs well with chocolate. It gives these gooey bites a healthier element too and creates a chewy texture. It's not that much of a stretch, therefore, to imagine how great a savory zucchini cake is. If you've never tried one, let alone made one, then you're in for a treat. You don't need a whole raft of complex ingredients either. Grated zucchini and carrot suffice as the main components to add to the cake batter, along with onion and cheese.     
Once you've grated zucchini, try wrapping it in a clean tea towel and squeezing it to get any excess liquid out. Bake it in a batter with Italian seasoning and Parmesan before topping it with pizza sauce and some shredded mozzarella. Pop this back in the oven to bake your zucchini pizza cake. When it's browned and the cheese has melted so that it's gloriously stretchy, slice it as you would a regular pizza. Other great combinations to try with zucchini are feta with some herbs such as mint and chives. You can bake a savory zucchini cake in a loaf tin too and slice it as you would bread.
6. Beetroot savory cake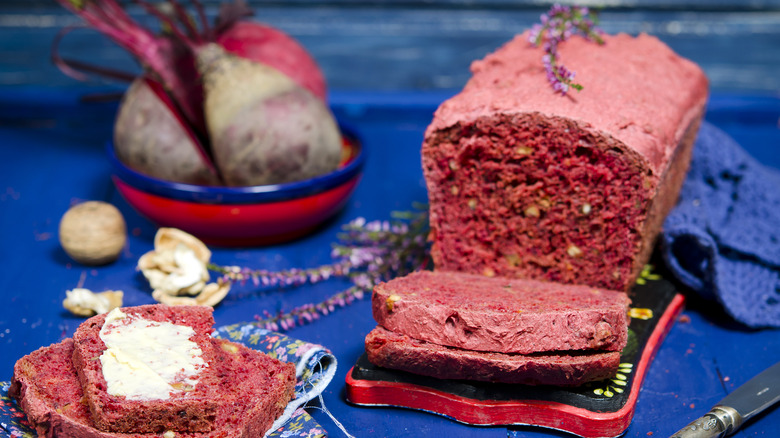 Ulyana Khorunzha/Shutterstock
Beetroot is a color bomb of a vegetable. And while it makes brilliant borscht and is perfect for brightening up a salad, it also makes an excellent savory cake. Grated beets and carrots are a brightly flavored combination for a cake, especially with some fresh herbs added. You can chow down on slices when they are warm or when they have cooled down. Walnuts and pumpkin seeds complement beetroot in a cake, and to make it more filling you could add some oats as well. This cake is great with some sautéed red onion slices added to the batter too. 
You could surround a beetroot and potato mix with bread rolls in the shape of a cake if you want another savory idea. Add apples, onions, and gherkins to a citrus mayonnaise to "frost" this cake. And what about a cake-in-a-pie idea with a cheese and bacon sponge wrapped in a pastry case? Between the base and the sponge add a layer of beetroot, apple, and ginger chutney.
7. Cypriot olive cake
A Cypriot olive cake is another classic savory cake. Also known as Greek elioti, it's stuffed with feta cheese, Kalamata olives, and herbs. You can add scallions and onions to the mix and top with sesame seeds before baking. It's best to let this cake cool before slicing so that it firms up a little. A great serving idea is to add a few olives on the side and some olive oil. In terms of herbs, you can use mint and cilantro (or parsley if you prefer). While this cake may look more like bread it's made with self-rising flour so there's no need to proof it or knead it. 
To make the batter for this you don't add the usual milk, yogurt, or cream. It's actually made with orange juice, although you could use a citrus-flavored soda if you prefer. You might find it easier to buy pitted olives for this cake. And if you don't want to add any eggs, then you could use tahini instead.
8. Turnip Cake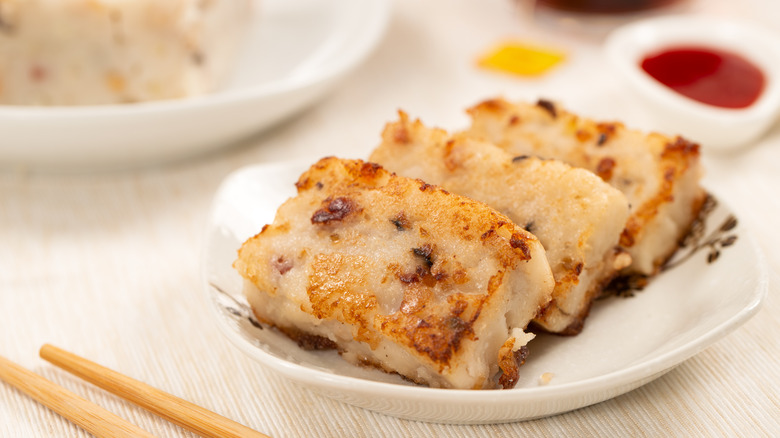 Kenishirotie/Shutterstock
One of the most well-known savory cakes comes from Asia. Lo bak go is a Chinese turnip cake, and there are variations of it in other parts of the region such as Thailand. What's confusing is that it's not made with turnips, but turnip-like daikon radishes. While you might be able to wing it with many recipes, to get just the right texture so that the cake is soft but not watery, it's best to find a good recipe that works and stick to it. Squeezing out the daikon is vital too, as it holds more water than you want to make these traditional savory cakes. They taste so good served with soy sauce and hot sauce. 
The batter for these dim sum cakes is made with rice flour and starch. Other ingredients you can add include Chinese sausage, dried seafood such as scallops and shrimp, and dried shiitake mushrooms. Umami savory cakes, like this one, turn deserts upside down and even though it's not hugely cake-like, it does look like a cake slice. That's until you taste it. The mixture is steamed to make the cake and then either pan-fried or stir-fried.
9. Upside-down savory cake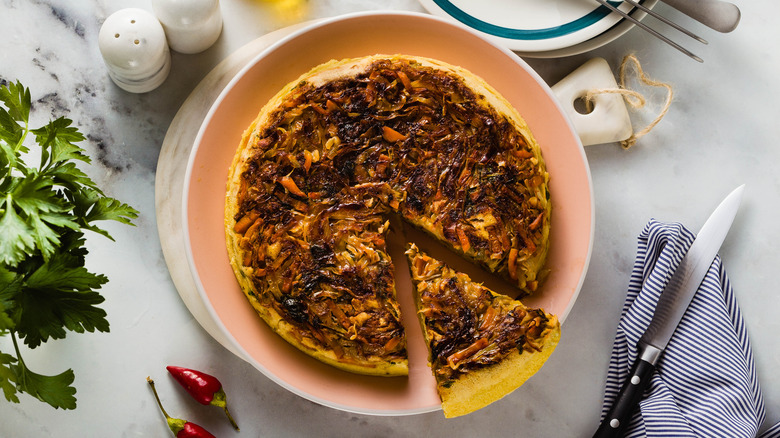 IriGri/Shutterstock
Talk about turning desserts upside down literally: A delicious savory combo is to make an upside down cake with roasted Mediterranean vegetables. Think cherry tomatoes, bell peppers, and corn. If you love some protein then add whatever meat or fish you like. You just have to be aware of adjusting cooking times and guard against the sponge getting soggy. Or keep it simple with an upside-down potato cake that's covered with crispy potato slices and lovely and soft in the middle. For a sweet and savory bite, create a layer of heirloom tomatoes with melted butter, brown sugar, and honey drizzled over the top. 
This is your chance to try out different veggies and pair these with other ingredients. Eggplants and tomatoes taste great together, especially when topping a cake with pine nuts or roasted pistachios. Cheese is another winning element of an upside-down savory cake. Feta complements eggplants, but there's nothing stopping you from using goat cheese or even blue cheese if you prefer. Imagine how good a roasted pumpkin, feta, and herb sponge would taste with a topping of caramelized onions.
10. Savory nut cake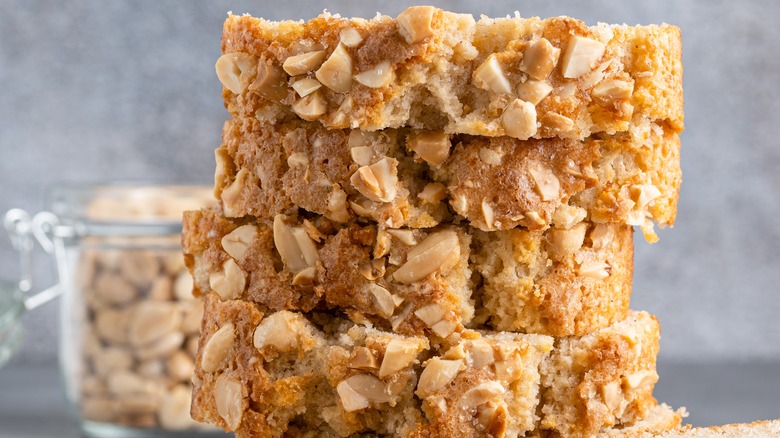 Alena_Kos/Shutterstock
Nuts are an awesome ingredient to add to cakes. They add a crunchy texture, soften the sweetness, and add a saltier taste. That's why the idea of a savory nut cake just makes sense. And there are plenty of different nut cakes you can make. Savory cakes made with nuts won't leave you wanting a sweet dessert afterward. You might want to try making a walnut cake with potatoes. Instead of making a batter, the nuts, along with bell pepper, thyme, and onion, are sauteed in a skillet. They are then mixed into chopped cooked potatoes and pan-fried to make a one-skillet potato cake. 
Another walnut cake wonder is to add the nuts to a batter along with spinach. Thyme, brown sugar, and a homemade onion marmalade are also stirred in before the nutty mix is baked in a loaf tin. If you've got any of the caramelized onions left you could always serve these on the side when your nut cake is ready. You can make a super-nutty cake with cashews, almonds, peanuts, brown rice, and sunflower seeds added. Herbs lift the flavors and you add cheese partway through cooking so it melts on top of the cake. This cheesy topping sure beats icing!
11. Savory carrot cake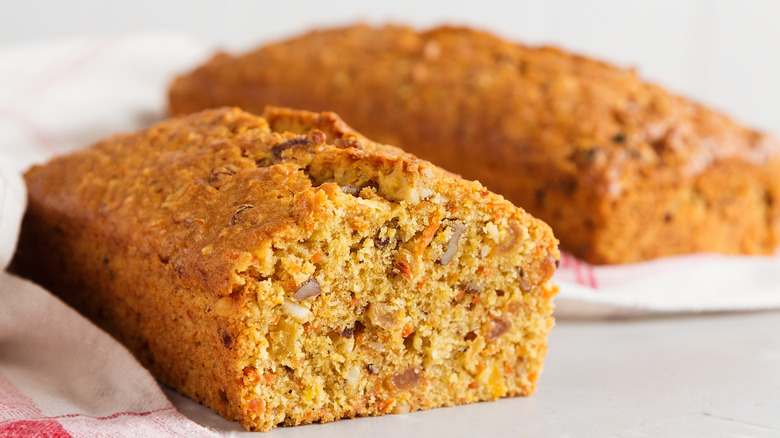 TorriPhoto/Shutterstock
Carrot cake is a classic dessert. And don't you just adore those little fondant carrots that you sometimes see on the top of the icing in fancy cafes? However, make no mistake, even if these cakes are made with carrots they are still very much in the dessert category. They may not be as sweet as funfetti cake, but they are far from being savory. Grated raw carrots are somewhat sweet but you can make them less so by adding in some spice. Other ingredients that boost the savory flavor are cheese and green onions. 
You don't have to make a loaf-like cake either, as savory carrot cupcakes look sweet too. Instead of icing, combine cream cheese, yogurt, and Marmite. The yeast extract is definitely a salty addition that's way different than powdered sugar. You can finish your carrot cakes with thin slices of cucumber that you have pickled and garnish with some chopped chives. Adding feta and cumin to the batter, along with grated carrots, produces a savory cake that's worthy of attention. Serve as an impressive lunch with homemade minty yogurt on the side to balance out the Indian spice. 
12. Savory tomato cake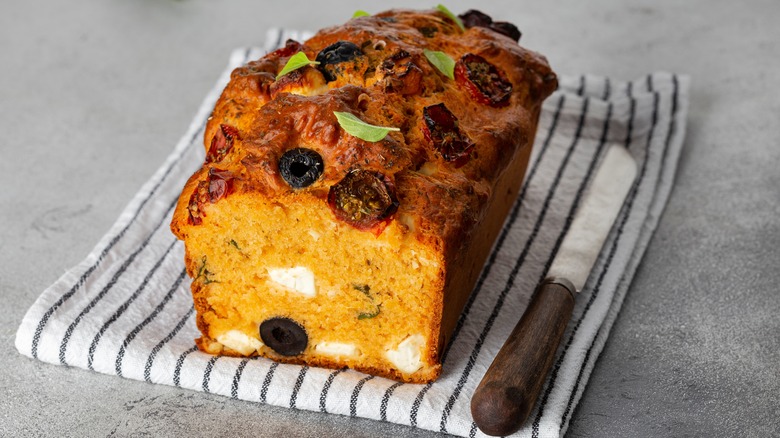 Pronina Marina/Shutterstock
A list of savory cakes that turn desserts upside down has to include one made with tomatoes. Some tomatoes are sweet, such as cherry tomatoes and sundried ones, and they are technically fruit. However, if you add some parmesan to the batter and season it with black pepper then this takes the taste to a whole different savory level. Tomatoes complement the buttery taste of a crumbly pound cake, which is so appealing when you serve it at room temperature. The tomatoes and cheese taste more flavorful if you don't chill this cake. 
Try other combinations, such as sun-dried tomatoes with grated cheese and mozzarella complementing the sweetness. Green olives bring the taste of the Mediterranean to this summery cake. It's so good that you can even pair it with a salad and enjoy it as a main course or an appetizer. Another great tomatoey combination is to make a cake with fresh basil. Blending parmesan into the batter promises a sponge that's totally savory, as does making it with extra virgin olive oil. You can also brush garlic oil on the tomatoes after you've dropped them into the batter before baking. This is one Italian-inspired savory cake that you can't not try, right? 
13. Sausage Cake
If you were to come up with an unlikely savory cake then it might be one made with sausages. But even if you haven't heard of it, be assured it's not as strange as it sounds, and is very much a thing. If you're bored of a bowl of cereal when you wake up, then this meaty sponge cake is definitely imaginative. A cooked sausage cake made with milk and mayonnaise is so moreish with onion, sage, and cheddar cheese added into the mix.
And why drink coffee on the side when you can add a cold cup of it to the batter? It pairs perfectly with pork sausage along with some raisins, walnuts, and ginger, plus some pumpkin spice. Go all-out savory by adding onion and bell peppers to a cheesy sausage batter. A dash of Tabasco, some salty parmesan, and some creamy pepper jack elevate the meaty flavor. Create a sausage cake with a Parmesan-loaded sponge by baking sausage meat in a tray first and adding this slab to the middle of your batter. You can also add cooked sausage meat to batter along with some blueberries and pecans for a taste of fruit and nut too.
14. Bacon coffee cake
If you love quirky recipes, then why not start your weekend with a bacon coffee cake and serve it with a steaming cup of joe? This doesn't just turn desserts upside down, it totally reimagines breakfast too. It might sound a little kooky, but guess what, this pairing is a brunch game-changer that starts your day with a savory cake that's also sweet. Although you might want to make it the day before unless you love a mellow morning of cooking during the weekend. 
Cinnamon and nutmeg along with maple syrup can add warmth and some sweetness to the sponge. And bacon bits and walnuts bring the salty, savory flavors. Did you know that coffee cake isn't made with coffee? It's often a light sponge that's been spiced that complements your morning brew. You can either add the cooked bacon pieces before baking your cake or add strips of bacon on top of a buttermilk sponge afterward with sweet maple icing. Another idea is to create a bacon and pecan nut crumble with butter, sugar, and flour. Add this to the top of your sponge batter and bake in the oven. Once ready, top with a vanilla and maple glaze.