14 Steakhouse Chains That Are Struggling To Stay In Business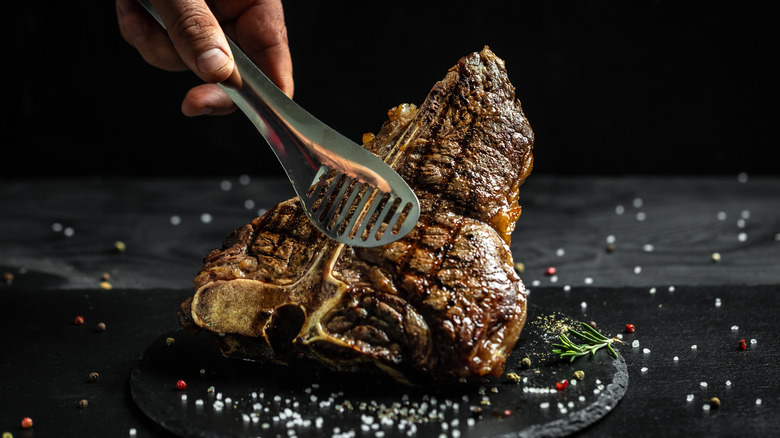 sweet marshmallow/Shutterstock
To millions of Americans, there's nothing more indulgent than enjoying a large, decadent meal at a steakhouse. Generally lit in a dark but classy way and offering a menu of enormous cuts of beef along with a few chicken and seafood selections, a steakhouse meal is a very satisfying and often not-cheap endeavor that also includes a big baked potato, perhaps a trip to the salad bar, a mug of beer or glass of wine, and a decadent, towering chocolate dessert. Although steakhouses have a reputation as habitats for the wealthy, chain restaurants offering moderately priced meals also fill the culinary landscape and occupy big chunks of real estate.
But tastes and economics change. The steakhouse chains that are still thriving have evolved to meet diners' needs and wants, while others slip into the past, relics of a different period in American food history. Plenty of familiar and beloved steakhouse chains are still kicking, but barely. Here are 14 once-mighty steak restaurants that may not be around for much longer.
1. Sizzler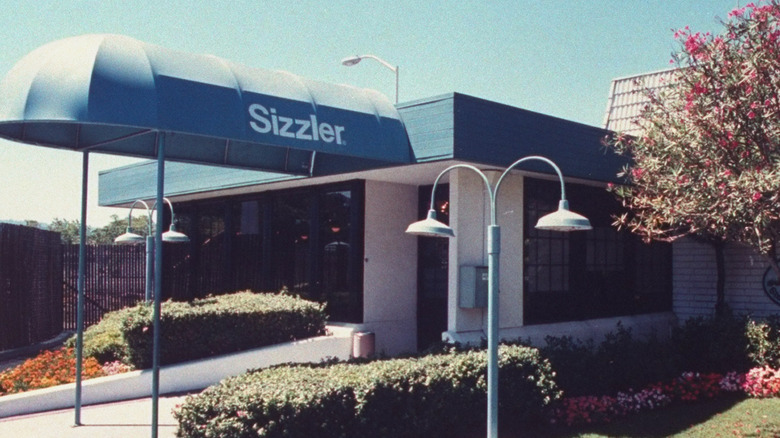 John Storey/Getty Images
A hybrid of casual dining with a buffet restaurant and a steakhouse, Sizzler first opened its doors in Culver City, California, in 1958, offering quality food like New York strip steaks (with a potato and bread) for cut-rate prices — even disallowing tipping to keep the price of a family dinner as low as possible. Within four years, 100 Sizzler restaurants had opened, primarily in California. Sizzler trudged along as a national chain until the 1980s and 1990s, introducing signature items like garlic cheese toast, heaping platters of fried shrimp, and an abundant salad bar it called a "buffet court" with a sundae station, soup options, and taco bar.
Aligned with two mid-20th century dining concepts — steakhouse fare and the all-you-can-eat salad bar — Sizzler struggled to maintain relevance and revenue as the turn of the 21st century approached. In 1996, the company shut down 136 restaurants and let go of 4,600 employees, exiting the Midwest altogether. Already decimated and shrinking, Sizzler filed for Chapter 11 bankruptcy in 2020 after COVID-19-related dining room shutdowns severely impacted business. At the time, Sizzler was down to 107 locations; that's down to around 80 as of 2023, most of which are in the company's home state of California.
2. York Steak House
A restaurant pod in Columbus, Ohio called "The Patio" became the home of the first-ever York Steak House in 1966. The restaurant successfully expanded into a chain over the next decade by opening locations in shopping malls, feeding hungry shoppers looking to drop a moderate amount of cash on a nice meal. In 1976, the restaurant division of the massive General Mills food corporation purchased the entirety of York Steak House and grew it even more. At its peak, nearly 180 York Steak Houses were open for business serving various steak cuts, chicken, and fish, with a potato, roll, and salad included in the price of the entree.
In the 1980s, malls moved toward a more casual aesthetic, and sit-down restaurants disappeared in favor of food courts with numerous and inexpensive fast food options. Even a reasonably priced eatery like York Steak House couldn't compete, and as the 20th century wound down, the number of York locations slowly dwindled. By 2023, only one remains, back in York's hometown of Columbus, Ohio.
3. Charlie Brown's Steakhouse
For residents of New Jersey in the latter half of the 20th century, Charlie Brown's Steakhouse was an institution. The slightly elevated but family-friendly restaurant offered premium cuts of beef and big slices of prime rib with the trimmings as well as a more cost-effective option: an abundant, self-serve salad bar. The first Charlie Brown's opened in 1966, and within four decades, nearly 30 would occupy New Jersey.
The slow decline of Charlie Brown's Steakhouse began in 2010. Owing to poor revenues across the whole chain, operator CB Holding Corp. shut down 20 of its 49 Charlie Brown's Steakhouse locations. Nine restaurants remained open, and CB Holiday Corp. even opened five new steakhouses by the decade's end. But then the COVID-19 pandemic hit, and the chain of 14 Charlie Brown's Steakhouses across New Jersey couldn't financially survive months of government-sanctioned dining room closures. Eight of the nine steakhouses permanently went out of business, but Charlie Brown's parent company later opened one more. As of 2023, two are open for dinner: one in Woodbury, and one in Scotch Plains.
4. Lone Star Steakhouse and Saloon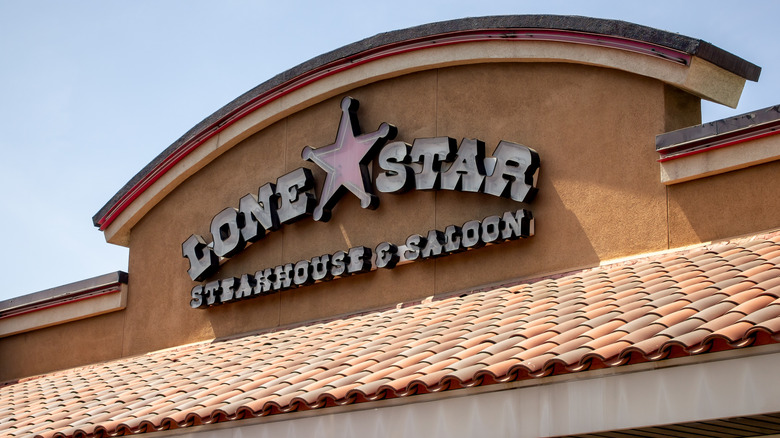 The Image Party/Shutterstock
The 1980s and 1990s spawned a new era of family-friendly, casual steakhouse chain concepts. Outback and Texas Roadhouse debuted in those years and still dominate the sector decades later. They far outlasted another contender for the fun, no-fuss, all-American steakhouse crown: Lone Star Steakhouse and Saloon. It served up an idealized version of Texas food: huge steaks along with big portions of seafood and salad selections. It actually originated in North Carolina, with creator Jamie B. Coulter funneling the profits from his Pizza Hut franchises into the founding of Lone Star. In 1992, eleven Lone Star Steakhouses offered up big platters of meat and side dishes. By the decade's end, there were 265 outlets.
The chain performed reasonably well in the early 21st century but suffered huge financial blows during the economic crisis of 2009. At that point, Lone Star's parent company had to close 27 of its 179 restaurants. Contraction didn't work; by January 2017, just 16 still operated. As of 2023, there's just one Lone Star Steakhouse left, in Guam.
5. BLT Steak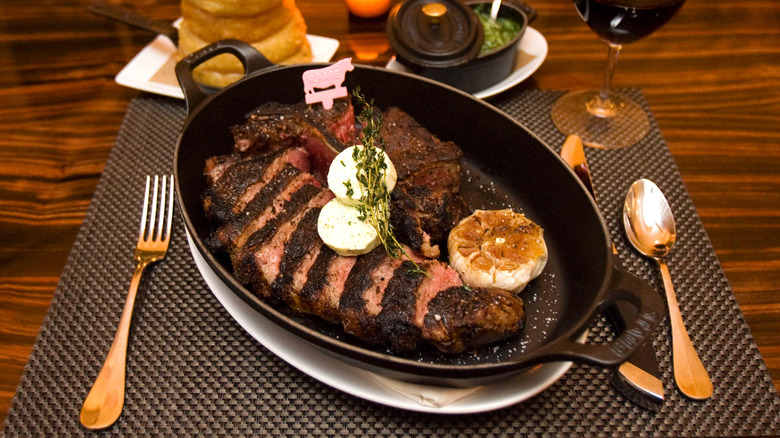 Bloomberg/Getty Images
Launched in 2004, BLT Steak sought to combine French bistro vibes with chef-centric reinventions of classic steakhouse menu items. In the 21st century, it grew into a moderately sized string of elegant, modern fine-dining establishments offering familiar fare like porterhouse and New York strip steaks, wedge salads, oysters, and massive shrimp cocktails.
The COVID-19 pandemic, and the subsequent financial fallout that ensued, would put BLT Steak almost out of business. Parent company BLT Restaurant Group, which operated eight eateries in New York, Florida, Washington, D.C., Hawaii, and North Carolina, shut down the dining rooms of its flagship Manhattan restaurants in accordance with COVID-19 lockdown laws designed to stop the spread of the virus. In April 2020, BLT received a $3.3 million PPP loan to keep the business alive, but with onsite dining not allowed for six months, it wasn't able to reach the levels of staffing necessary to receive PPP forgiveness. With its revenues tanked, BLT shut down four of its U.S. restaurants and filed for Chapter 11 bankruptcy protection in March 2022. As of 2023, five BLT Steak restaurants are open overseas, with two remaining in the U.S. (along with two fancier BLT Prime locations).
6. Claim Jumper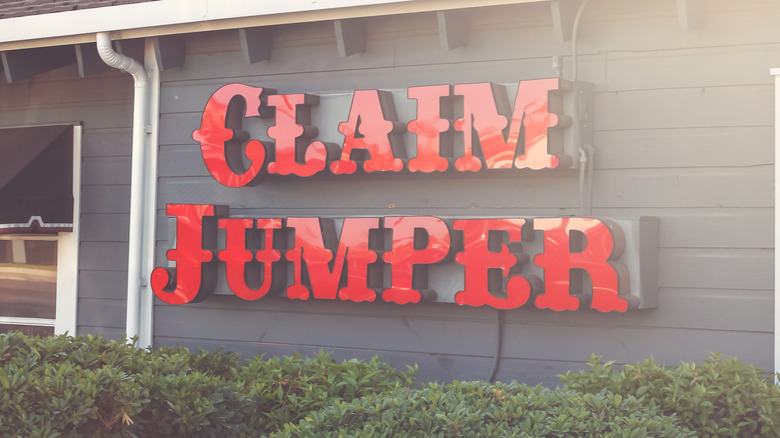 The Image Party/Shutterstock
Claim Jumper tried to occupy a spot at the apex of the chain restaurant pyramid. The average outlet promised the consistency and familiarity one gets when one dines at a chain restaurant while also selling very nice steaks, chef-composed dishes, and elaborate seafood dishes, as well as top-shelf cocktails and expensive wines.
Following the massive economic problems of 2009 and 2010 that left many sectors struggling to stay open, Claim Jumper filed for Chapter 11 bankruptcy. At the time, the company had amassed as much as $500 million in debt and had as little as $50 million in assets. When it filed for bankruptcy, 45 Claim Jumper restaurants were still pulling in customers, primarily in the Midwest and on the West Coast. The chain survived bankruptcy, but it's a much smaller operation than it once was. In 2023, only 12 Claim Jumper Steakhouse & Bar locations remain operational.
7. Ponderosa Steakhouse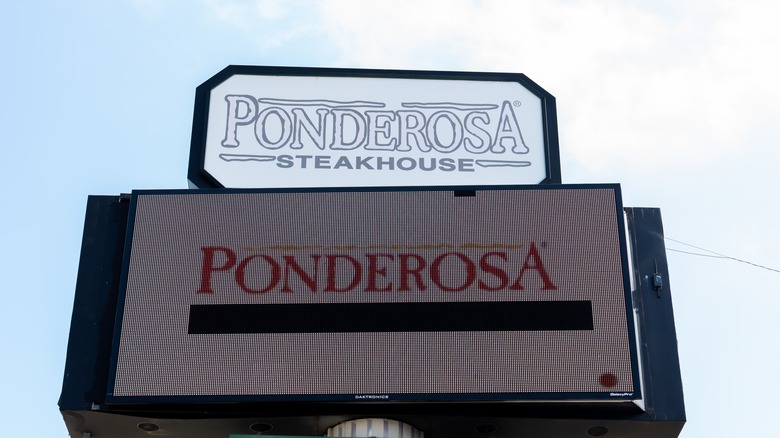 JHVEPhoto/Shutterstock
In 1963, Dan Blocker, one of the stars of the popular TV western "Bonanza," helped open the Bonanza Steakhouse. Within a few years, Blocker sold the place, which enjoyed a rivalry with the Ponderosa Steakhouse, ostensibly named after the ranch where "Bonanza" was set. In the 1980s, Metromedia Restaurant Group, owner of Bennigan's, bought up both Bonanza and Ponderosa and operated them as one chain, with restaurants bearing one of the two names. By the early 1990s, about 700 Ponderosa Steakhouses were open in the U.S. and elsewhere. Patrons could order a steak or massive cheeseburger (and all the usual steakhouse sides) from the menu, or they could hit the far more varied hot buffet, with offerings of fried chicken, pizza, and desserts, as well as a salad bar.
Metromedia filed for bankruptcy in 2008 and was able to work out of it within a year, but the steakhouses started an irreversible pattern of closure. By 2011, about two-thirds of the Bonanza and Ponderosa locations that were open in 2001 had shut down. In 2023, a combined 21 restaurants are still kicking, two-thirds of which are Ponderosa, the rest Bonanza.
8. McCormick & Schmick's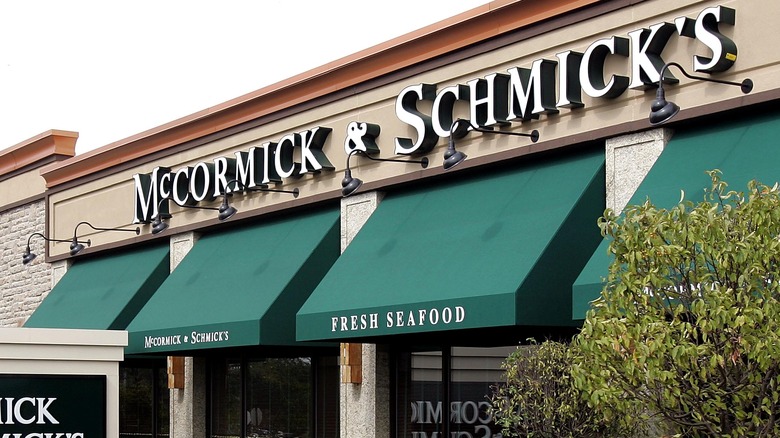 Bloomberg/Getty Images
In 1974, Bill McCormick and Doug Schmick, the owner and manager, respectively, of one of Portland's oldest restaurants, Jake's Famous Crawfish, branched out to form a new seafood eatery, McCormick & Schmick's. A moderately-priced but classy establishment, the restaurant expanded its menu to include dozens of seafood options as well as steakhouse-style cheeseburgers and large steak dinners. It also grew into a sizable chain.
At the time of the restaurant chain's initial public stock offering in 2004, it operated 51 locations in 22 states, which had grown to 80 by the time of its 2012 purchase by Landry's, a consortium with controlling interests in Bubba Gump Shrimp Company, Rainforest Cafe, and Morton's the Steakhouse. Just five years later, only 55 of the fish-and-steak restaurants remained. The new owner blamed the closings on the previous regime's over-expansion into small markets. In 2023, roughly 26 McCormick & Schmick's eateries are still operational.
9. Black Angus Steakhouse
Restaurateur Stuart Anderson opened the first Black Angus Steakhouse (named after a breed of high-quality beef cattle) in the Seattle area in 1964. Black Angus grew into a phenomenon because it was a more casual, affordable steakhouse that offered a sit-down experience with low prices, a family-friendly approach, and a relaxed sensibility. For example, Black Angus's first sales gimmick was selling a full dinner — steak, potato, and soup or salad — for just $2.99. Anderson sold the chain but stayed on as an executive, helping to grow the company to over 100 locations across the American West by the 1980s, a number that had dropped to 69 when parent company ARG Enterprises filed for Chapter 11 bankruptcy protection in 2009, citing debts as high as $500 million. That was actually the chain's second bankruptcy; in 2004, Black Angus filed for bankruptcy and attempted to salvage business by revamping its menu and introducing takeout.
Black Angus hung on, and by late 2020 operated 34 outlets. At that point, it announced the temporary closure of roughly half of all restaurants. As of 2023, 32 Black Angus steakhouses remain alive.
10. Quaker Steak & Lube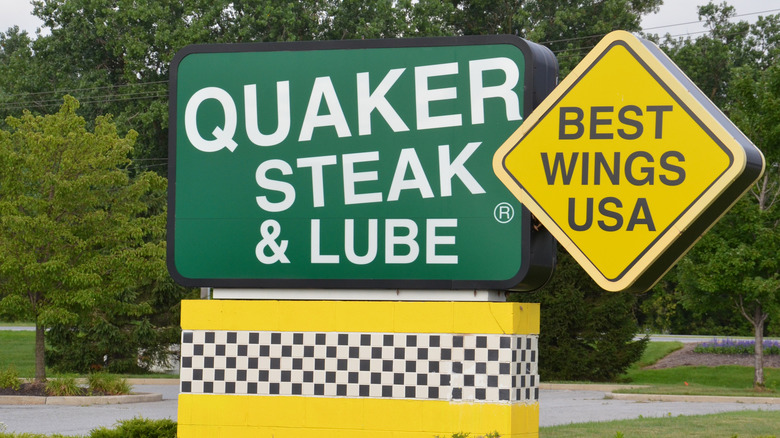 Susan Montgomery/Shutterstock
At Quaker Steak & Lube, the burgers are towering, the wings are plentiful (and come sauced with one of nearly two dozen signature sauces), and the steaks are gigantic. An institution in Pennsylvania and surrounding states since it first began grilling large portions of meat in 1974, Quaker Steak & Lube's locations sport an old-fashioned service station and mechanic theme.
By 2014, Quaker Steak fell into a desperate financial situation. The company reportedly failed to make loan payments and banker Wells Fargo sued to recover some of the outstanding $4.14 million in debt. That came right around the time a franchisee sued the company after an attempt to expand into Texas proved a flop. In 2015, Quaker Steak & Lube filed for bankruptcy, and truck stop company TravelCenters of America agreed to acquire the restaurant chain. The purchase was completed within a year, and TA ran Quaker Steak as a separate division while also opening a few new outlets inside of its travel plazas. Still, Quaker Steak isn't nearly as far-reaching as it once was. Down from 59 spots before bankruptcy and acquisition, it now numbers just 34, primarily in Ohio and Pennsylvania.
11. Sirloin Stockade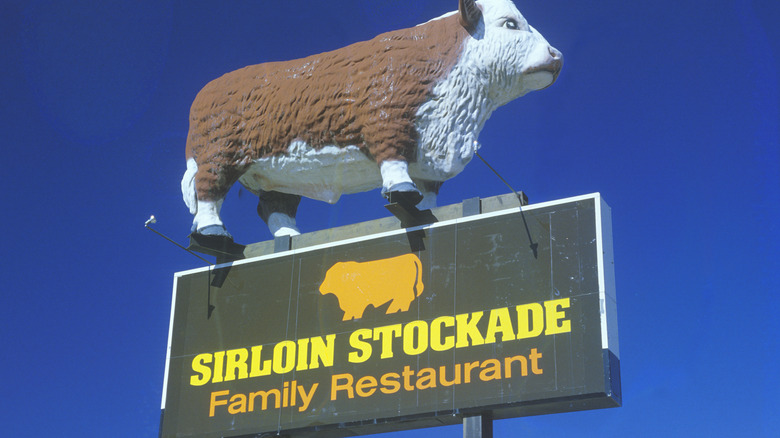 Joseph Sohm/Shutterstock
Sirloin Stockade helped popularize and spread the idea of the family-oriented, moderately-priced steakhouse, starting out in 1966 with one restaurant in Oklahoma City. In addition to offering full steak dinners off the menu, each Sirloin Stockade also housed a large buffet with hot and cold items, including pasta, vegetables, potatoes, prime rib, salads, and ice cream along with a full-service bakery where customers could purchase and take home full pies. Locations were easily spottable — most Sirloin Stockade properties included an oversized metal or fiberglass cow on the premises. When competing steak-and-buffet chain Golden Corral acquired Sirloin Stockade from parent company Lucky Stores in 1982, the steakhouse brand consisted of 118 company-owned restaurants and 71 franchised outlets.
The chain still functions as it once did — as a steakhouse and buffet place all in one — it's just significantly scaled back operations. As of 2023, just nine Sirloin Stockades are open for business, with most of them situated in Texas.
12. Timber Lodge Steakhouse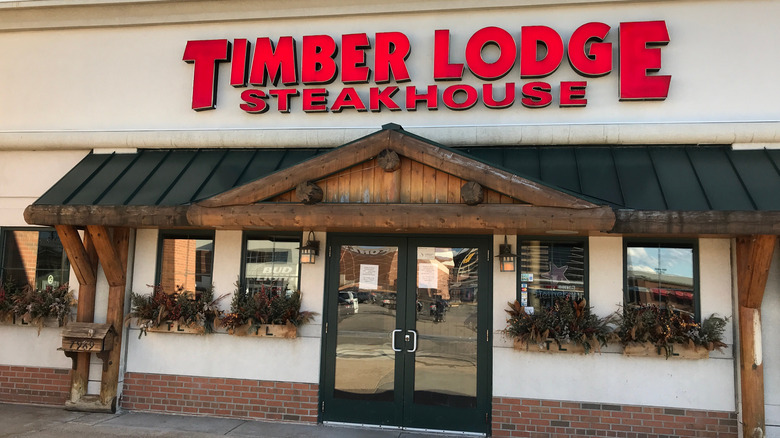 Jeff Bukowski/Shutterstock
Timber Lodge Steakhouse, a beef-focused restaurant with a woodsy theme, started its life in 1991 as Minnesota Steakhouse. Founder Doron Jensen instituted the name change and started expanding in the mid-1990s. And grow Timber Lodge did, going from one location in Minnesota to over 15 spread across several states.
But the company's success selling pricey steak and fish dishes in a cozy, lodge-like environment was short-lived. In 2006, Timber Lodge filed for Chapter 11 bankruptcy protections. Within two years, institutional food service company Taher acquired the steakhouse chain from the investor group that previously owned it. Still, restaurants continued to close, and the demise of two Minnesota locations in 2009 led to a lawsuit over unpaid lease agreements. As quickly as Timber Lodge had launched outlets in the '90s and 2000s, it shut them down in the 2010s. As of 2023, only one was left in Owatonna, Minnesota.
13. Del Frisco's Double Eagle Steakhouse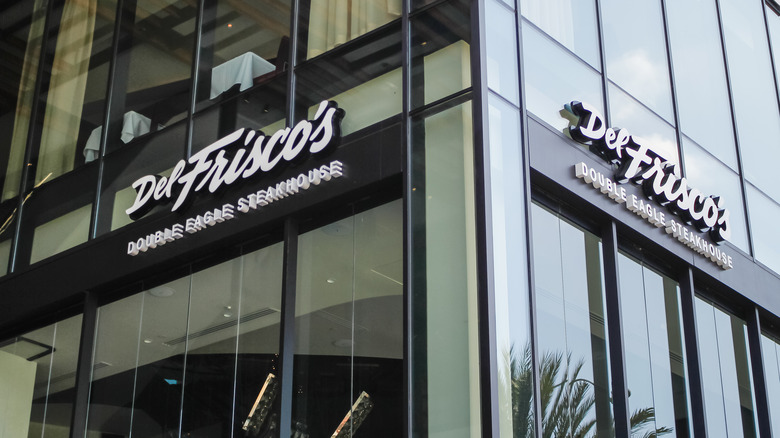 The Image Party/Shutterstock
For four decades, Del Frisco's Double Eagle successfully offered an upscale experience with the consistency of a chain. The steakhouse serves and celebrates beef above all things, particularly very big, special, rare, well-aged, and expensive cuts. Double Eagle's menu includes showstoppers and bill-builders like seafood towers and desserts, and it once stood atop its perch as a very nice restaurant to have a very nice meal on a special occasion in which money was no object.
In September 2019, when restaurant holding company and operator Landry's purchased both Del Frisco's Double Eagle Steakhouse and Del Frisco's Grille, the brand sat at a total of 71 eateries. That deal closed just before the COVID-19 pandemic, with its government-ordered shutdowns and subsequent labor shortage and economic crisis that made it extremely tough for even large restaurant chains to operate at a profit. As of 2023, the Del Frisco's name graces just 17 Double Eagle Steakhouse locations and 17 Grille restaurants.
14. Shula's Steak House
If the slow decline of Shula's is any indication, celebrity-owned restaurants, and steakhouses in particular, could be a dying breed. The first Shula's Steak House opened in 1989 in Miami Lakes, Florida, not far from where its namesake, Don Shula, coached the Miami Dolphins for 26 seasons and won two Super Bowls, making himself a local legend. The business grew into Shula's Restaurants, operators of a few dozen restaurants of various levels, but Shula's Steak House remained the flagship brand, offering a fine-dining experience and a signature series of premium center cuts of Black Angus beef called Shula Cut steaks. 
By 2017, over 30 Shula's restaurants were in business; as of 2023, that number sits at 15, of which only six are Shula's Steakhouses. A restructuring to reduce the number of Shula's concepts from six to three shrunk the company to make it more viable, while once packed and illustrious Shula's locations closed down in Indianapolis, St. Louis, Allentown, and Birmingham. A new ownership group sought to move away from the Shula name, even rebranding the Miami Lakes Shula's restaurant as ML Steakhouse.