A 'Simple' Name Change Could Win You Free Subway Forever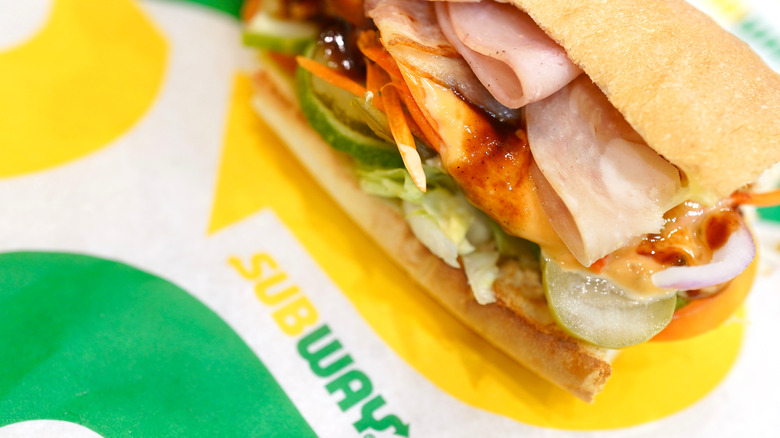 Prachana Thong-on/Shutterstock
How far would you go for a chance to "eat fresh" for free at Subway for the rest of your life? While fans continue to beg the popular sandwich chain for the return of the $5 footlong, Subway has its sights set on curating an "elevated menu" as they promote its newest Deli Hero subs made with fresh deli meats. In order to really make a splash in the already oversaturated market of summer menu releases, Subway has launched a new contest with the ultimate prize of winning free sandwiches for life.
Of course, there's a catch: You have to legally change your name to "Subway." According to the restaurant's press release, the one "lucky winner" who takes on this "iconic new identity" won't just get free food, they'll also get "money to reimburse them for legal and processing costs for the name change, making it easy and effortless to become Subway and enjoy a lifetime of delicious subs." Interested patrons can enter online between August 1-4 for a chance to win and rebrand themselves as Subway's number one fan, permanently. Subway currently has over 20,600 stores across the US, and is considered to be the most popular fast food chain, surpassing both McDonald's and Starbucks. With so many locations nationwide, contestants may find themselves in competition with quite a few other hungry fans who are willing to change their legal name to "Subway" in exchange for free sandwiches for life.
Hungry customers are willing to go to extremes for their favorite food brand
If you aren't keen on legally changing your name for the chance to win $50,000 in Subway gift cards, you may still be able to take advantage of free food or swag from your favorite restaurant chain next time it rolls out an exciting PR stunt. For years, food brand publicity stunts have been used to gain attention in the media, create buzz surrounding a new food item, and of course, give away free food, merch, and even cold hard cash to dedicated customers.
Subway's name change challenge may have taken inspiration from KFC's promotional campaign that launched in 2018, promising families a chance to win $11,000 if they legally named their newborn baby "Harland," after KFC's founder. To win, the baby also needed to be born on September 9, the anniversary of Colonel Harland David Sanders's birthday. Baby Harland didn't receive free KFC for life, but $11,000 in college tuition money is nothing to scoff at, either.
Arby's once offered fans in California a chance to permanently show off their love for their meaty sandwiches in the form of a free Arby's themed tattoo. And back in 2009, Burger King launched a promotion that offered fans a free Whopper in exchange for unfriending 10 people from their Facebook friends list. As crazy as these might sound, people from all over participated, reminding us that true fans are out there, willing to take drastic measures in order to enjoy free stuff.