The Original McDonald's Menu Screamed Basic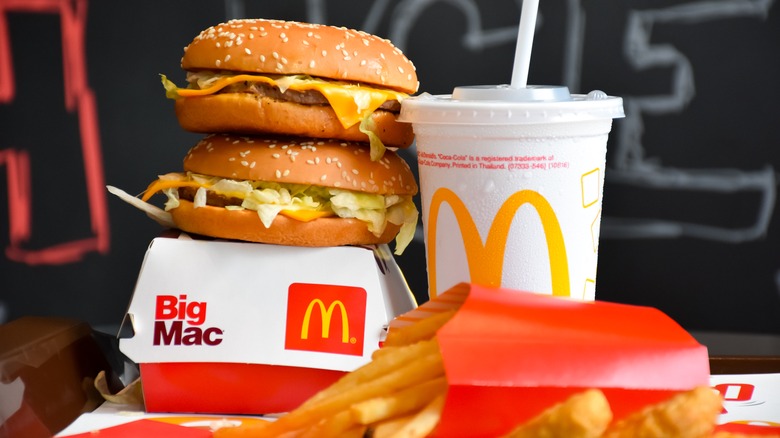 Patcharaporn Puttipon4289/Shutterstock
Whether you're craving a cheeseburger with three buns, a fish sandwich, or a frozen sweet treat, McDonald's has a menu item that's sure to satisfy (as long as the ice cream machine isn't broken). But the fast food chain didn't always offer such diverse items — according to The Sun, the first ever McDonald's menu only had nine items to choose from, making it fast and easy for hungry customers to grab a quick bite to eat.
Not only were the menu's offerings extremely limited, but the wording on the menu itself was extremely different than it reads today. While the McDonald's we know and love practically speaks for itself, in the early days the company felt it needed to add an extra something to encourage hungry patrons to try out their take on cheeseburgers and fries. When you stepped through the golden arches to eat at the first McDonald's back in 1940, you would order off of the "Amazing Menu" that highlighted the "Tempting Cheeseburger" with a side of "Golden French Fries" and a "Full-Flavor Orange Drink." This overly descriptive menu was designed to excite patrons and promise them a delicious meal for less than $1. The McDonald's founders clearly did something right, considering that the fast food chain is one of the most successful and recognizable companies today — but the menu's overly descriptive tone might seem a little silly to modern readers.
McDonald's has really stepped up their menu game in recent years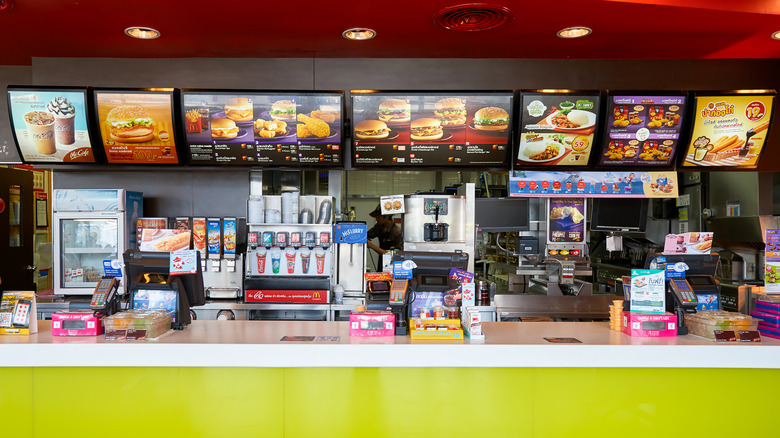 Sorbis/Shutterstock
Plenty has changed since the McDonald's brothers Dick and Mac opened their first restaurant in San Bernardino, California and changed the world of fast food forever. While you can still enjoy the cheeseburger and fries that the brothers swore would satisfy all your cravings, there have been a great deal of innovative crowd favorite menu items that have stood the test of time — and some that are truly missed.
One of the food items that McDonald's is known for today that didn't appear on the original menu is their Chicken McNuggets. Coming in four iconic shapes, the bites of chicken made their debut in 1983, and came with four unique sauces ranging from tangy BBQ to sweet and sour. Back in the day, the only drinks Mickey D's carried were Coke, Root Beer, Coffee, Orange Drink, and milk. Now, they offer a wide range of soft drinks as well as an entire coffee menu, plus frozen drinks and a wide variety of slurpable desserts. Menu items of McDonald's past include beloved favorites like the snack wraps that were discontinued in 2016 after a very successful ten-year run, and the elusive McRib that makes special, surprise appearances throughout the year. Regardless of the state of their menu, McDonald's remains a tasty fast food staple for the majority of the world.