Hot Ones Is Spicing Up NYC And Philly With Chicken Wing Delivery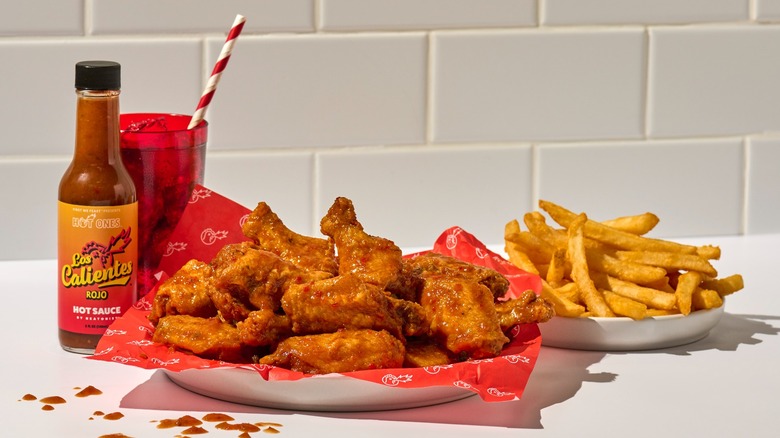 Hot Ones
While most talk shows feature comfy chairs and a live studio audience, Hot Ones subjects its guests to chicken wings slathered in progressively hotter sauces. The YouTube-based show aired its 300th episode in June 2023, and to celebrate, First We Feast hosted a hot wings pop-up in New York City.
Even more exciting, the show has decided to permanently offer hot wings delivery in NYC and Philadelphia. In other words, if you've spent the last 11 years imagining what it would be like to sit across the table from host Sean Evans, answering personal questions while sweating from every pore, you can now experience that hot wings-induced perspiration.
Now that you can have Hot Ones delivered, all that's left to do is gather your friends, prepare a few ways to cool your mouth, and get to interviewing each other. And, of course, you can place your Hot Ones order through any major delivery app.
How to order your own Hot Ones hot wings experience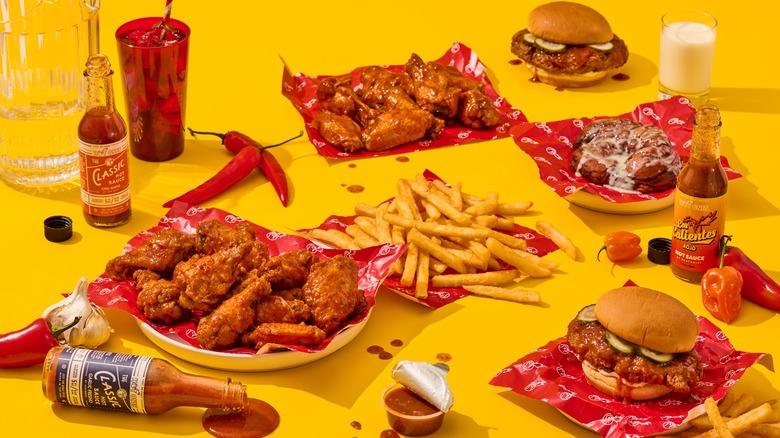 Hot Ones
Much like what guests experience in a real Hot Ones interview, their delivery menu includes several levels of heat. Starting at $9.49 on Grubhub, you can get a six-piece hot wing order slathered with one of three of the sauces from Hot Ones: Chili Maple, Garlic Fresno, or Los Calientes Rojo. For $17.49, you can get a 12-piece order. The delivery menu also includes three spicy chicken sandwiches, canned sodas, fries, and an apple fritter. Who doesn't love a good old-fashioned apple fritter?
The Hot Ones menu is also available on DoorDash, UberEats, and Postmates — again, only in NYC and Philly — with consistent pricing across the board. Of course, if you'd rather skip the chicken wings and use Hot Ones sauces in your own recipes, you can purchase them through Amazon, Walmart, or countless other online retailers. Whichever route you choose, be sure to have something on hand to neutralize spicy foods. You will need it.