Costco's Kirkland Champagne Can Hold Its Own Against Bougie Veuve Clicquot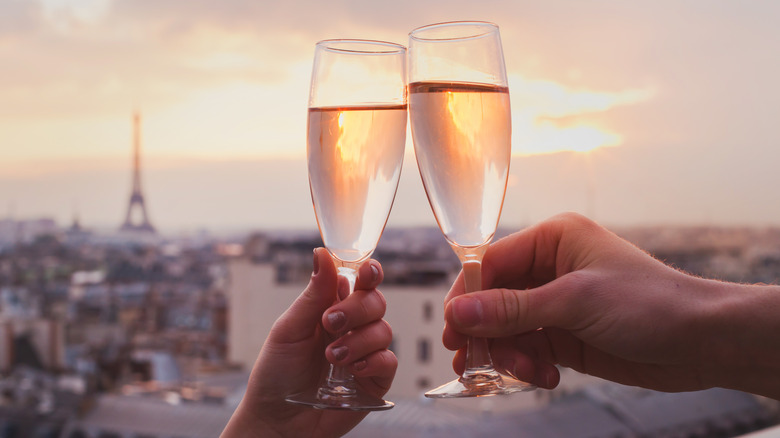 Song_about_summer/Shutterstock
Many of us relish each trip to Costco for one aisle and one aisle only — the wine and spirits. Costco offers Kirkland Signature brand liquor at bargain prices, and in true Costco fashion, often in huge sizes or even bulk offerings. But even with a love for Kirkland's vodka, whiskey, and even cheap wines, would you trust their Champagne to stand up against the bougie giant known as Veuve Clicquot? Some wine enthusiasts offer a resounding yes. 
Costco's Kirkland Signature Brut Champagne is made up of chardonnay, pinot noir, and pinot meunier grape varietals, and of course, it actually comes from the Champagne region of France. Sound familiar? That's the exact varietal combo found in Veuve Clicquot. And while Costco's version clocks in at about $20 per bottle, which is certainly more expensive than your average Cook's or Barefoot bubbly, it's just a fraction of the cost of Veuve Clicquot Yellow Label, which retails for about $55. And many wine enthusiasts say the Kirkland version's taste and bubble size are just as good as Veuve Clicquot's, with some going so far as to say Costco's product is even better. 
It all comes down to flavor
Kirkland Brut Champagne has notes of tree fruits such as green apple and pear, as well as citrus notes which offer an acidic, zesty taste. It also has a warmer side that leans more toward brioche bread and toasted almonds. The combination of these elements leads to a dynamic and complex blend. Because the two Champagnes are made from the same varietals and come from the same region, there is a natural overlap in tasting notes. In one video, a TikTokker notes that Veuve Clicquot is more overtly toasty and lemony, favoring its citrus and caramel notes over green apple, ultimately saying that they prefer the Kirkland bottle. 
There are plenty of cheaper high-quality sparkling wines, but $20 is a steal for a bottle of authentic French Champagne. And Kirkland Brut definitely brings the flavors of that region at a great price. It would even make for a great special occasion wine. However, even with all of the benefits of Kirkland Brut Champagne, carrying around a yellow label-wrapped bottle of Veuve Clicquot brings with it a fun dose of luxury that Costco just can't replicate, no matter how similar the flavors are. Still, if you want a bottle of real-deal Champagne without breaking the bank, this is a fantastic value.