Costco's Strawberry Sundae Is Seriously Slept On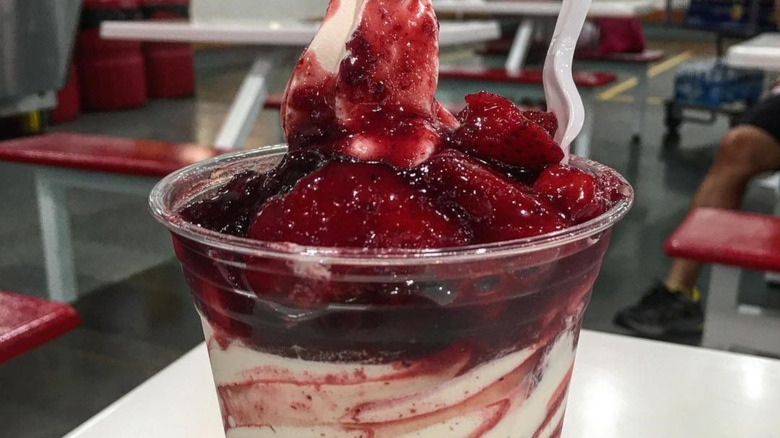 Emmett Reiner/Shutterstock
Costco's food court menu has gained attention over the years, with the retailer's hot dogs and pizzas becoming famous for their delicious taste and affordability. While these Costco items tend to dominate discussions about its food court, its desserts are equally impressive. Notably, Costco's strawberry sundae often goes unnoticed.
The Costco food court sells plain vanilla soft serve, as well as two sundaes: One lined with chocolate sauce and another garnished with strawberry sauce and strawberries. The latter is an underrated favorite among the store's customers, deserving as much acclaim as Costco's beloved hot dogs and pizza.
On Reddit, Costco shoppers have praised the strawberry sundae as "delicious" and "creamy." One user even suggested it's better than McDonald's sundaes, and at the price point, who can argue with that? There seems to be a consensus on this Costco dessert, but many customers share a common complaint about it.
Customers have one complaint about Costco's sundaes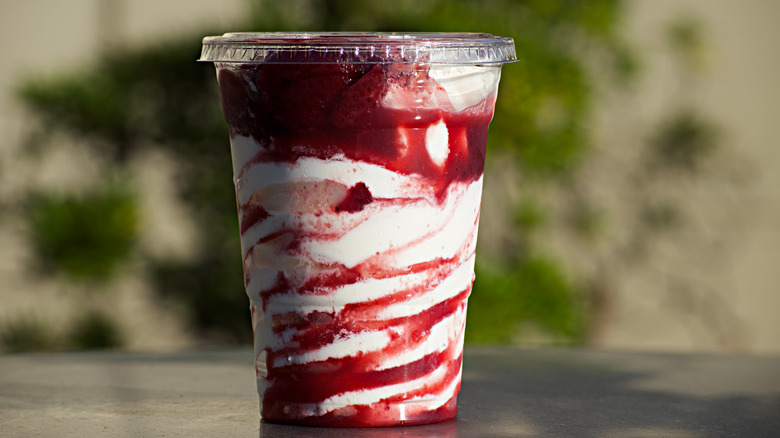 Kevin Avina/Shutterstock
Although Costco's strawberry sundae has become a quiet favorite of its food court offerings, shoppers do have one criticism of this treat: it's too big. That's something shoppers feel about Costco's sundaes in general, with one Redditor summing it up like this: "I always wish they'd sell a half-sized one. The ice cream is way too rich for me to eat the entire thing."
While a half-size sundae sounds like a good idea, Costco's bigger portion ensures shoppers are getting a bang for their buck. One way to deal with the very good problem of too much ice cream is to ask for a lid and put it in the freezer. It may not taste as good later on, but at least customers will get multiple servings out of it. 
The size of Costco's sundaes also opens them up to customization. One Costco hack has patrons putting churros in their sundaes and suggests asking for strawberry and chocolate syrup in the same cup. These trends may be decadent, but they add variety to this menu item. Of course, it's also delicious exactly as is.