When Does Breakfast Actually Become Brunch?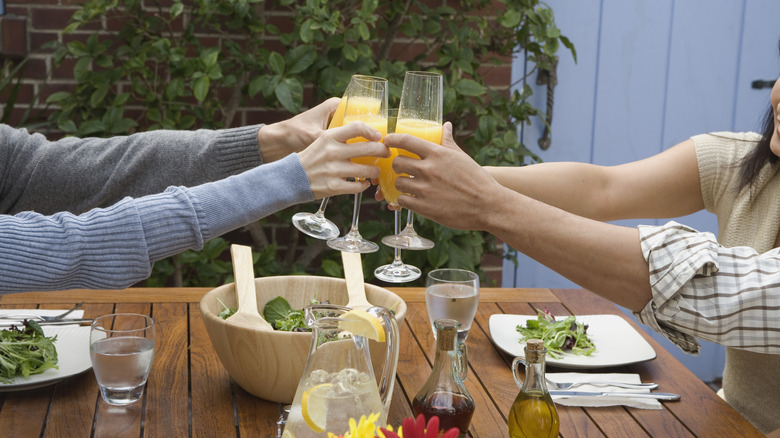 Jupiterimages/Getty Images
Whether you're coming to the conclusion of a weekend of celebrations or your party has only just begun, there are few things more exciting and inviting than a mid-day brunch. Brunch goers arrive to enjoy company and atmosphere, but they stay for the wide variety of meal options, as well as virtually bottomless boozy beverages.
The exact origins of brunch are still largely up for debate, but the first known publication of the breakfast-lunch combo word was written in 1896 by Guy Beringer. His article in "Hunter's Weekly" suggested adapting a brunch-style meal on Sundays where a variety of lighter dishes usually reserved for early mornings can be enjoyed after church service slightly later in the day. Beringer's ideas for a celebratory end-of-week gathering were quickly adopted and have remained a staple in the United States for over 100 years. But brunch has come a long way since the post-church-service origins that previously defined it, which raises the question — when does breakfast actually become brunch?
It might seem like an easy answer that revolves around the type of food being served, but modern cuisines are quick to challenge that thinking. Eggs, once considered a strictly before-noon dish, are being offered all day long, topping burgers sunny side up and becoming main players in burritos served all day. While your restaurant will most likely designate an official brunch menu, the exclusive offerings are defined not by what you are eating, but what time you eat it.
Brunch is here for a good time, not a long time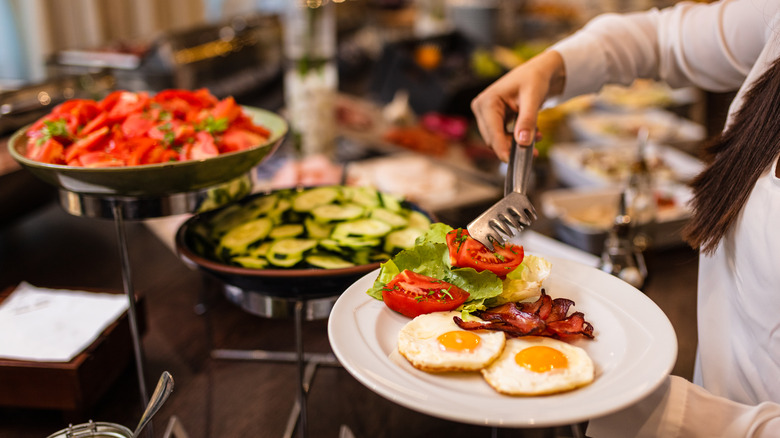 Milanexpo/Getty Images
If you're craving a mid-morning brunch date with your besties while you're staring out the window of your office on a Tuesday, we're sad to say you'll most likely have to wait until Saturday rolls around to enjoy bottomless mimosas. Brunch is almost always reserved for weekends, when you can brush off your mid-week responsibilities and enjoy every moment of your off-the-clock freedom. Some restaurants still honor the traditions of its assumed origins, offering brunch exclusively on Sundays. But for those with Sunday scaries who need at least 24 hours to prepare for the week to come, many restaurants have embraced Saturdays and opened their brunch menu to the entire weekend, as long as you get there on time.
Brunch isn't just exclusive to days, but also times of day. To get the most out of your brunch experience, make sure to check your watch. Early birds will have to wait until 11 a.m. and night owls won't be able to enjoy the fusion foods after 3 p.m. at most places. The window for brunch can fluctuate a few hours before or after, but you're not likely to see a brunch menu offered after 4 p.m. at the latest. While the elusive brunch menu is only available at certain times on your days off, you can always count on the trusted happy hour to get you through hump day as you count down the days until it's brunch time once again.