Does Taco Bell Offer Gluten-Free Menu Items?
There are many people who avoid gluten in their food, either due to a lifestyle choice or an allergen. However, what is one to do when they're craving a crunch wrap from Taco Bell on a Friday night? Does the Tex-Mex fast food chain have any gluten-free options on its menu? Well, that's where things get complicated.
According to its website, Taco Bell does indeed have food options that do not contain gluten. However, the restaurant chain has a disclaimer discouraging customers who have celiac disease or some other allergen from eating its meals. For that reason, its menu items cannot be considered gluten-free. According to John Hopkins Medicine, celiac disease can cause everything from muscle cramps and stomach pain to a rash. Sufferers must avoid ingesting gluten.
Taco Bell has multiple items that contain wheat and other forms of gluten. Due to the possibility of cross-contamination, Taco Bell cannot guarantee that its menu items won't contain some traces of gluten. So, while Taco Bell recommends those with an allergen don't indulge, there are items on its menu designed not to have gluten if you're just partaking in a gluten-free diet. Here's what you could order.
Gluten-free menu items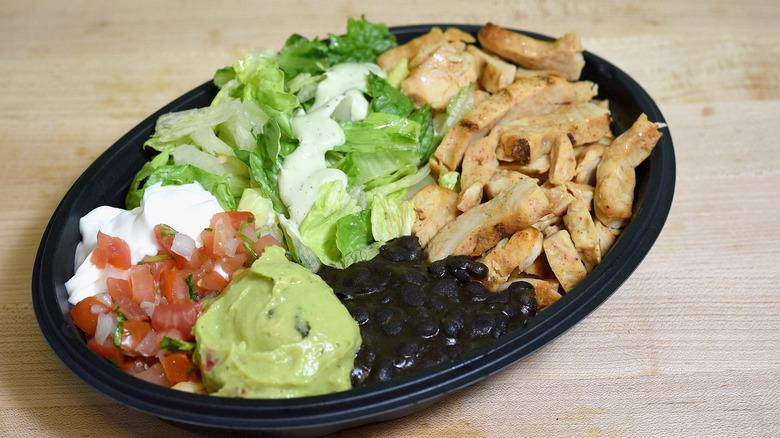 Joshua Blanchard/Getty Images
It goes without saying that if you want to ditch the gluten, then you will have to ditch Taco Bell's various soft tortilla shells as well. So that means no burritos or soft tacos. However, the fast food chain's crunchy tacos and Doritos Locos tacos don't contain any gluten. The hard shells are made from corn instead of wheat. But you could also skip the taco shells entirely and order one of the chain's power bowls instead. Power bowls contain meat and cheese alongside rice, beans, and other vegetables. If you're vegan, you could also go with a veggie option.
If you're just looking for a snack, consider ordering one of Taco Bell's hashbrowns or a simple bowl of rice and black beans instead. All of these are viable options for those wanting to cut out gluten from their diet, but it may be of little solace to those who have to avoid gluten due to a medical issue. As an alternative, you could always make gluten-free tacos at home, using one of the readily available gluten-free tortillas. However, if you're in a rush, consider these gluten-free fast food options.