Aldi's Recalled, Plastic-Contaminated Beef Might Be Lurking In Your Fridge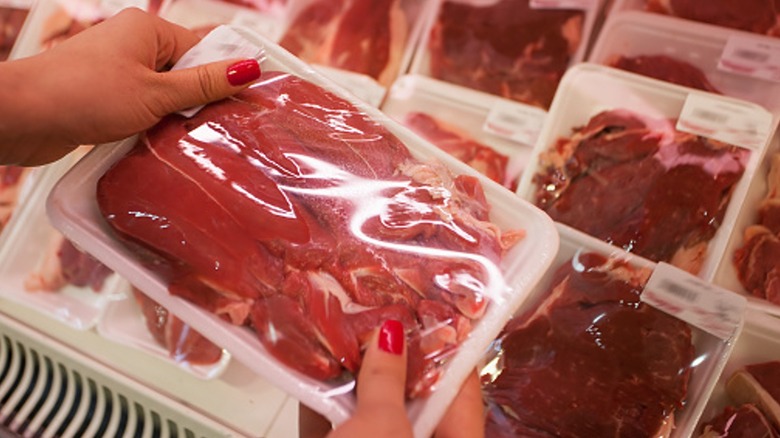 Pilin_petunyia/Getty Images
Although bacterial contamination is what most people's minds jump to when they hear about a meat recall, meat may also be subject to contamination by foreign materials. The latest meat recall, affecting Aldi's USDA Choice Black Angus beef, came about after a retailer reported seeing "soft, clear plastic" in the meat, per the USDA's announcement.
Potentially affected products are labeled "Beef For Carne Picada" and "Est. 85" and have a freeze-by date (found on the back of the package) of August 22, 2023. The product is sold in packages with a net weight of around 1.5 pounds, costing $5.79 per pound.
Because the meat is no longer being sold in stores, the situation is considered a public health alert, as opposed to a full-fledged recall. Nevertheless, anyone who has purchased USDA Choice Black Angus from Aldi in the last month should make sure their meat is not part of the affected batch.
The dangers of finding plastic in your food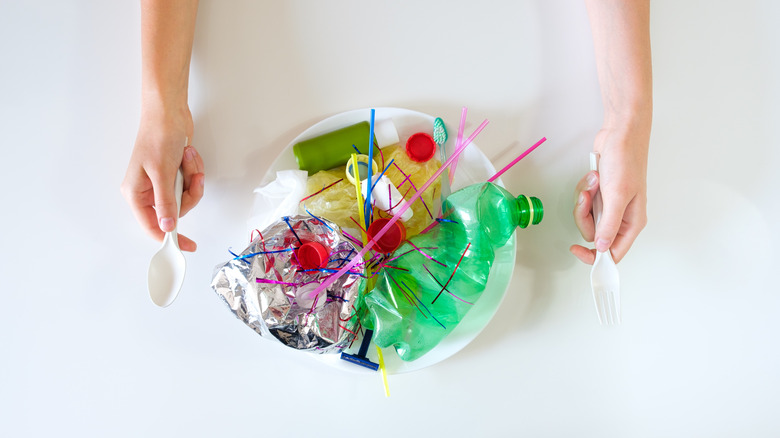 Aleksey Boyko/Shutterstock
Without a doubt, choking or sustaining injury to the mouth and throat are the most obvious dangers of plastic in your food. Fortunately, no one has reported injuries related to Aldi's USDA Choice Black Angus beef alert, but that doesn't mean we're all in the clear.
The dangers can go as far as the plastic's contents, which is why many experts advise against even storing your food in a plastic container. Much of the plastic used for food packaging contains various chemicals, such as BPA, phthalates, and polypropylene. Over time, exposure to these chemicals can negatively impact the body's digestive, reproductive, and respiratory systems.
As Science News points out, plastics are everywhere. In the case of Aldi's beef, the packaging is plastic, and we can only imagine that various stages of the production process bring the meat into contact with plastic. As consumers, we can try to avoid plastics, but we have no way of knowing what happens to our food during manufacturing.