Turn That Forgotten Box Of Puff Pastry Into Easy Homemade Donuts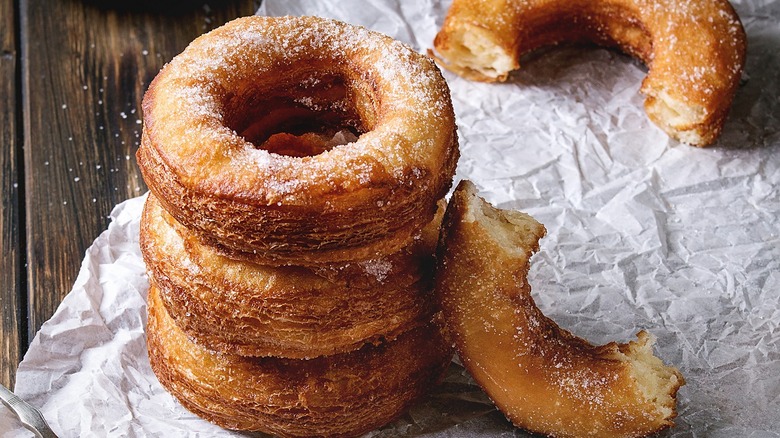 Natasha Breen/Shutterstock
In 2013, pastry chef Dominique Ansel invented (and trademarked) a croissant-donut hybrid called a Cronut that turned the world upside down. People woke up before dawn to form lines that ran for blocks outside of his SoHo New York bakery. His Cronuts are still available in unusual flavors like pineapple jam filling and oolong tea ganache, and they sell online for almost $10 each. In 2014, perhaps to fend off the multitude of bloggers trying to recreate the recipe, he published the recipe in his cookbook "Dominque Ansel: The Secret Recipes." His Cronut recipe is a three-day process, which basically involves laminating dough just as you would when making croissants, with a couple of ingredients thrown in. 
In fact, it's not all that different from puff pastry dough. So if you don't happen to have three days and a bunch of fancy cooking equipment, you might be happy to learn that you can repurpose that hidden box of puff pastry in the back of your freezer into a batch of delicious donuts. You'll be amazed at how simple it is to whip these up with just a few ingredients. Simply thaw your puff pastry sheets, roll out the dough, then cut out donut shapes using two cookie cutters or a special donut cutter, then drop the donuts and their holes into the hot oil. Once they've cooled slightly on a rack, you can add any number of fillings and toppings.
Tips and variations for making puff pastry donuts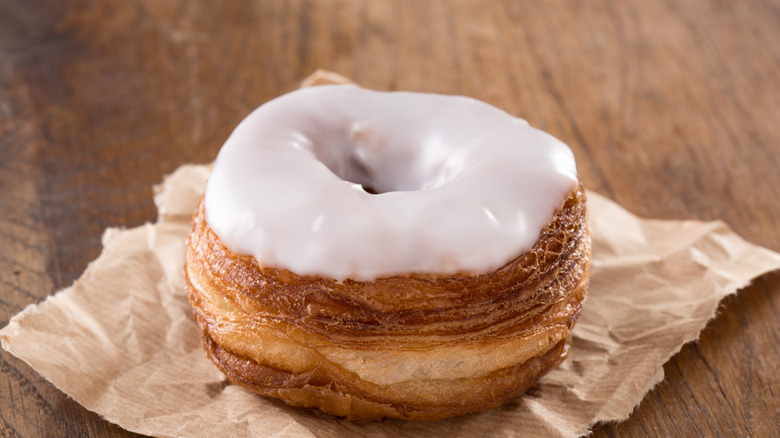 Martiapunts/Getty Images
With a recipe this simple, you want to get the steps just right. Fry them in a lighter oil, like vegetable or canola. Anything with a distinct flavor could change the flavor of your dough. Make sure your oil is up to temperature (about 365 degrees Fahrenheit). Because puff pastry is so delicate and filled with buttery layers, it can easily soak up oil in all the wrong ways. Once your puff pastry layers start to expand in the oil, it takes about three to four minutes for them to become crispy. You can also make air fryer donuts or even use an oven.
Your imagination is the limit when it comes to topping or filling them. For a simple classic, toss them in sugar or cinnamon sugar while they're still warm. You can cover them in ganache, icing, or glaze. To fill the donuts with jam, pastry cream, or Nutella, just insert the pastry bag nozzle right into the donut and the filling will settle between layers. Try to inject the filling in four evenly spaced places to ensure proper distribution. You can cover the nozzle holes with your icing of choice. The donut has a relatively short shelf life and, for best results, should be eaten the day it's made. In the unlikely event that you have any leftovers, store them in a cool dry place — but not the refrigerator, where the humidity will cause sogginess in their buttery layers.