The Evolution Of State Fair Food Is A Wild Ride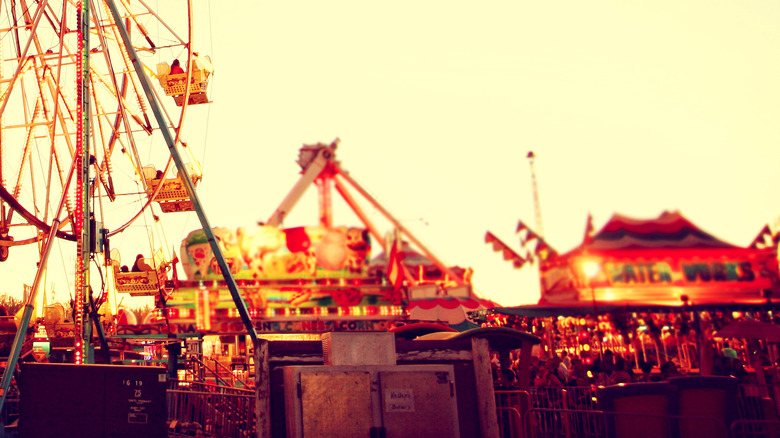 Annette Shaff/Shutterstock
Once upon a time, state fair food was all about simplicity. Enter the era of deep-fried wonders, where everything from Oreos to butter becomes the new fairground sensation. But what happened to our humble beginnings, and when did fair staples like hot dogs on a stick become so underwhelming? The corn dog was introduced at the Texas State Fair in 1942 and has undergone a wicked transformation into today's version: enter the pickle dog. A pickle dog has everything your favorite corn dog contains but with the added twist of a pickle stuffed inside. But hold onto your dogs. Vendors take it a step further as it also transforms into beer.
And the mastermind behind this, Grant Wood, head brewer at Revolver Brewing, is the curator. This isn't even the wackiest transformation — we see regular fries become Flaming Hot Cheetos cheese fries, cotton candy turns into cotton candy tacos, and don't even get us started on deep frying. State fairs have taken deep-fried fair foods too far.  No longer are people appeased by fried funnel cakes; now, we have entered the realm of fried slices of pie, filet mignon, watermelon, and even butter. Yes, they even have fried butter. Fried butter has garnered attention from everyone, from Oprah Winfrey to CBS and The Late Show with David Letterman, joking about the fried item's caloric and nutritional value. But whether it's too far or not far enough, we are not ready to get off this ride just yet.
The origin of food at state fairs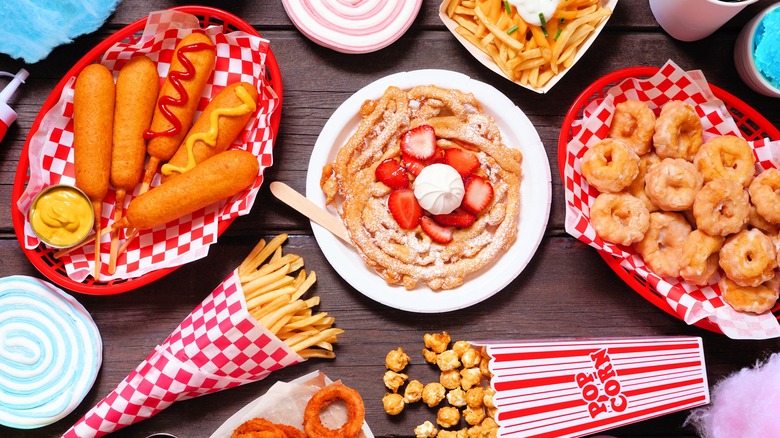 JeniFoto/Shutterstock
Step right up, and let's travel back in time to unfold how food and fairs become such an iconic duo. The first state fair in the United States was held in Syracuse, New York. It took place in 1841 and was called the New York State Fair, laying the foundation of traditions used by state fairs across the country. Curating agriculture activities, with common goals to be a time to show off crafts, new skills, and giant vegetables."The fairs were started as a way to bring farmers together — to compare notes," according to President & CEO of the International Association of Fairs & Expositions, Marla Calico. Introducing food to the mix sent the festivities into a delightful frenzy where each vendor seemed to try to out-fry one another. Thus, gaining fan clubs and receiving the hype we know today.
Calico further explains that the takeoff is solidified by competitions like the Big Tex Choice Awards, which crown winners for the best and most creative fair foods. Some recent winners include a fried charcuterie board and Cha-Cha Chata, which is a long way away from your average fair milkshake. Although today's fairs seem to be transitioned to more of a focus on food and attractions, they still pay a respectable homage to their roots. And fear not, old favorites like cotton candy, lemonade, corn dogs, and funnel cakes still exist. They are just hidden behind these new crazy concoctions.