Wegmans' Cook-In-Bag Chicken Is The Opposite Of Convenient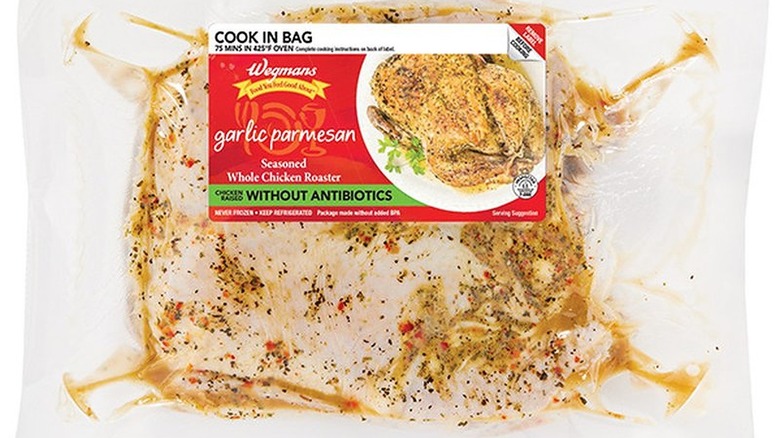 Wegmans
With fast food and restaurant prices on the rise, more people are opting to dine at home. However, it can be difficult to cook during the hectic work week, especially for larger families. Enter Wegmans' cook-in-bag entrees, which promise a quick no-mess dinner. Unfortunately, they are less convenient than they appear.
Offering everything from a lemon-seasoned whole chicken to braised beef, the product line capitalizes on the method of sous vide. Just pop the entire entree — bag and all – into the oven and cook. The bags are made of a food-safe polyester film that can withstand heat. While it sounds easy enough, the meal's long cook time can make it less than ideal if you're looking for a quick bite. Several of the chicken entrees take around an hour in the oven. That's sparse compared to the pork shoulder, which can take over four hours to fully cook. If you're using a slow cooker, expect your meal to take even longer.
Considering you can easily grill chicken breasts in under 20 minutes, it doesn't seem like much of a shortcut. It takes around the same time to cook a Wegmans cook-in-bag chicken meal as it does to roast a whole chicken (of course, you save time with the prep work). 
Meal prep required
Unfortunately, you can't pop the dish into the microwave to save time on cooking either, as the instructions advise against it. Sure, you could remove the meat from the bag to speed up the cooking process. Chopping up the chicken and sizzling it on the stove is quicker, but it's not much easier than if you bought raw chicken outright and seasoned it yourself. You would also have more control over the spices and herbs you used if you did so.
An hour or more for an entire meal may still seem worth it to some, but Wegmans' cook-in-bag line contains just entrees. That means you still have to fix sides to go alongside that garlic parmesan chicken. As such, it breaks its promise to consumers of zero mess or fuss. While the Wegmans website does feature meal ideas for its entrees, it simply redirects shoppers to the other items they need to buy to complete the main course. For instance, if you're buying Indian-style butter chicken, pick up brown rice and naan. If you want to fix a quick and convenient poultry dinner for your family, consider buying a rotisserie chicken instead. It's similarly priced with the bonus of already being cooked at the store.