The Taco Bell Double Decker Doritos Locos Taco Is A Nostalgic Flavor Journey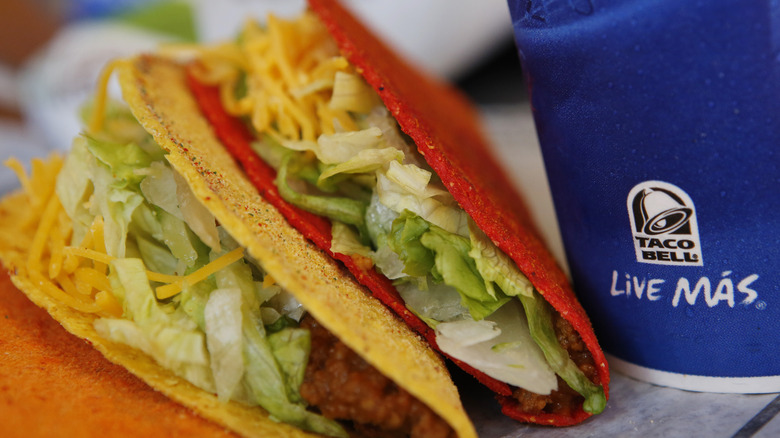 Bloomberg/Getty Images
Taco Bell has changed its menu through the years, and that means certain fan favorites have become fond memories. Such was the sad fate of the double-decker taco, which was introduced in 1995 and permanently joined the menu in 2006. Customers lamented the loss when Taco Bell decided to sunset the item in 2019 after 13 years. 
It's a passing that still weighs heavily on fans' minds, as evidenced by a recent Reddit post. In the post, the user, who appears to be a Taco Bell employee, shares a double-decker Doritos Locos taco. The creation features a Supreme Doritos Locos hard shell wrapped in a soft taco shell. As expected, the creation made many people jealous, with some expressing desire to order the taco themselves. As one person asked, "Why can't we order it?" Meanwhile, another questioned how much it might cost, writing, "Say Taco Bell actually puts it on the menu. How much will they charge?"
Unfortunately, the picture does not mean that the double-decker taco is back, and neither is a Doritos-flavored version, for that matter. However, hungry fans can easily recreate the dish with a simple drive-thru hack. 
Resurrecting the double decker taco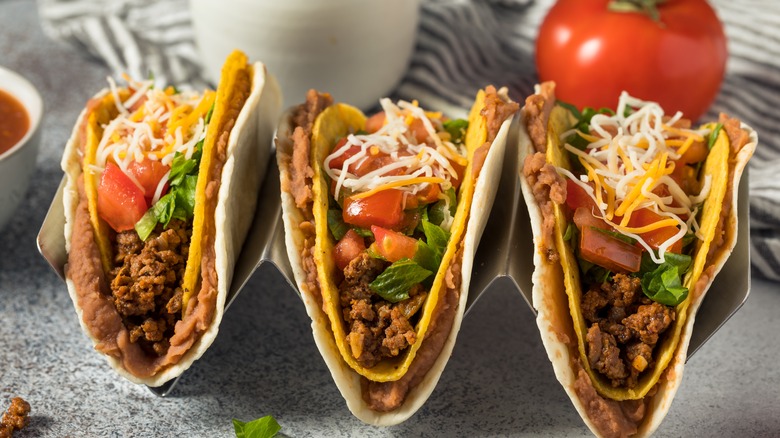 Brent Hofacker/Shutterstock
If you want to assemble the double-decker Dorito Locos taco of your dreams, you will need to order a Doritos Locos Taco and a soft taco. If you like sour cream and diced tomatoes, order a Doritos Locos Taco Supreme. For the soft taco, substitute beans for ground beef and skip the lettuce. To assemble the creation, open the soft taco and carefully place your Doritos Locos taco inside. You may have to redistribute some of the beans and cheese, but this is a fairly easy way to create a double-decker taco.
There are several ways to customize this as well. If you aren't a fan of Doritos Locos Tacos, you could order a regular taco, making it even more authentic. Or, if you're not a fan of beans, keep the ground beef on the soft taco and redistribute it into the Doritos Locos taco for extra meat. Given the relatively inexpensive price of the crunchy and soft tacos, this can be assembled for around $4 on average.