The Guy's Grocery Games Scandal You Probably Forgot Existed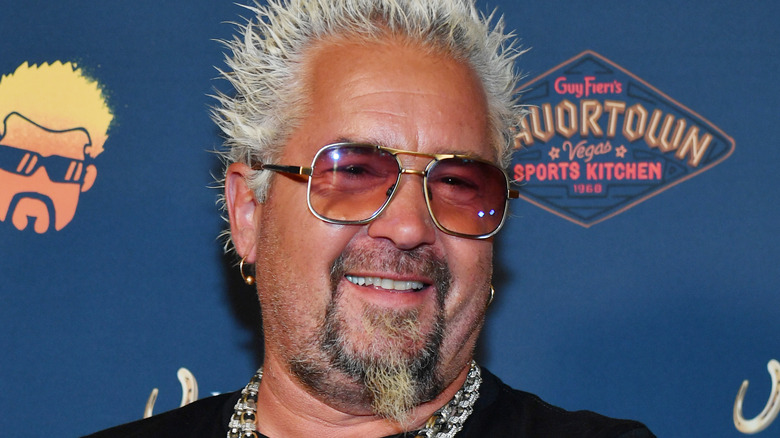 Denise Truscello/Getty Images
Guy's Grocery Games (aka Triple G) is a program with some serious street cred, judging by its consistent and enduring popularity. Grocery Games first aired on the Food Network in 2013; this month it kicks off its 32nd season. The show's quick pace, unique challenges, inventive additions — and its host's infectious spirit — help keep the focus on fun, despite the fierce competition (and they even give the extra food to charity!). While Guy's most popular program has continued to make new fans, it has also seen its share of controversy.
One scandal you might not remember involved contestant Chad Barrett of Detroit. (As a heads up, this story deals with the topic of domestic abuse.) Barrett made his first appearance when the show was just 12 seasons old, in an episode that aired in 2017. That time around, Barrett won a total of $16,000 in a breakfast challenge. He managed to make it back on Fieri's fan-favorite program two years later, impressing the channel enough with his skills that he participated in a Food Network Festival that same year.  Barrett was the executive chef at Feast restaurant in Chesterfield, MI, and after his success, started referring to himself as a "celebrity chef." 
But if you're looking for the episodes with Barrett, you won't find them. Food Network booted Barrett from the Food Network and purged his episodes from the website after he was accused of domestic violence by his ex-wife and seven other women.  
A celebrity chef's dark past
Barrett's ex-wife Kari Barrett leveled charges in 2019, but after a friend posted a warning about Chad on social media, other women followed suit, accusing Barrett of a wide range of violent behaviors. In December 2020, after Barrett pleaded no contest to the allegations, he was convicted and obliged to serve jail time, in addition to probation and community service. It was not his first offense.
Kari Barrett said that the verbal and emotional abuse began before their marriage, and the physical mistreatment started shortly after the wedding, including several episodes where he tried to choke her, to which her 9-year old son from a previous relationship was a witness. Another victim, Sarah Natushko, had received 31 stitches after an aggressive episode that occurred while she was pregnant 
At Barrett's trial, Judge William Hackel III expressed concern that the chef had engaged in a cycle of violence. "This is going to follow you around forever," he told Barrett (via Detroit Free Press). "And I'm glad you're in the counseling because you've got to figure it out. I'm looking at it and I'm looking at three cases involving somewhat similar stuff in 15 years." Kari Barrett said that she was glad she had her day in court, "I am thankful that this conviction will hopefully save someone else from falling prey to his abuse."
If you or someone you know is dealing with domestic abuse, you can call the National Domestic Violence Hotline at 1−800−799−7233. You can also find more information, resources, and support at their website.