Hot Ones Dares You To Try The Spiciest Hot Pockets Ever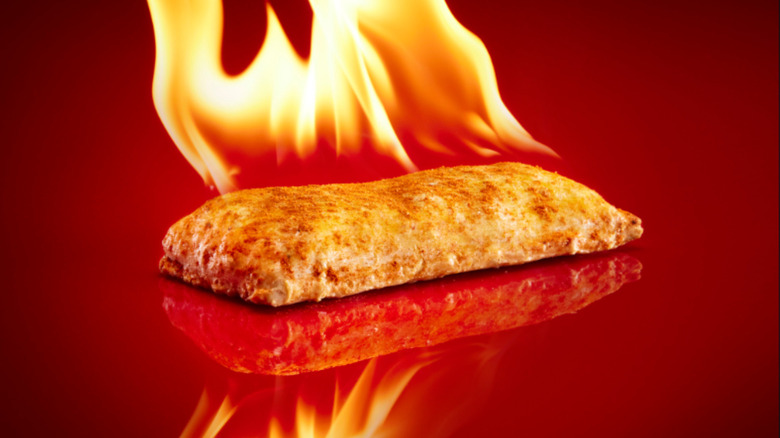 Hot Pockets
Whether or not you spend much time on YouTube, you've likely heard of "Hot Ones," an interview show that subjects celebs to not only burning questions but also hot sauce-doused wings. Given that the show has seen enormous success — with its home channel, First We Feast, boasting 12.7 million subscribers and counting — it should come as little surprise that the brand is branching out.
First, the show launched its own line of Hot Ones sauces, and now — per a press release shared with Mashed — Hot Ones is teaming up with the one and only Hot Pockets. For true fans of spiciness, this may sound like a match made in heaven ... or maybe someplace more fiery.
In true Hot Ones fashion, the four new snacks included in this collab feature spicy mixtures straight from the show, with one of those sauces forming what Hot Pockets calls "the hottest Hot Pocket ever!" In other words, if classic Crispy Crust Pepperoni Pizza Hot Pockets just don't do it for you anymore, a Hot Ones Hot Pocket could very well knock your socks off with the heat you desire. For those who would rather just watch rather than actually taste, these Hot Pockets will also be featured on the "Hot Ones" show this October.
What are all the new flavors?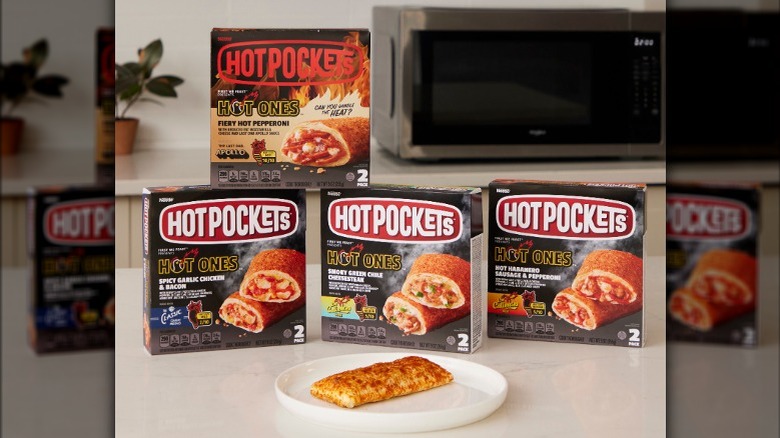 Hot Pockets
As mentioned, the Hot Ones Hot Pockets collab will feature four fiery flavors — say that ten times fast — available starting in September. These include Spicy Garlic Chicken & Bacon with Hot Ones' Classic Garlic Fresno sauce, Smoky Green Chile Cheesesteak with Los Calientes Verde, Hot Habanero Pepperoni and Sausage with Los Calientes Rojo, and (last but certainly not least) Fiery Hot Pepperoni with Hot Ones' The Last Dab: Apollo sauce.
In terms of heat, Classic Garlic Fresno ranks lowest on the Scoville Scale at 1,700 SHU, followed by Los Calientes Verde at 36,000 SHU, and Rojo at 49,000 SHU. These three will be available at numerous retailers across the country, with each product selling at a price of around a couple of bucks.
The Last Dab: Apollo, however, is so hot that Heatonist — the official supplier of Hot Ones sauces — simply describes it as the "king of Mt. Scoville," with a heat rating of "11/10." This is assumedly close to where the Scoville Scale turns deadly, and the Fiery Hot Pepperoni Hot Pockets that feature it will only be available for purchase through Gopuff (for roughly a handful of dollars). In other words, the hottest of the Hot Ones Hot Pockets will likely leave you feeling as if your tongue is on fire — that is, provided the spicy fumes emanating from your microwave don't scare you away first.