The McDonald's Rice Bowls We Wish Existed In The United States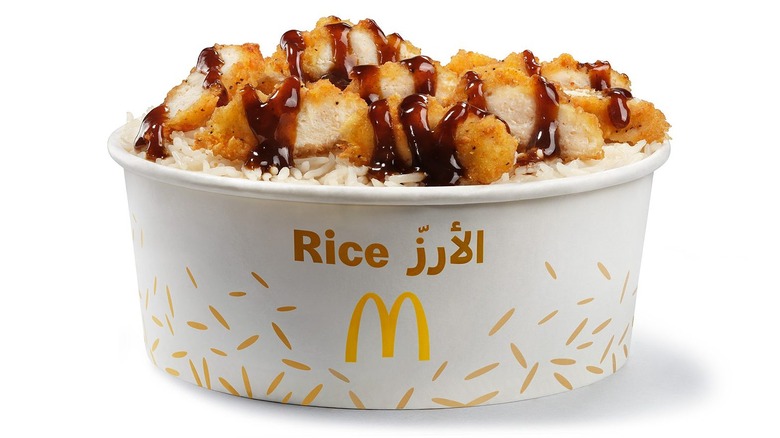 McDonald's Dubai
While burger buns and french fries are the carb staples of McDonald's offerings in the U.S., McDonald's menus are different in other countries, and some of them even include rice bowls. At McDonald's in Dubai, customers can choose from three rice bowl options: one topped with grilled beef and mushrooms, one topped with chicken, and one topped with a veggie patty. Then, there are three sauces to go on top: curry sauce, teriyaki sauce, and gravy. In India in 2018, McDonald's introduced two rice bowls, a Cheesy Rice Bowl that featured rice and bulger topped with veggies and a creamy cheese sauce, and a spicy rice bowl with kidney beans and chickpeas.
In Vietnam, McDonald's has sold grilled pork and crispy chicken rice bowls with cucumbers. In the past, other international rice offerings at McDonald's have included Chicken Patty Rice in China, Red Rice Porridge in Singapore, and Kaprao Fish and Pork Rice in Thailand, which is served with a sweet and spicy sauce (via McDonald's). It's not just international, though. Some Hawaiian McDonald's have been known to serve rice bowls. The breakfast rice bowls came with such options as SPAM or Portuguese sausage and eggs. But how do McDonald's rice dishes actually taste?
Is McDonald's rice any good?
We know that many people think McDonald's fries are delicious, but what about its rice? This will partly depend on the location and people's preferences, so unsurprisingly, reviews are mixed. One traveler said that at McDonald's in Vietnam, the rice was "bland and overcooked" (via Insider). But a reviewer on YouTube, who tested the curry chicken rice bowl in Dubai said, "If they offered this in the U.S., I would buy it." A reviewer on TikTok said of the Hawaiian breakfast rice plate, "It's bussin' bussin'."
For now, rice bowls are one of the McDonald's menu items you can't buy in the U.S. But you can at least try making them at home. You can find copycat recipes for the chain's Cheesy Rice Bowls on YouTube, and Big Mac-style rice bowls are an easy weeknight meal idea — just top a bowl of rice with cooked ground beef, chopped burger fixins, and plenty of special sauce. It's not quite as easy as being able to order rice from McDonald's, but it might be even tastier when you make it at home.