TikTok's 2-Sandwich Beach Day Rule Couldn't Be More Accurate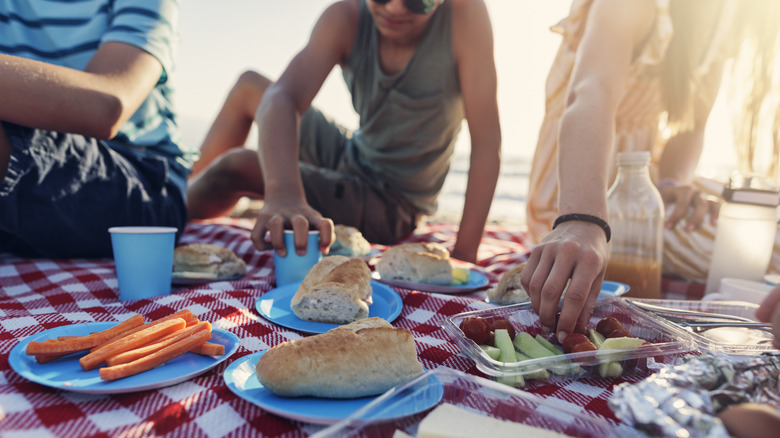 Imgorthand/Getty Images
What are your summer beach days like? Are you the type who gets there early in the morning to beat the crowd and then stays til nighttime? Or are you the type that packs towels, tents, snacks, music, and toys for a four-hour visit? Either way, snacks are definitely a must if you'll be staying at the beach for more than a couple hours. Many people pack simple sandwiches, since that's one of the easiest things to make, but there's something important to consider before leaving the house with them.
TikToker @zzzachariah calls it Beach Tip #76. Pack double the sandwiches! So if you're packing sandwiches for just yourself, bring two. If you're packing for a family of four (including yourself), pack 8. And as tempting as it may be to eat them both within 20 minutes of your arrival, he recommends saving the second one for later for lunch. Although many of us already do this and probably didn't need the reminder, the video sparked conversations about other "snack musts" to bring to the beach. It also serves as a reminder to make sure you keep those sandwiches fresh for your entire beach stay.
Keep your sandwiches separate from your other snacks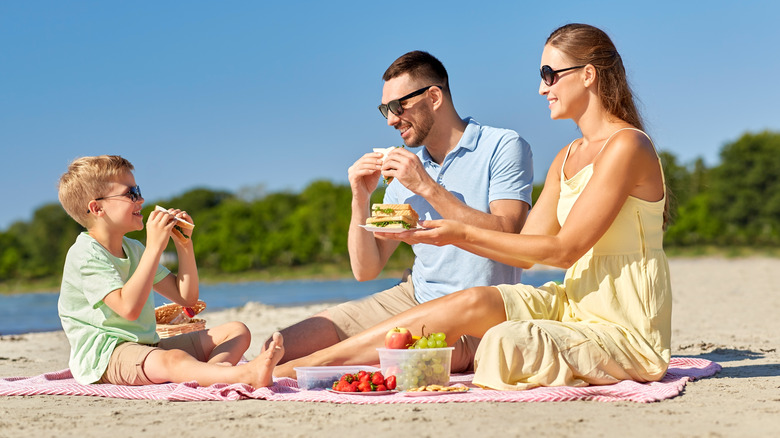 Ground Picture/Shutterstock
The TikToker's video has amassed more than 3,000 comments, with many viewers agreeing with the tip. Among them was a viewer who recommended bringing Cheez-Its or any other salty snack, along with grapes. A whopping 23,000 people agreed with that suggestion. Other snack ideas included chips in baggies, watermelon, cherries, pasta salad, and Twizzlers. Some even said they bring the whole loaf of bread or pack three or four sandwiches for one person!
Specific sandwich types people liked also came up in the thread. Of course, the possibilities are endless, but whichever type you decide to bring, make sure it won't get soggy or smashed by lunchtime. One of the easiest ways to prevent sogginess is to simply toast the bread or use a thicker variety like ciabatta, sourdough, or focaccia. To prevent smashing, separate the sandwiches from other snacks and beverages, and place them in their own hard container within a cooler or insulated bag with ice in it.
So by all means, yes, do bring two sandwiches to the beach (per person). You definitely want to have one for lunch, but remember to do what you can to keep that second one fresh, not soggy, and not smashed.