Hawaii's Treasured Spam Shows The Love Is Mutual With Maui Wildfire Relief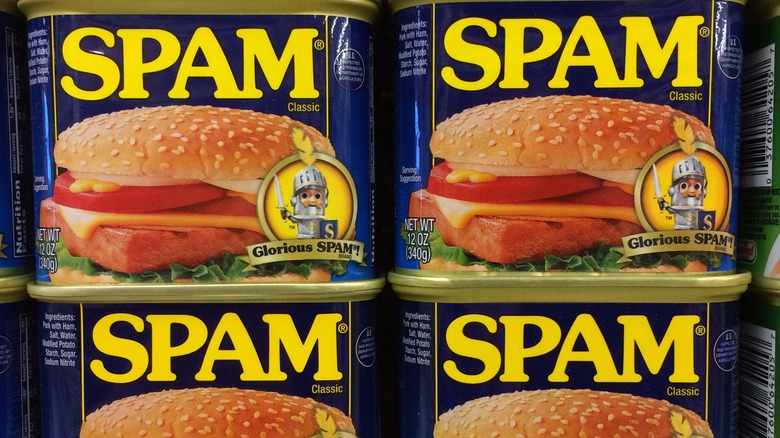 Kevin Schafer/Getty Images
No one can deny that Spam is very popular in Hawaii, and it may have just become even more well-liked after the recent declaration by Spam makers Hormel Foods Corporation. The company announced in a press release that it's doing what it can to help out Hawaiians in Maui after the recent fire devastation, sending three truckloads of Spam goods to the affected West Maui areas. Convoy of Hope, which is described as a "humanitarian, faith-based" non-profit, is working with Hormel to make sure the cans — over 264,000 of them — reach those who need them most.
Hormel announced on their X (formerly Twitter) page on August 17 that it has also created a unique "Spam loves Maui" shirt to support fire relief efforts, with 100% of the proceeds going to the Aloha United Way's Maui Fire Relief Fund. Hormel and Spam have donated more than $1 million in money and Spam products to help people dealing with the fire's destruction and aftermath, and Hormel Foods coworkers are raising money for the Maui Food Bank, which Hormel promised to match.
Spam and Hawaii have a decades-old relationship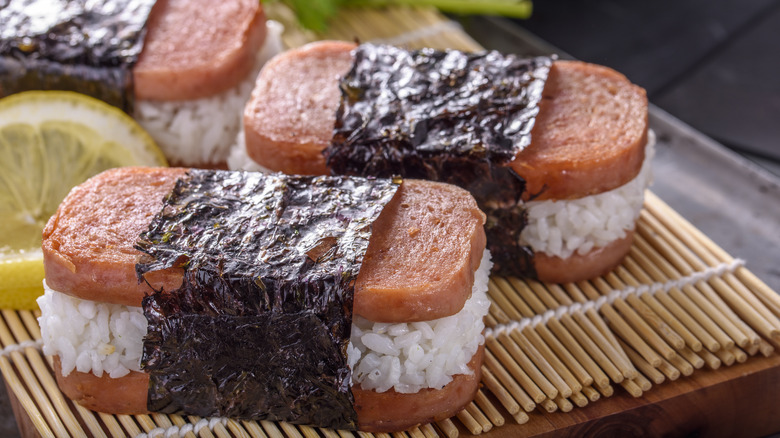 4kodiak/Getty Images
In Hawaii, Spam is everywhere. It's added to fried rice, used to make sushi, and is a staple in the most popular breakfast dishes. Spam dishes are even served at local McDonald's locations. According to Hormel Foods, Hawaiians eat seven million cans of Spam every year. When Hawaii's isolation is taken into account, and the fact that they import most of their food, this estimate sounds reasonable. For those that think it would get boring eating Spam all the time, it actually comes in 10 varieties ranging from Teriyaki to Oven-Roasted Turkey, which is the only Spam that contains meat other than pork.
Hawaiians' love of Spam goes back to World War II. After the Japanese bombed Pearl Harbor, Japanese immigrants in Hawaii were considered a security threat and were banned from fishing. Spam was sent to military bases and eventually, islanders got ahold of it as a more accessible source of protein. Dishes like Spam Loco Moco, Spam Musubi, and Spam with fried rice became very popular, and Hawaiians' love for the canned meat has continued to this day.
"The people of Hawaii have a special place in both the history and heart of the SPAM® brand. Our donation efforts are just one way we are showing the community our love and support back," Spam senior brand manager, Jennesa Kinscher said in the press release. With their response to the disaster, Hormel has shown its love as well.