Grocery Store Vegan Cakes To Celebrate Your Next Big Event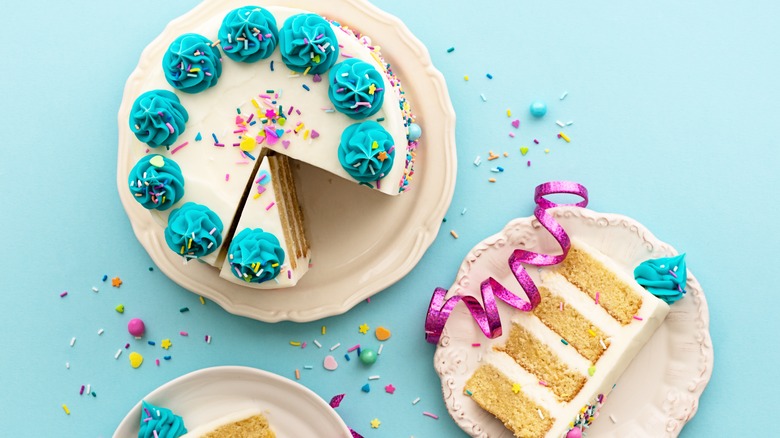 Ruth Black/Shutterstock
Whether you're celebrating a birthday, an anniversary, graduation, a baby shower, or any other special occasion, there is nothing like having a great-tasting cake to take the occasion to the next level. Not only is cake delicious, but its history of having a presence at a lot of celebratory events also makes it the desired go-to for anyone celebrating something exciting. However, for those on a vegan diet, special occasions can be frustrating because most cakes that are offered at bakeries, grocery stores, and restaurants are made with non-vegan ingredients. Nearly all cakes that are commonly available contain some form of animal-derived product such as eggs, milk, butter, cream cheese, or gelatin. 
But what's a birthday without cake? Shouldn't vegans also be able to celebrate any event with traditional desserts? We think so, which is why we've rounded up a list of the best vegan cakes on the market to add to your next celebration. Best of all? Every cake on our list is available at grocery stores or local specialty grocers all across the country. No more hunting for vegan bakeries and paying a large sum of money for a custom specialty cake. From chocolate cake to classic birthday cake to unique choices like cheesecake, here are all the best vegan options available at a store near you. 
Rubicon Bakers
There is no better way to celebrate something special than with a layer cake. Luckily for vegans, Rubicon Bakers makes several delicious 4-inch layer cakes that will take any special occasion up a notch. The company's vegan cakes come in vanilla, red velvet, and chocolate blackout flavors, so there is sure to be something for everyone. And the sizes are small enough that you can get multiple flavors! 
Rubicon Bakers products are sold wholesale to grocery stores across the country, including small, local natural grocers and large, nationwide grocery chains like Whole Foods Market, Sprouts Farmers Market, Safeway, Target, Ralphs, and more. Every Rubicon Bakers product is baked from scratch and finished by hand at its Richmond, California, location. The company prides itself on only using clean ingredients, free from artificial colors, flavors, and preservatives. The bakery also sells muffins and cupcakes that come in a variety of vegan flavors.
Just Desserts
Just Desserts is a company known for its regular baked goods, but the company is also dedicated to providing a line of plant-based treats that aren't just appealing to vegans, but also to all fans of delicious baked goods. The company uses vegan ingredients to create great desserts that don't compromise on taste, including a vegan chocolate midnight cake and four flavors of vegan cupcakes: black and white, strawberry vanilla, vanilla, and chocolate midnight. Its baked goods are available at stores like Albertson's, Ralph's, Randall's, Safeway, Target, Whole Foods Market, local natural grocers, and more.
To make its vegan chocolate midnight cake, Just Desserts uses a rich and sweet oat milk base to ensure its cakes are as flavorful as they are filled with fiber, protein, and iron. The vegan cake batter is a devil's food-style cake that is moist and bursting with flavors of vanilla and Dutch Teton cocoa. The cake is filled with vegan whipped chocolate mousse and covered in a vegan chocolate glaze.
In addition to being vegan, Just Desserts is committed to offering allergy-friendly products. The company states that none of its products are made with nuts, there are no nuts in the company's facility, and nuts are not used on any of the equipment.
Abe's Muffins
When you want to celebrate with a cake but don't want to order from a specialty bakery, look no further than your local Whole Foods Market, Natural Grocers, or other select locations for Abe's Muffins brand celebration cakes. Abe's Muffins is a company that makes "school-friendly" baked goods, which means the facility used to produce the company's products is 100% free of  peanuts, tree nuts (other than coconut), dairy, eggs, sesame, soy, and pea protein. This makes Abe's products safe for those with food allergies.
In addition, Abe's products, including its celebration cakes, are vegan. Instead of using animal products, the company makes its cakes with ingredients like rice milk, vegan cream cheese, vegan butter, and natural flavors. For a traditional birthday cake, check out Abe's vanilla layer cake, complete with colorful sprinkles, or the company's chocolate cake. For a twist, try Abe's fresh lemon cake or classic carrot cake. During the autumn and winter months, test out Abe's seasonal flavors pumpkin or gingerbread. No matter which you choose, you can't go wrong with Abe's.
Daiya New York Cheezecake
If you're craving something different to celebrate with, there's always cheesecake, a smooth, creamy, sweet, tangy alternative to traditional cakes. However, finding vegan twists on the classic New York-style dessert can be a challenge. Luckily, Daiya, a purveyor of everything "deliciously dairy-free" like desserts, cheese alternatives, and dressings, offers its New York Cheezecake. This cool and creamy dessert can be found in the freezer section of stores like Randall's, Target, Whole Foods Market, Ralph's, Walmart, Kroger, and more.
Daiya's Cheezecake is offered in a variety of flavors, including traditional New York-style, key lime, chocolate, strawberry, and pumpkin spice. Also important to note is that all of Daiya's Cheezecakes are allergen-free, meaning there are no traces of top allergens like dairy, gluten, soy, eggs, peanuts, fish, or shellfish. 
Rather than being prepared with dairy-based cream cheese, Daiya's approach to cheesecake is made using creamed coconut, potato starch, and pea protein. The result is a rich and velvety cheesecake alternative packed with real vanilla and a moist, gluten-free crust that will convince even non-vegans to go plant-based.
Urban Remedy
Going one step beyond vegan, Urban Remedy specializes in vegan desserts that are also grain-free, gluten-free, and raw. All of Urban Remedy's desserts are made with plant-based ingredients, such as dates, cacao powder, and raw nuts and seeds. This makes the company's desserts, including its cake, friendly for anti-inflammatory diets.
For lemon fans, Urban Remedy offers a raw lemon cream cake. This creamy treat is perfect for a unique and fresh take on celebration desserts. The raw lemon cream cake features fresh and raw ingredients like organic lemon juice, nuts, seeds, almond butter, and coconut nectar. The cake's crust is filled with omega-3s thanks to flax seeds. The cake is then dusted with tumeric. For something richer, try the company's dairy-free take on tiramisu, bursting with raw cacao and espresso. Both cakes are sold by the slice.
Fans of vegan and raw desserts can find Urban Remedy's products at Whole Foods Market and some other local stores across the country. The company also ships its plant-powered foods via its website.
JP's Pastry
Nothing says "special occasion" more than a classic vanilla cake. JP's Pastry was founded on the idea that no one, including those with gluten sensitivities or vegan dietary preferences, should be left out of the party when the cake is cut. So, the company began making dietary restriction-friendly desserts, including vegan cakes for celebrations. 
The company's vegan vanilla cake is everything a cake should be — sweet, flavorful, tender, and covered in frosting — but without the animal products. A 6-inch vanilla cake from JP's Pastry is not only vegan but also gluten-free. It's made with a gluten-free flour blend, flax milk, tapioca starch, cane sugar, real vanilla bean paste, and a vegan frosting made with palm shortening and confectioners sugar.
You can find JP's Pastry vegan and gluten-free desserts at Whole Foods Market stores across the Southeast as well as at the company's retail location in Benson, North Carolina. JP's Pastry also ships via its website, though restrictions appy.
Better Bites Bakery
If you're looking for a vegan cake that also happens to be free of the top eight food allergens, then turn to Better Bites Bakery. The company, which was founded due to the owner's son having severe food allergies, is dedicated to making sweet treats that taste as good as they look. They also happen to be free from gluten, eggs, peanuts, dairy, soy, tree nuts, shellfish, and fish. 
For celebrations like birthdays, anniversaries, graduations, and more, Better Bites Bakery offers a full-sized celebration cake covered with multicolored sprinkles. The cake is flavored like a traditional birthday cake, complete with vanilla cream frosting and rainbow sprinkles. The cake starts with an oat milk base, and plant-based ingredients like sugar, oat flour, and potato starch round out the recipe. 
Better Bites Bakery's products can be purchased online but can also be found at stores like Whole Foods Market, Target, Natural Grocers, Kroger, HEB, Wegmans, and Central Market.
Dodah's Kitchen
Dodah's Kitchen specializes in vegan soul food and desserts. Based in Maryland, the company has a mission to bring food that is inspired by Afro-vegan traditions to the masses. In addition to a full offering of entrées, Dodah's Kitchen also makes a variety of vegan cakes and cheesecakes, which are perfect for celebrating any special moment.
For more traditional cakes, Dodah's offers soy-free cake slices topped with flavorful vegan icings in flavors like lemon, chocolate, and carrot. Dodah's Kitchen even offers gluten-free versions of its flavors. In addition, the company offers cheesecakes made from sprouted organic tofu. The flavors that are available include blueberry, raspberry, strawberry, and sweet potato.
Dodah's Kitchen products are available for purchase in more than 120 natural markets, local retailers, juice bars, and co-ops in Maryland, Virginia, Delaware, Pennsylvania, New Jersey, and New York as well as in the District of Columbia. Visit the company's website to see which stores carry Dodah's Kitchen products in your state.
Your local grocery store bakery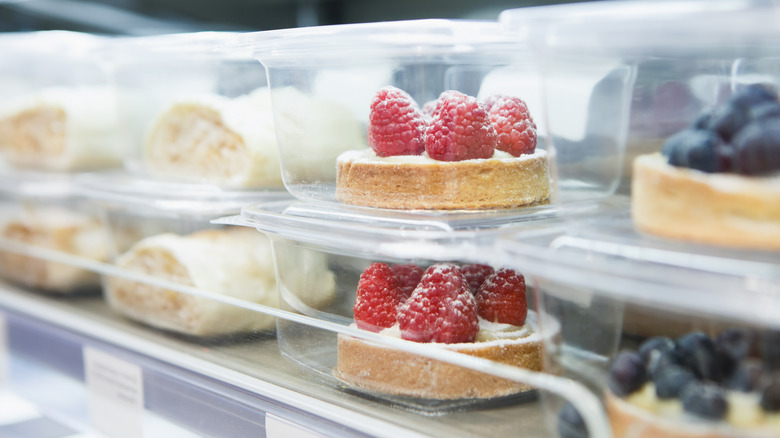 hurricanehank/Shutterstock
While any of the cakes on this list are worthy of your celebration, don't forget to check with your local grocery store bakery to see if it has any store-brand vegan cakes that are pre-made. In addition, you can ask whether the bakery is able to custom-make vegan cakes in-house. Although not all grocery stores have the capabilities, many do have custom services that can make cakes to your exact specifications and dietary restrictions, including vegan.
For example, some Whole Foods Market stores have a selection of pre-made cakes that are vegan and gluten-free available in the bakery department all year long. Flavors and exact offerings vary from store to store and by season, but typically there is something for everyone. In addition, you can call the Whole Foods Market Bakery to see about ordering a custom vegan cake to get exactly what you want.