How Ree Drummond Has Cut Pineapple Since She Was '18 Months Old'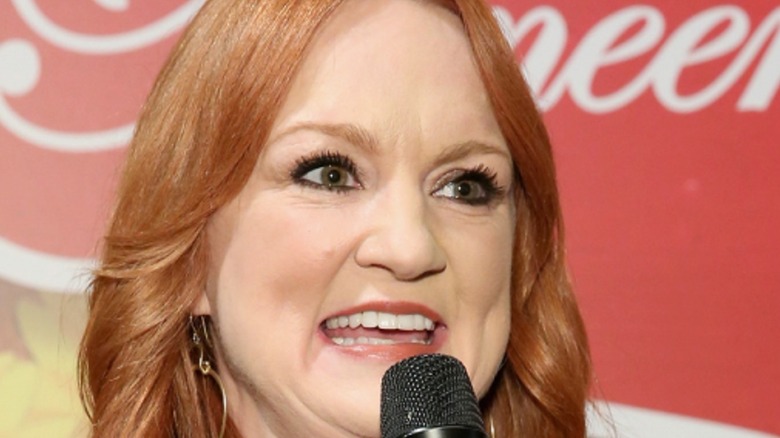 Monica Schipper/Getty Images
We may receive a commission on purchases made from links.
Locked beneath its tough, prickly exterior, pineapple has a sweet, juicy flavor unlike anything else. Sweet and savory pineapple recipes abound, and it's an amazing snack on its own. Still, breaking down a pineapple can intimidate even the most practiced chefs.
Of course, you could skip the trouble and purchase pineapple pre-sliced, but it will cost double. At Walmart, a 16-oz package of pre-sliced pineapple costs nearly $4.50, while the whole fruit retails for $2.18. And, let's face it, the canned variety just doesn't compare to fresh.
Before you balk at buying a fresh pineapple, give celebrity chef Ree Drummond's method for cutting it a try. This Food Network star showed off her pineapple-chopping skills in a July 17 post on her Instagram account, where she often shares tips and tricks with her fans and followers. In her post, Drummond quickly removes the skin, crown, and core to access the interior, and she makes it look easy.
Ree Drummond's method for prepping pineapple
Ree Drummond told fans she's been chopping pineapple the same way since she was 18 months old, or at least old enough to wield a knife. She demonstrated her technique in an Instagram post, reducing a pineapple from its full form to small cubes, and you should check it out before you eat another pineapple.
Drummond starts by removing the crown and its rounded bottom. Then, Drummond glides her knife downward between the skin and the flesh of the pineapple, removing just the tough skin in strips and slowly making her way around the fruit. After removing the exterior, Drummond cuts the pineapple into wedges. Finally, she removes the core from each wedge and cubes the remaining fruit. Devices that cut and core pineapple exist to make this an easier job, but Drummond's trick simplifies the process.
Fans applauded this method in the comment section, agreeing that this is the easiest way to complete the task. However, some commenters asserted that they prefer to pay extra for pre-sliced pineapple than go to the trouble of chopping one up. "I hate cutting pineapple. I'd rather pay more for it already cut," one person wrote.