The Cheesecake Factory Hack That Gives New Life To Caesar Salads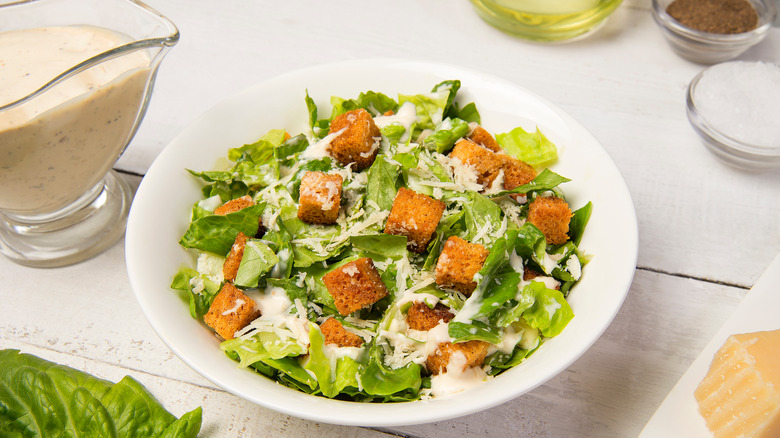 photokin/Shutterstock
The humble Caesar salad is one of those meals that always seems to hit the spot even when nothing else on the menu sounds good. Consisting of a bed of crisp romaine lettuce, rich parmesan cheese, crunchy croutons, and tangy Caesar dressing, the dish is refreshing and indulgent – and that's just when it's served in its simplest form. Add on some sort of protein, or perhaps a side of French fries and a Coke — a.k.a. 2023's "hot girl combo of choice," per Paste Magazine — and you've really got yourself a plate fit for an Italian historical figure (even though ancient Rome isn't actually where the origin story of the Caesar salad begins).
Yes, the Caesar salad truly is an elite meal in its own right, and if you happen to be dining on one at the Cheesecake Factory, there's a brilliant hack that can take the classic to the next level. The upgrade comes from the mind of TikToker Zoya Biglary, who divulged her tip for making "the best Caesar salad in the world" in a 2021 TikTok video shared by her girlfriend Alix Traeger that has since amassed over 5 million views.
"What you do is sub out the regular chicken for Louisiana-style chicken, and then you add caramelized onions," Biglary instructed in the post. "And you can thank me later," she declared before Traeger taste-tested the creation to see if it was worth the hype. Spoiler alert: it was.
TikTok's Louisiana chicken Caesar salad became a menu item
In theory, TikTok's Louisiana chicken Caesar salad hack makes perfect sense. According to the Cheesecake Factory menu, the poultry borrowed from its Louisiana Chicken Pasta for the viral dish is a parmesan-crusted chicken, which certainly seems like it would fit in perfectly with the classic Caesar salad ingredients. The extra crunch from the breading also sounds like a welcome addition, as does the element of sweetness that the caramelized onions provide. However, we don't need to base our thoughts about this menu hack on assumptions, as thousands of people have ventured out to Cheesecake Factory to try the meal for themselves.
"Had it tonight, one of the best things I ever ate," one person commented on Traeger's TikTok video. "HOLY COW YES," wrote another. Even the Cheesecake Factory itself got in on the post, writing "OF COURSE it's good" – though that wasn't the only stamp of approval from the chain. Just two months after Traeger's video went viral, the company actually added the Louisiana chicken Caesar salad to its menu for a limited time.
Unfortunately, the dish has since left the menu, but don't worry, you can still ask for the substitutions on your next visit. Or, if you've already been indulging in this version of the Caesar salad for a while now, you could try another TikToker's suggestion of subbing in truffle honey chicken.