Bobby Flay's Spicy BBQ Sauce Has A Nutty Twist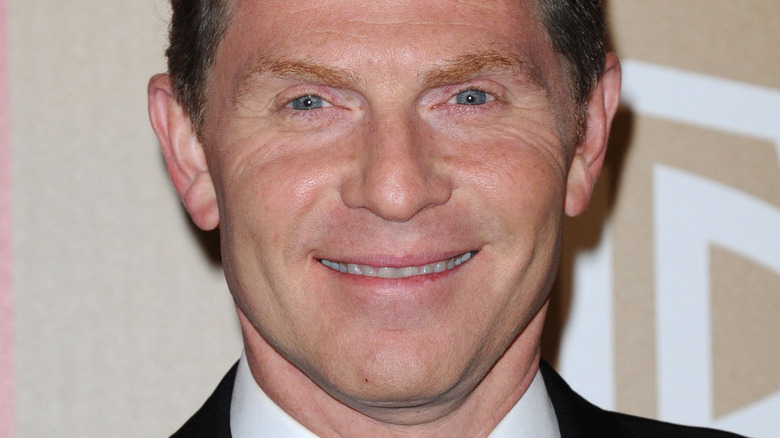 DFree/Shutterstock
Chef Bobby Flay loves barbecue as much as the next person. The James Beard Award winner got his start on the Food Network with the show "Grillin' & Chillin'" before continuing his barbecue fixation with "Barbecue Addiction." So, it only makes sense that the chef has his own barbecue sauce. Known for combining flavors and the heat of Southwest cooking, Flay's barbecue sauce is both spicy and a bit nutty.
Flay's peanut-chipotle sauce combines the rich creaminess of peanut butter with the smokey spiciness of chipotle. It's a mixture that only a trained chef could develop, mixing two flavors that seem to clash on paper but actually create something rather tasty. Flay conjured up the sauce to go along with some barbecue ribs and a tomatillo corn salsa, but there's no reason you can't put the sauce on something else instead — like a burger. You could also use the peanut-chipotle sauce as a marinade for some oven-roasted barbecue chicken legs.
Flay's sauce requires a few ingredients to bring to life. Worcestershire sauce, paprika, and soy sauce complement the gentle saltiness of the peanut butter. Meanwhile, brown sugar and honey give the condiment a sweet heat, and Dijon mustard and ketchup add complexity. But as most are probably wondering, why peanut butter?
Peanut butter is the secret ingredient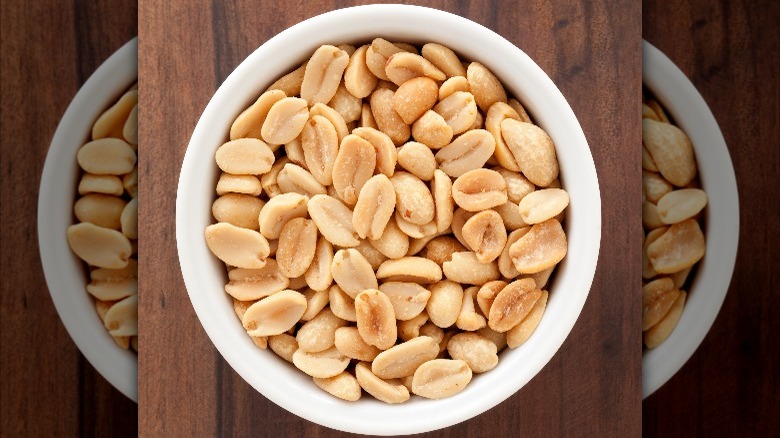 Fotografiabasica/Getty Images
Bobby Flay isn't the first person to create a peanut butter-inspired barbecue sauce, and he probably won't be the last. Peanut butter works great as a neutral element when trying to combine various flavors such as sweet, smoky, and spicy. When it comes to spicy food, peanuts actually help eliminate some of that heat. In an interview with Bon Appétit, Flay explained, "In Mexico and Asia, they're used to balance spicy ingredients."
It's true that peanuts and other kinds of nuts often factor into various Asian and Mexican cuisines. In Mexico, the nuts are used to create a creamy molé sauce. Meanwhile, you can also find roasted peanuts in some of Thailand's most iconic dishes, like panang curry and pad Thai. So, Flay's logic here is sound. Capsaicin is the compound that gives spicy food its kick, but unlike other compounds, it is soluble in oil and not water. Since peanut butter contains oils and fats, it helps neutralize capsaicin, bringing down the overall heat of the dish. 
This is one reason why Flay continues to incorporate peanuts in his dishes, especially those that have a bit of a kick, like his peanut and scallion relish. In addition to making his barbecue sauce well-balanced, it gives it a creamy and complex flavor profile, as well.