The Fruity Cereal You Should Try Putting In Tres Leches Cake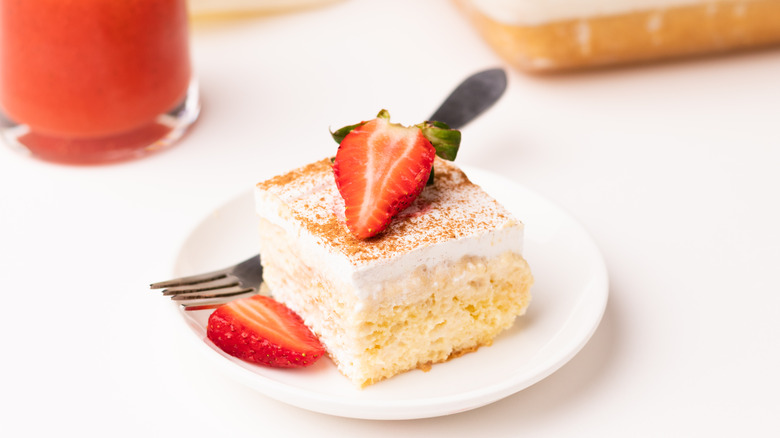 Shahid Jamil/Getty Images
You've probably enjoyed Fruity Pebbles at least once, whether in a bowl with milk, as a donut topping, or baked into a cookie. Also on the list of fun things you can make with Fruity Pebbles is tres leches cake, but not just on the cake, in the cake. If you've never had tres leches cake, it's a Latin American sponge cake made using three types of milk, hence the name. Typically, the three milks are evaporated milk, sweetened condensed milk, and cream, but other recipes use whole milk instead of cream. 
Tres leches cake is a favorite among those who love moist desserts, but as with many other cake recipes, someone thought of a way to change up the classic version. Bringing Fruity Pebbles to the mix works because it imparts more flavor and, depending on how you use it, texture for those who might find traditional versions too soft. 
You can find several recipes for Fruity Pebbles tres leches cake online, but the gist is to mix the cereal into the cake batter. However, you can also mix it into the frosting or sprinkle it over the top of the cake as a crunchy topping. 
Other ways to jazz up tres leches cake with cereal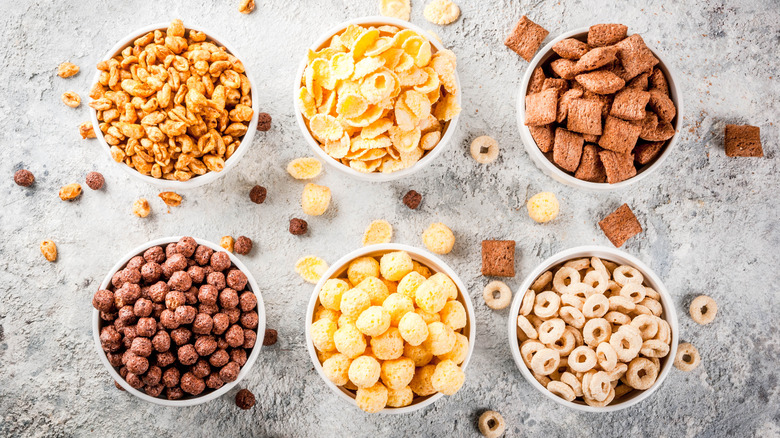 Rimma_bondarenko/Getty Images
If you've ever been to a Mexican bakery or are fortunate enough to have a relative or friend who bakes tres leches cakes, you already know the variety this dessert offers. For example, some variations include Oreo tres leches cake, strawberry tres leches cake, and piña colada tres leches cake. Bobby Flay even joined the fun with a recipe for banana split tres leches cake, which the chef shared on Facebook. 
You can also give your tres leches cake a personal twist by experimenting with other cereals. Since Fruity Pebbles is a big hit, why not try chocolate rice-based cereals like Cocoa Krispies or Cocoa Pebbles? Other cereal options you might like include Cinnamon Toast Crunch and Frosted Flakes. 
Plain tres leches cake is already magical enough, but it won't hurt to add some Fruity Pebbles — or your favorite cereal — for more sweetness and texture. Try a few flavors and see which one you like best!