Olive Garden's Alleged Rat Foot Soup Is An Actual Food Nightmare
Recent allegations brought against Olive Garden are the stuff of dreams — very, very bad dreams; the kind that haunt your days and nights. A diner at an Olive Garden outside Detroit, Michigan, claims that his bottomless minestrone harbored a highly unpleasant surprise. According to Thomas Howie, in March of this year, he was eating with friends at the Italian chain near his suburban home when he felt something sharp hook the inside of his mouth. Howie says that when he spat the object out, it was clear that it was a furry rat's foot, complete with claw. He proceeded to vomit on the spot.
Howie and his friends claim that when they summoned the staff at the restaurant, one worker was "very nice and cooperative" but seems to have been unsure what he could do to help (though he tried to take the offending foot away with the food). Another member of the wait staff responded with an ill-advised attempt at humor, remarking, "That's funny. We don't even put meat in the minestrone" (from WBTV).
Howie sought medical care for a cut inside his mouth after the incident, which included some bloodwork, a tetanus shot, and antibiotic mouth rinse. He claims he experienced gastrointestinal symptoms for days after the unfortunate soup, was unable to eat anything more substantial than crackers, and has suffered additional ill effects since. Thomas Howie is suing Olive Garden for $25,000 to compensate for what the lawsuit refers to as "mental anguish and emotional distress."
Olive Garden denies Howie's claims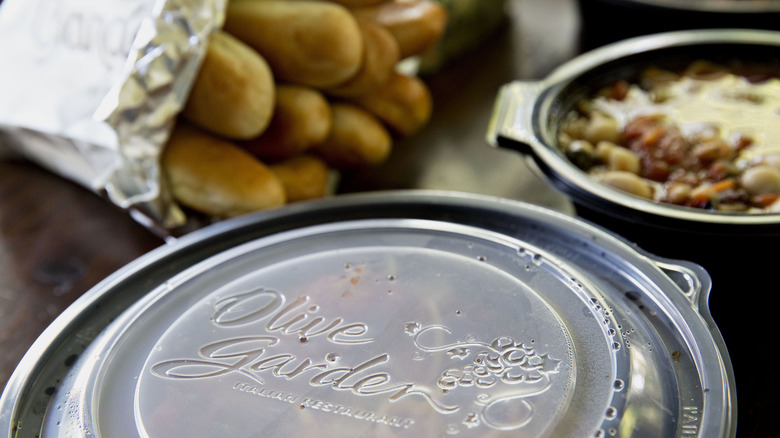 Bloomberg/Getty Images
Howie says that he has a hard time eating at restaurants these days unless he can see the food actually being prepared and that consuming meat is a real issue. Howie and his attorney allege that they have tried repeatedly to reach out to the restaurant to resolve the issue without success.
Olive Garden contests that the lawsuit is unfounded, telling NBC that they have "no reason to believe there is any validity to this claim." They insist that there is no history of rodents posing an issue at the restaurant and that a health inspection performed shortly after the incident found no evidence of vermin. They say they discarded the rest of the pot of soup Howie had consumed, but that their protocols are clear and strictly followed and do not see how this could have happened. Olive Garden says it has not been allowed to examine the rat's foot, but that the photos provided are at odds with Howie's account since the foot appears larger than the restaurant's spoons and doesn't seem to have taken on the color of the soup. 
The Italian chain and its parent company (Darden Restaurants) appear ready to go to court, confident that the facts are on their side. Howie seems equally convinced of a triumph, saying of Olive' Garden's attitude, "It's just disturbing. Because I know what happened."