Whataburger's Chicken And Pancakes Is The Secret Menu Combo Of Our Dreams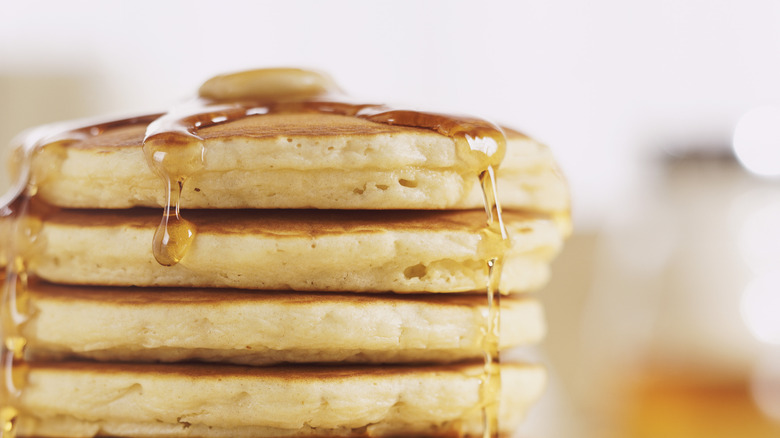 Digital Vision./Getty Images
Whataburger is known for its selection of large burgers doused in mustard and fixings. It's called Whataburger for a reason, after all. But the fast food chain also has a large selection of breakfast items, like a honey butter chicken biscuit, chorizo taquito, and pancake platter. However, if you want the ultimate Southern breakfast snack, then you'll have to order from the restaurant's secret menu.
We're talking chicken 'n waffles. Well, chicken 'n pancakes anyway. While chicken 'n waffles is a Southern delicacy that stretches back to the 1600s, 1930s, or 1970s (depending on who you ask), Whataburger puts a modern spin on the classic recipe. Out of necessity, the secret menu hack substitutes pancakes for waffles, since Whataburger doesn't sell pancakes. You may or may not get confused glances from your local Whataburger employee if you try to order it. However, chicken and pancakes are officially sanctioned by the restaurant chain, and it has been promoted as a secret menu hack on its social media. 
If you want to order the hack yourself, just order pancakes from the menu. Then, you'll want to add on a honey chicken biscuit, minus the biscuit, to get your tenders. However, you can keep the biscuit and disassemble, if you want a palate cleanser between bites. All in all, it should cost you about $7 on average. 
How to fix the meal at home
Unfortunately, Whataburger only serves breakfast from 11 p.m. to 11 a.m. So what are you to do if you have a sudden craving for a sweet and savory snack in the middle of the afternoon? Likewise, Whataburger is only in 14 states, mostly in the Southeast. While that may be fine if you live in Texas where you can throw a rock and find a Whataburger on almost every corner, what's a New Yorker or Midwest resident supposed to do if they want to try the combo?
Fortunately, there is a way for you to try the Whataburger hack from the comfort of your own home. Although, it may not taste exactly how it would if you ordered it at the restaurant. Whataburger sells its own pancake mix online, which you can find for around $25 on Amazon for a 32 oz box. From there, it's all a matter of following the directions on the box to create your pancakes. 
As far as chicken strips, you could always go through the trouble of battering and frying your own, but where is the convenience in that? Instead, consider picking up a box of frozen tenders at Costco or some other grocery store to complete the meal. It may not taste exactly the same but it's a close copycat.